The farm sector is one of the major beneficiaries of the Australian Government's Emission Reduction Fund auction process, and the annual revenue being generated by landholders continues to grow – seemingly under the radar.
While there is some uncertainty about what might happen when funds currently allocated to this process have been all utilised, there is no doubt that it has created new opportunities for many landholders who will continue to reap the benefits for years to come.
The first Emission Reduction Fund (ERF) auction was conducted in April 2015, and there have been two subsequent auctions held in November 2015 and April 2016.
Participants in the auction must have initially registered a project they propose to carry out, to either reduce existing emissions, or sequester additional greenhouse emissions from the atmosphere.
The registration of a project involves the adoption of one of the approved methods that have been developed, which are recognised under Australia greenhouse policy as resulting in reduced greenhouse emissions in the atmosphere.
The following table summarises the contracted emission reduction associated with the first three ERF auctions, categorised according to the nature of the projects being undertaken. The average length these projects will run for is seven years, although some extend for as long as ten years.
What is notable is the predominance of projects associated with agricultural land holdings.
Those are projects involving vegetation management, agriculture and savanna burning.
While the vegetation projects are not exclusively carried out on land used for farming (some involve regrowing areas that were previously forest) the majority of them are, and therefore most of the revenue generated by these projects is being earned by farmers.
The agriculture projects predominantly involve methane capture from livestock wastes, while the savanna burning projects are predominantly carried out on cattle properties in northern Australia.

It is possible to estimate how much revenue these projects are generating for farmers annually, based on the published results of the ERF auctions held to date.
Assuming that all the successful projects were contracted at the average price per tonne of greenhouse emission abatement achieved for each of the three auctions, and also assuming that each of the successful projects have been contracted for seven years, the annual revenue currently being generated by projects in each of the categories is shown in the following graph.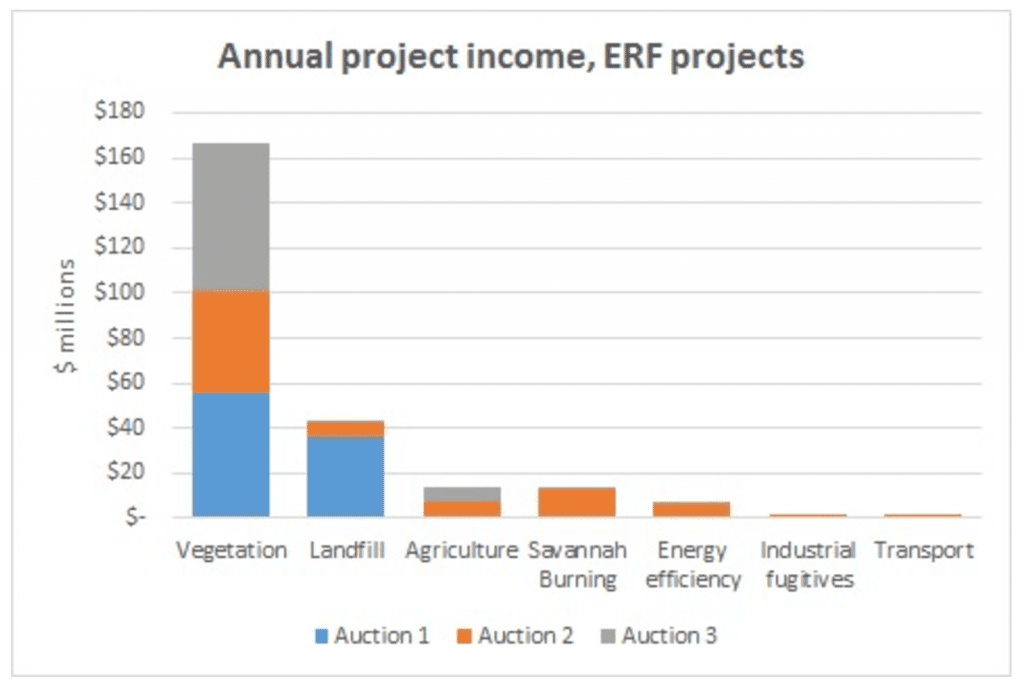 In total, the projects on farm land are estimated to be generating about $194 million in annual income for those farmers. This means the annual value of greenhouse emission reduction income earned by farmers exceeds that generated by many other 'traditional' farm commodities such as corn, triticale, soybeans, sunflowers and field peas.
Adding to the attraction from a farmers perspective is that contracted ERF project income is not subject to the same vagaries of weather and international commodity prices as revenue from these other more traditional farm commodities is.
This article was first published on the Australian Farm Institute website and is republished here with permission from the author.