There was no mistaking the "buzz" surrounding the Australian Wagyu industry at its conference at Albury over the last two days.
Of the more than 400 delegates in attendance from all over Australia, about 25 percent were first-timers.
The newcomers tend to fall into one of two camps – existing cattle producers moving into Wagyu production, or people from outside cattle production investing capital and expertise earned from other industries, careers and backgrounds into Wagyu herds.
The lure, some explained to Beef Central over the past two days, is the attraction of producing high marbling, high eating quality beef, but also undoubtedly the premium prices Wagyu cattle have been commanding in recent years.
While the Australian cattle herd is at a cyclical low point, there have never been more Wagyu cattle in Australia than there are now.
With rapid growth can come challenges, and indeed also opportunities, and both received attention over the course of the past two days.
Some of the challenges currently occupying the industry's attention, as borne out in conference discussions, included questions such as these:
Is a potential Wagyu over-supply situation approaching, relative to demand, and what could that mean for Wagyu cattle pricing?
How can quality be managed going forward to ensure herd expansion does not undermine the strong brand reputation and integrity the Australian Wagyu industry currently enjoys?
Is there enough feedlot capacity to keep pace with the increasing volumes Wagyu progeny coming forward?
Rapid supply growth, versus demand
No one can really say for sure how many Wagyu cattle are in Australia right now, or globally, or quantify the level of demand that currently exists for Wagyu beef (fullblood/purebred/crossbred).
There are estimates there could be about 300,000 cattle in commercial Wagyu herds in Australia, but that number could be out by as much as 100,000 head.
To improve the accuracy of this knowledge the Australian Wagyu Association has conducted a survey of its members.
Preliminary results from that survey were presented to this week's conference by Meat Livestock Australia's chief marketing officer Lisa Sharp.
Many commercial breeders and new entrants to the industry are yet to respond, so the survey figures do not yet provide a complete picture.
Early results so far (the majority of respondents so far have been seedstock producers) suggest joinings growth may have slowed a little, however strong herd expansion continues.
The survey suggests the number of Wagyu producers with herds of 1000 plus are increasing quite rapidly, and results indicate projected turnoff has doubled since 2014.
In terms of measuring demand, Ms Sharp said multiple data points continue to show strong demand fundamentals and opportunities for premium high quality beef, such as Australian Wagyu, across a myriad of key markets.
But she, along with other speakers at the conference, emphasised the need for Australia's industry not to become complacent. Competition from other global producers of high quality beef (Japan, US, Korea for example) was also growing at the same time.
Think "Plate to Paddock"
Ms Sharp said the Australian Wagyu industry has an opportunity to be a sector leader in the Australian red meat industry by moving away from conventional "Paddock to Plate" type thinking, and instead pioneering "Plate to Paddock" thinking.
To this end MLA is stepping up its analysis of global consumer tracking by including specific questions about marbled beef , market research that will help to more accurately inform the Australian Wagyu's industry future production and marketing strategies.
"It is not the volume of supply that will dictate the premiums you will achieve from all of your hard work," Ms Sharp explained.
"It is the consumers and the values they see in a product and a brand that create demand and the pull, and it is this pull that will help us all realise premiums.
"If you walk away with nothing else today, start thinking about plate to paddock, start thinking about your consumers and the cities they live in, and their behaviour.
"Try to more deeply understand the segments within markets, and your own strengths and how you can best deliver to those."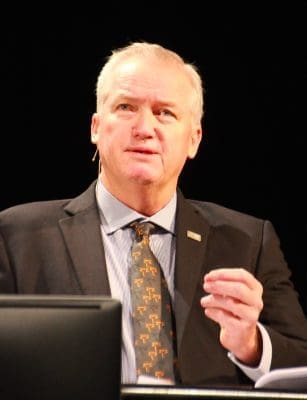 Australian Wagyu Association president Peter Gilmour said product quality was an important edge for Australia's industry.
"It is the ability to produce quality product that will sit us above those other producers who don't have access to those same tools.
"There will be competitors, there is absolutely no doubt, but we will also see rising demand for high quality beef." 
Quality Assurance framework required
 The industry's proactive investment in research and development, giving it access to tools such as genomics, was helping Australia's Wagyu industry to accelerate genetic progress and maintain its quality edge, incoming AWA CEO Dr Matt McDonagh said.
Using genomic tests, producers can potentially double their rate of genetic gain identifying elite bulls and females at birth, and segregating out those animals that should not be investing their time and resources in.
However, the industry now needs to focus attention on quality assurance, he said.
Wagyu producers were running a "Rolls Royce factory", but were currently doing so without a quality assurance system in place, he said.
"We have got an enormously powerful animal here to deliver a premium product, there is no doubt about that, but we don't have the engine control unit in that motor finely tuned, so we have got to really work on that component on it.
"Wagyu is a premium product and it needs a quality assurance framework.
"Commodity beef in Australia has a quality assurance framework, it has MSA.
"We don't have a quality assurance framework but we're driving a formula one, and that is a key area we have to have a look at."
Can feedlot capacity keep pace?
One potential limiting factor for the industry as it continues to grow is the question of whether there will be enough feedlot capacity to absorb the increasing volumes of Wagyu cattle coming forward.
To achieve market specifications Wagyu cattle must be grain fed.
But is there enough new feedlot capacity coming online to handle all new progeny that will soon be coming through?
AWA chairman Peter Gilmour explained to Beef Central that Australia currently has about 1.2 million head of total feedlot capacity.
Early survey results suggest that by 2021, there could be as many as 1.2 million head of breeding cattle producing Wagyu progeny in Australia.
"Right now we think Wagyu cattle account for 10-15pc of national feedlot capacity," Mr Gilmour said.
"Not all feedlots can just switch on and go long fed, they have to have shade, and they have got their short-fed markets
'Feedlot capacity is both the elephant in the room, and the opportunity in the room'
"Feedlot capacity is both the elephant in the room, and the opportunity in the room.
"We have been engaging with the Australian Lot Feeders Association on this to say, look, this is coming, is the industry ready, is the industry talking about being ready."
Mr Gilmour said there was evidence of growth in feedlot infrastructure occurring, but whether that growth is keeping pace with current joinings remains a key question.
During the conference a panel of industry experts was also asked if there will be enough feedlot capacity to feed future progeny.
Rangers Valley's marketing manager Andrew Moore said he believed the market would adjust to accommodate growing numbers.
"If it is profitable for everyone in the supply chain, the infrastructure will be built.
"People will either take less profitable cattle out of the feedlot system and put Wagyu cattle in, or they will work out a way to do it. I think it will work itself out."