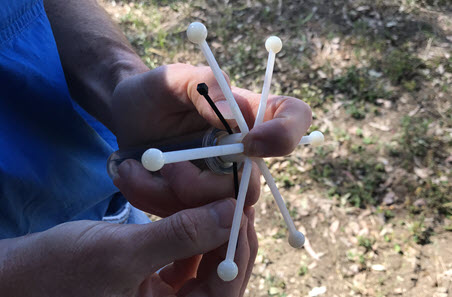 The development of a device that provides the date and location of calving within 24 hours to help researchers address the problem of calf loss in extensive beef production systems, has taken a significant step forward.
An updated prototype of the Calf Alert device was tested in MLA-funded field trials completed this year at properties near Longreach and Rockhampton, Queensland.
Trials show promise
The device has been trialled in pregnant cows for up to seven months without any adverse effects and a high retention rate – an Australian first, with most other intravaginal devices only being in situ for a couple of weeks.
Project leader Dr Cyril Stephen, Charles Sturt University, Wagga Wagga, NSW, said the ability to detect calving will enable the maximum number of calves to be monitored in the first 24 hours of their life, increasing the opportunity to identify, investigate and address any calf losses occurring in that timeframe.
"For example, providing the date and time could be used to highlight how climatic effects result in calf loss such as extremes in the temperature humidity index," Cyril said.
"Similarly by deriving the location of the calving site new calves can be observed for abnormalities such as congenital defects, or other causes of ill thrift.
"Additionally, cows can be assessed for problems resulting from calving difficulty, poor mothering, distance to water, low body condition resulting in reduce milk production and therefore dehydration of the calf, or effects from the environment such as predation, or temperature/humidity."
The trial site at Longreach Pastoral College covered 1,050ha and utilised Santa Gertrudis cows, while the AgForce Queensland-owned Belmont Research Station site involved 150ha and Belmont Red cows. Devices were inserted into 80 mid-to-late gestation cows and the devices monitored over 150 days.
Continuous improvement for calving period
The Calf Alert device is active from the time of intravaginal insertion during pregnancy testing, emitting regular signals with a spike in reception at calving when the device is expelled. Detected using land-based receivers, this helps to pin point the location of the cow at calving.
Results showed improved signal clarity and frequency of derived locations compared to a previous version of the device. Approximately two-thirds of calving dates and locations were derived across both experimental sites.
With enhanced network monitoring to ensure receivers are operational 24/7, it is expected that results will continue to improve.
The research trials have been conducted in conjunction with CQUniversity's Precision Livestock Management team based in Rockhampton.
CQUniversity collaborating researcher, Dr Don Menzies, said since CSU and CQUniversity first started working together three years ago, the device retention rate has improved to approximately 80% and location precision improved to within 100 metres across a 150ha network or 200m across a 1,050ha network.
"The device does not require mobile phone signalling or GPS and is powered by a small battery that may last for up to two years. This makes it suitable for inserting in pregnant cows at an early stage of gestation, thus avoiding mustering late-pregnant cows, especially in the northern wet season."
Cyril said to allow the Calf Alert device to achieve its maximum potential, investment in developing robust systems to optimise receiver technology, location and reliability would be required to take the research to its logical next step of wider industry implementation.
Source: Meat & Livestock Australia