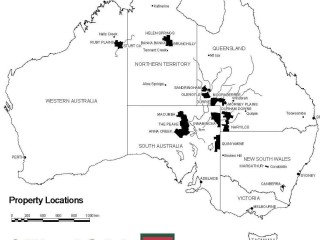 A Southern NSW Angus breeder says the success of the Certified Australian Angus Beef program has provided a strong foundation for the momentum seen in Angus cattle production across Australia.
Susie Chisholm, who runs about 700 straightbred Angus breeders on her property, Gwalia, near Adelong, was invited to speak at last Thursday's Sydney function celebrating 15 years of operation for CAAB (See yesterday's story "Pioneering CAAB beef brand stands the test of time").
Gwalia has supplied cattle for the CAAB program since its inception, and was one of the first winners of the CAAB supplier awards, based on compliance against the brand's carcase and livestock specifications.
"Firstly through founding chief executive Michael Pointer and now his successor, Phil Morley, CAAB has opened up all sorts of markets worldwide for CAAB product, from Japan and Korea to more recently, China and the Middle East," she said.
"That ground-work, together with what has happened in the restaurant and hotel sector in Australia, has really driven the program's success," she said.
Delegations of Japanese, Korean and Chinese customers visiting Australia as guests of CAAB have often paid a visit to Gwalia over the years, getting a taste of local cattle production, how the supply chain works, the degree of integrity in the licensing and verification systems that are applied, and the importance of the application of MSA systems in delivering consistent eating quality.
"It's that pull-through demand effect that has provided the greatest benefit to Angus cattle suppliers," Ms Chisholm said.
As a progeny test herd for the Team Te Mania program, the Gwalia herd is recording big progress in its genetic gain in important traits like marbling and growth rate.
"Our long-fed index, for example, has now come up to 115, on a breed average of 90," she said.
"The marbling index for our heifer portion that we artificially inseminated this year was 2.3, and their longfed index was 123. The whole herd is now 2.0 for marbling, so we are making rapid progress, which is being reflected also in the carcase performance seen within the CAAB program."
Ms Chisholm said her breeding program had become much more objectively oriented over the past 15 years, now weighing all calves at birth, and again at weaning and feedlot entry to build up a solid picture of growth performance. All calves are also scanned for intramuscular fat, rib and rump fat cover and eye muscle area.
Together with the feedback from the abattoir, that information all went to ABRI as part of Breedplan recording, helping drive genetic improvement efficiency both through the herd, and into commercial beef programs like CAAB.
"We are now using a program called Total Genetic Resource Management, which helps match complementary genetics within my cow herd, and the bulls which I have been allocated under the Team Te Mania program. The same applies with our AI program," she said.
"This year, Greg Poppelwell from TGRM sent me the suggested genetic matches online, which I then downloaded onto a Sapien Technology tablet (small portable laptop computer), allowing us to make mating calls, crush-side."
"The tablet actually calls out (using a synthetic voice), as a heifer is read as she comes up the race, who she is to be mated to for maximum genetic gain. There was no need to paw over records – all the decisions were done via the TGRM software, live. It's amazing," Ms Chisholm said.
Two AI technicians used in Gwalia's AI program this year had also had great success using a new product called Gonnabreed, which aided conception rates and management during the insemination work.
Ms Chisholm told the CAAB anniversary gathering last Thursday that families that stuck together and worked together could achieve great things, and there was a sense of 'family' within the CAAB Angus supply network.
"If they stick together and market their product collectively and effectively, I think it can have a lot more commercial and marketing impact than producers going off individually and having their own cottage industry approach," she said.
According to reports in yesterday's Courier Mail, Queen Elizabeth dined on Certified Australian Angus Beef fillet on a mushroom duxelle with red wine jus during lunch at Government House on Sunday.