QUEENSLAND beef producers in parts of the state where the drought resistant browse legume, leucaena can be grown are increasing plantings in response to cattle price premiums attached to certified grassfed beef brand programs.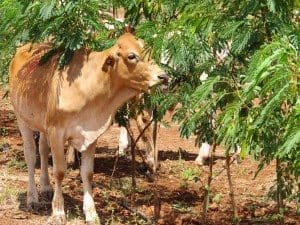 In a dry year like 2018, deep-rooted leucaena has played an important part in maintaining continuity of supply in grassfed beef programs, processors and producers say.
The comments come in advance of a major international leucaena conference being held in Brisbane next week (see details below).
Livestock manager at Teys Australia's Biloela export and domestic beef processing plant in Central Queensland, Matt Pavey, estimates that leucaena-finished cattle entering his plant's certified grassfed brands each week could be as high as 30 percent at certain times this year.
"Each year that goes by, we see more and more cattle suppliers to Biloela establishing areas of leucaena as part of their finishing systems," Mr Pavey said. "Some of the early plantings have now been in for 30 years, but there's also still plenty of areas in our livestock catchment region being established to new leucaena this year," he said.
Some producers introduced young cattle onto leucaena at weaning, remaining there until they were despatched for slaughter, Mr Pavey said.
"The average carcase weights being seen across the yearly cycle through Biloela are definitely higher as a result of better nutrition through access to leucaena. One of our regular suppliers told me recently he believes on average, he turns off his grassfed cattle eight months earlier, and 30kg heavier as a direct result of leucaena's nutrition impact."
"People are continuing to clear and develop country to plant new leucaena this year, especially with the new varieties that are coming available."
Typical of local CQ producers investing money in expanding their leucaena plantings are Rob and Melinee Leather from Barfield Station, between Banana and Theodore.
The Leathers started planting leucaena two or three years ago and now have plots at various growth stages. Current plantings are around 1220ha in total, with another 400ha planned for the next phase.
While Barmount station has areas of good scrub country for buffel grass finishing, the Leathers feel there are other areas of their country where leucaena can "really help lift production potential, and the numbers turned off."
"And the second consideration is that leucaena just gives us that additional drought protection," Mrs Leather said.
The leucaena variety chosen so far has been Wondergraze, but the Leathers plan to plant some Cunningham in their next stage of development, having grown the variety with good results on another property earlier.
"We're going to look at the difference. Wondergraze is certainly very vigorous, and does a good job so far as growth is concerned – but we think Cunningham may be a little more palatable," she said.
"Cattle we have turned off Wondergraze so far have done well, but it will just be good to compare the difference."
Mrs Leather said leucaena had certainly played a role in maintaining continuity of supply in grassfed cattle in her area in a very dry year.
"It would also be interesting to see some meat quality research done on leucaena-finished beef – particularly during these times of low grass protein. We've just done some NIRS faecal sampling, and our leucaena block samples were really high for protein, compared with our grass pasture paddocks this year. That's a pretty good indicator, to start with."
Major leucaena conference in Brisbane next week
Practical knowledge gained from three decades of research and experience on how to grow and graze leucaena will be shared by world leading scientists, researchers and producers at a major international conference in Brisbane from October 29 to November 3.
The International Leucaena Conference 2018 will include a 2.5-day conference and producer forum at the University of Queensland in Brisbane, and a three-day property tour program visiting several successful Leucaena grazing operations. Producers interested in attending can view the website and register for the tour and/or conference here)
The last dedicated international conference to focus on leucaena was held in Vietnam in 1997.
Plantations of the tree legume forage crop are becoming increasingly common in tropical and subtropical cattle producing regions, providing a high protein feed source that has been proven to boost liveweight gain both per animal and per hectare, compared to grass-only pastures.
Leucaena's other multipurpose uses include land regeneration, carbon sequestration and methane reduction, and as woody biomass for paper pulp and energy generation.
UQ School of Agriculture and Food Sciences researcher Associate Professor Max Shelton said over the past three decades, scientists and producers had greatly increased their knowledge of growing and grazing leucaena.
The International Leucaena Conference will bring together the most experienced scientists, extension practitioners and producers to share their improved knowledge on the latest varieties, recommended management practices, and feeding systems.
Prof Shelton said the event is designed to focus on the practical aspects of using leucaena to lift livestock productivity and profitability for producers.
"The objective of the tour and conference is to highlight the practical and relevant," he said.
"We want it to be an interpretation of the best scientific evidence from the best R&D for the benefit of extension workers and producers.
The conference will feature speakers from Australia and overseas, with a special focus on the practical aspects of feeding leucaena, what results they've got, what markets they target, what profitability they have achieved, what successes and failures they have had, and where to next.
The conference will be divided into sessions with topics including:
an overview of leucaena, varieties currently available
how to manage leucaena plantations
how to manage animals on leucaena
alternative uses of leucaena
environment implications of leucaena (including carbon sequestration, methane reduction, soil quality improvement,  biodiversity and animal welfare, and weed leucaena and its control)
economics of cattle fattening from leucaena
case studies of leucaena feeding systems in Australia, Indonesia, Colombia, Mexico, and elsewhere
bioenergy and
priorities and future activities.
An entire session to be facilitated by Joe Rolfe of QDAF who will focus on the experiences of six producers who use leucaena for high value beef production.
Leucaena opportunity "is huge"
Prof Shelton said leucaena was set to play a critical role in helping the northern Australian cattle industry to achieve its potential.
"The beef industry in northern Australia has a comparative advantage that it is grassfed, it is natural, but it can't rely on native pastures alone," he said.
"It has to be high quality improved pastures in order to achieve the meat quality that consumers expect from Australian producers."
"QDAF in Central Queensland have just demonstrated that leucaena is the most profitable high value pasture option, and then in North Queensland you have those basaltic uplands which are high in phosphorous and perfect for growing leucaena, so the opportunity and the potential is huge."
While research is demonstrating the potential benefits of leucaena as a greenhouse gas, he said the concerns about the potential of leucaena to become a weed if not properly controlled could not be ignored. This issue will also be addressed at the conference highlighting the Code of practice developed by the leucaena network.
Through Meat & Livestock Australia, the industry is investing in the development of a sterile leucaena variety to address this problem, with work progressing at both the WA Department of Agriculture and the University of Queensland.
A session at ILC2018 will focus on the potential of a sterile variety for northern Australia.
The conference will also include updates on the rollout of the new psyllid-resistant leucaena variety 'Redlands', developed to help producers to establish and benefit from leucaena in wetter coastal and monsoonal areas of northern Australia where psyllids have traditionally prevented successful establishment of the forage legume.
The ILC2018 program has been strongly supported by MLA, ACIAR and the University of Hawaii.
To view the conference website click here