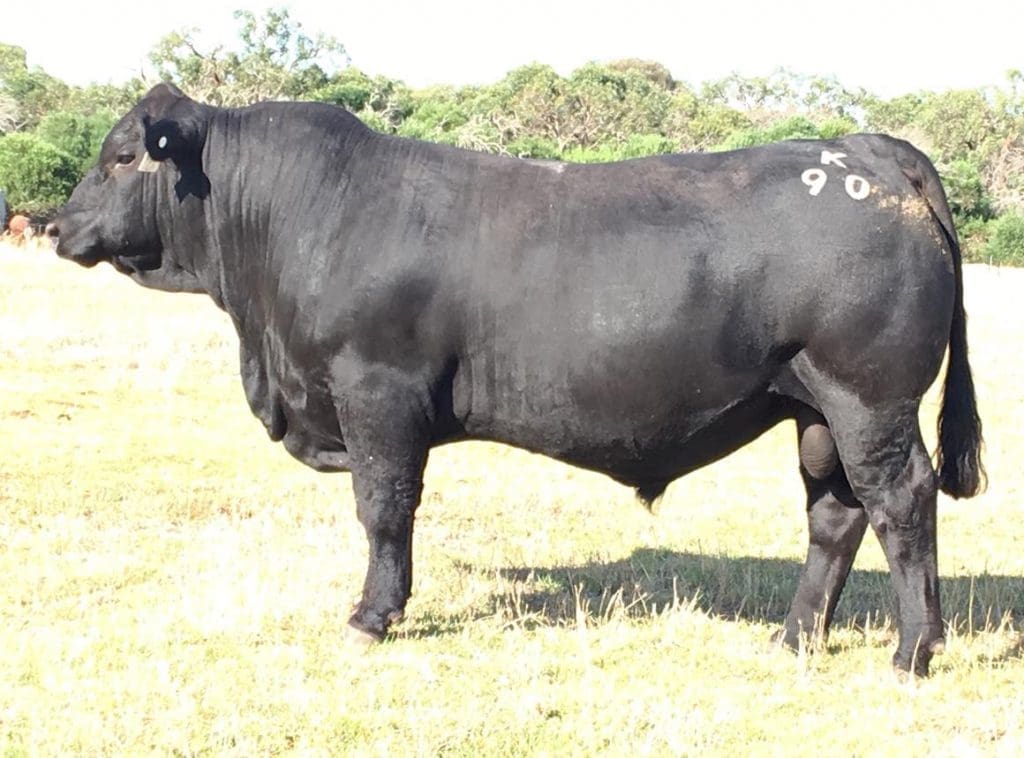 Woonallee's new $27,500 record-setter, Webb Tank K90, bought by WA breeders Kevin and Janice Hard, Naracoopa, Denmark.
A $27,500 sale logged at yesterday's Woonallee Simmental bull sale in South Australia has set a national breed record for Black Simmental bulls – only three days after the previous record was set in WA.
Tom Baker's Woonallee stud near Millicent in SA's south sold Webb Tank K90, a 17-month-old homozygous poll, homozygous black bull to Western Australian stud and commercial breeders Kevin and Janice Hard, Naracoopa, Denmark.
The previous record at $24,000 was set only on Monday this week, when WA's Mike and Rob Introvigne sold Bonnydale Augustus L84 to Wombramurra Stud, Nundle, NSW.
Both results serve to underline the momentum being seen in Black Simmental derivative breeding at present, for use over Angus-derived females.
The new record-setter sold yesterday is an AI calf by prominent US homozygous Black AI sire, TNT Tanker, who also produced Woonallee's previous sale black record-setter sold several years ago for $20,000.
Why the Webb prefix? Woonallee bought the 120-cow Webb Black Simmental registered herd out of Victoria earlier this year as part of its expansion. The new record-setter was included as a calf/yearling.
K90 was described in the catalogue as "A magnificent young sire with ample thickness, volume and capacity; a well-balanced bull that stands on sound feet and legs, with stud potential. His dam, Webb Webb E59, is an impressive cow that has another cracking calf at foot."
Yesterday's Woonallee sale saw a total clearance of a catalogue of 93 bulls (about 30 up on last year's offering) for a strong average of $7408. There was a particularly broad buyer catchment. Bulls went to five states – Queensland, NSW, Tasmania, Western Australia, and South Australia.
Significantly, there was evidence of remote bidding at the sale via an AuctionsPlus interface, with another high-priced bull at $18,000 going to an online bidder.
Click here to view Beef Central's report from Monday on the previous record
Click here to access Beef Central's recent comprehensive list of stud beef breed records.