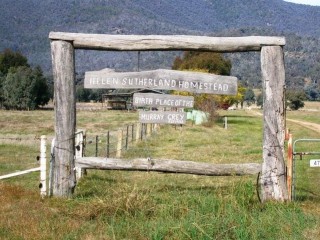 A Murray Valley grazing property known as the birthplace of Murray Grey cattle will be auctioned in August.
Thologolong Station, a 344 hectare grazing property 65km east of Wodonga with 1km frontage to the Murray River, has been listed for sale by Elders.
Thologolong was originally owned by Peter and Ena Sutherland who were credited with pioneering the Murray Grey breed.
Historical accounts record that Murray Grey cattle were developed from an initial chance mating of a black Aberdeen Angus bull with a roan Shorthorn cow in 1905.
The resulting 13 grey calves were bred on Thologolong by the Sutherlands, and the cattle were named Murray Greys in recognition of their colour and their Murray River origins.
"It became apparent… that these odd cattle grew quickly, were superior converters of feed and possessed carcase merit," an official history on the Murray Grey Beef Cattle Society website states. "Local cattlemen were attracted by the Grey's size and appearance and began developing the breed."
In 1929, following the death of Peter Sutherland, Ena Sutherland sold her herd to her sister-in-law Helen Sutherland, who developed the breed with her husband Keith. In 1939 the Gadd family purchased Murray Grey bulls from the Sutherlands and commenced a major breeding program.
By the 1960's several breeders were successfully breeding commercial Murray Greys and the Murray Grey Beef Cattle Society was formed to register the cattle and to administer the breed. Murray Greys have since been bred in New Zealand, the US, Canada and Europe.
The property contains a heritage listed timber homestead constructed from hardwood timber felled and milled on the property in the late 1920s.
Helen died in 1986 but the property has remained in the Sutherland family's ownership since its inception. The property is fenced into 40 paddocks and carries 150 breeders.
Elders agent Reg Coulston, who has listed the property for sale, said a price in excess of $1 million was expected.
The property will be auctioned at 2pm on August 11. For further details contact Reg Coulston at Elders Albury on 0418 118 207 or enter the property id number 35669087 at www.eldersrealestate.com.au