BIG cattle price premiums need to be extracted from processors in order to financially justify the non-use of hormonal growth promotants in cattle production systems, a Rockhampton producer audience was told recently.
Premiums of between 43c/kg for grassfed trade steers, and 62c/kg on heavy steers were necessary to offset productivity losses caused through avoiding the use of HGPs, based on case study figures presented by implant manufacturer Elanco.
Addressing a cattle producer audience during the World Brahman Congress in Rockhampton recently was Elanco's cattle brand manager David Packer.
He said most Australian processors applied little or no discount on HGP-treated stock on their everyday price grids. Beef Central explores this claim in an accompanying article this morning, surveying grids from 17 of the largest export beef plants in Australia, representing around 60 percent of the national kill.
Mr Packer said a producer comment he heard reasonably frequently was that there is 'much more money to be made in HGP-free premium markets.'
"There's no doubt that can be true, and there are producers making handsome returns from premium markets that do include a requirement for no HGP (such as EU)," he said.
But equally there were other factors to consider. Premiums could be quite variable through the year, and were not always guaranteed. Sometimes processors had a precursor that cattle needed to achieve a certain quality grade in order to qualify for the HGP-free premium. Other factors could also come into play in many premium no-HGP markets include program fees and annual auditing, minimum MSA specifications, and overall processor specs.
Mr Packer said given current (in many places, record) beef prices being seen in the saleyards and via direct consignment, discounts on HGP-treated cattle needed to be 'quite significant' to offset the productivity advantages available through implant use.
Through more than 140 field trials, Elanco suggests that average growth rate advantage can be 10-25pc in treated cattle, depending on the program applied.
He said among Australia's four largest export markets including Japan, the US, Korea and China, only China had a no-HGP policy. Another no-HGP market, the EU, represented only about 2pc of beef exports, by volume. Other export markets (note relative size in graph below) that did not accept HGP beef included Saudi, Russia (currently closed), Egypt and Malaysia.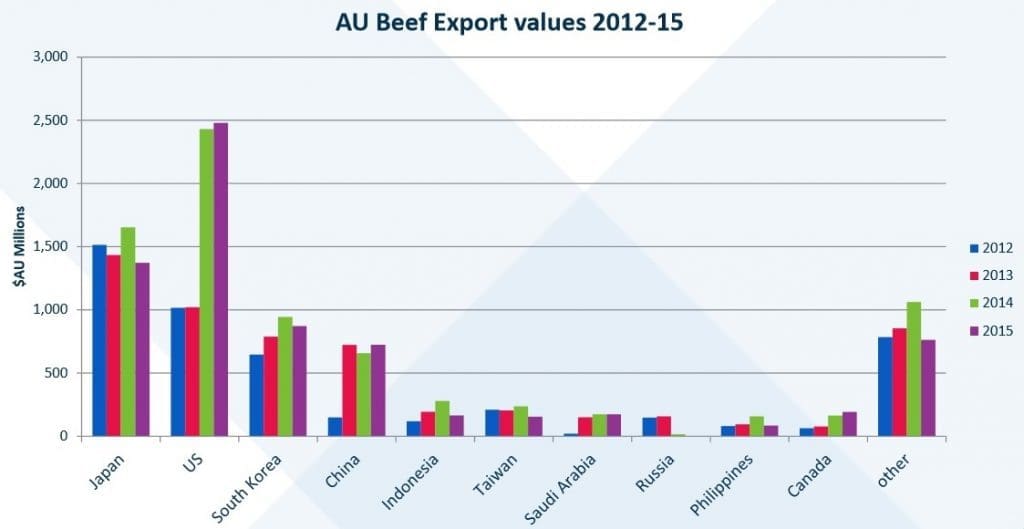 In domestic markets, Coles took a stand to differentiate itself in the market by going HGP free, but Woolworths and other large supermarket retailers made no distinction about implants, basing their outcomes on Meat Standards Australia grading.
Mr Packer said the MSA program accepted HGP-treated cattle, but the type of implant chosen could affect final grading outcomes, with a softer (oestradiol only) implant having less impact on fat, marbling and sometimes ossification, leading to better grading results.
Using data from MLA's recent 2015 Australian beef eating quality audit, he pointed to the two bell-curves in the graph published below. The red curve is for all HGP treated cattle graded under MSA across Australia in 2014-15, while the blue curve is for non-implanted cattle. While there is a distinct difference between the two – worth about five MSA index points – the key point is that many MSA-licensed processors apply a cut-off for MSA of 49 or 52 index points.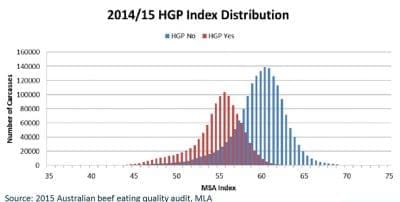 "In reality, that means that there's only somewhere between 6 and 10 percent of those implanted cattle at the tail end that are failing to receive an MSA processor premium," Mr Packer said. Of the implanted MSA cattle, not all are finished in feedlots, with about 25 percent being grassfed."
Big premiums required
The table below, shown to the Rockhampton cattle producer audience, outlines four different performance scenarios covering grassfed trade and heavy steers implanted at branding or weaning.
"Implanting the trade steer at branding, for example, at 120kg liveweight, would in this scenario deliver an additional 66kg carcase weight, over a standard 540kg untreated animal," Mr Packer said.
"That delivers a carcase weighing around 315kg – just scraping in under the 320kg limit where  discounting starts on a domestic grid. Alternatively, the HGP-treated steer finishes to the same liveweight (540kg), but does it in 115 days less that the non-implanted steer. The sort of price premium required to offset that productivity loss by not using the HGP in this example is 59c/kg, or given a scenario where 70pc of the cattle meet the specs, 69c/kg," Mr Packer said.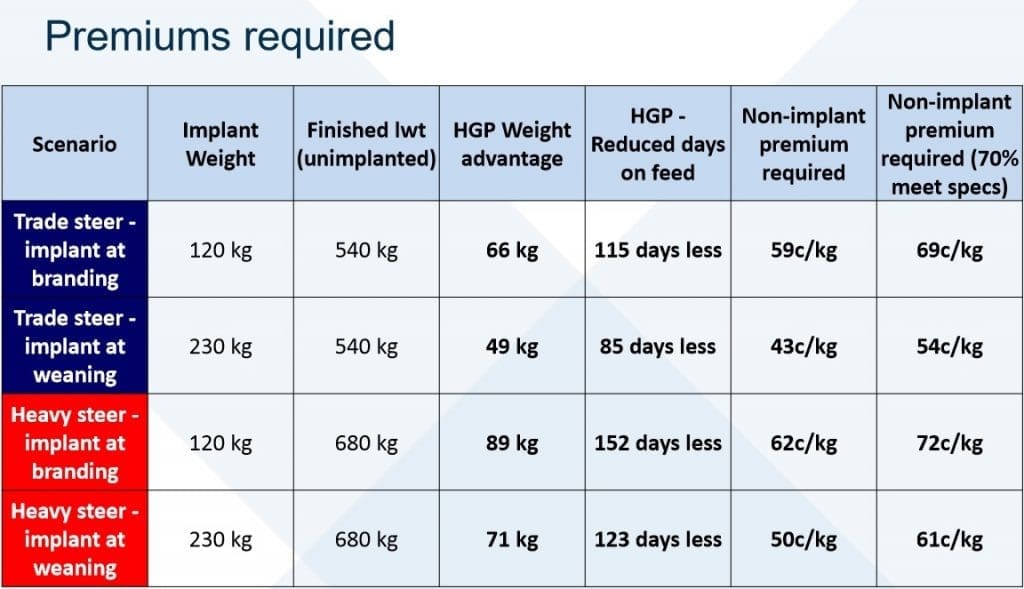 The examples published here are based on a 52pc dressing percentage; growth rate of 0.5kg/day, an HGP advantage of 15.8pc, and a discount for being outside specs worth 50c/kg. The cost of the implant is included.
Even larger premiums are required for non-use of implants in the heavy steer examples shown.
The size of the premiums required to offset non-use of HGP could be affected by a range of variables, including age at implant, end market, growth rate performance, dressing percentage and prevailing slaughter cattle price, Mr Packer said. Elanco field staff could feed-in a specific set of variables on a customer's line of cattle using a calculator developed by the company, to forecast outcomes in earlier turnoff or additional weight.
He also displayed a set of price statistics on one specific HGP-free market reported by MLA's National Livestock Reporting Service, tracking premiums over equivalent implanted cattle. Overlaid over this in red and green are breakeven figures, at 45c and 55c, to account for the productivity difference.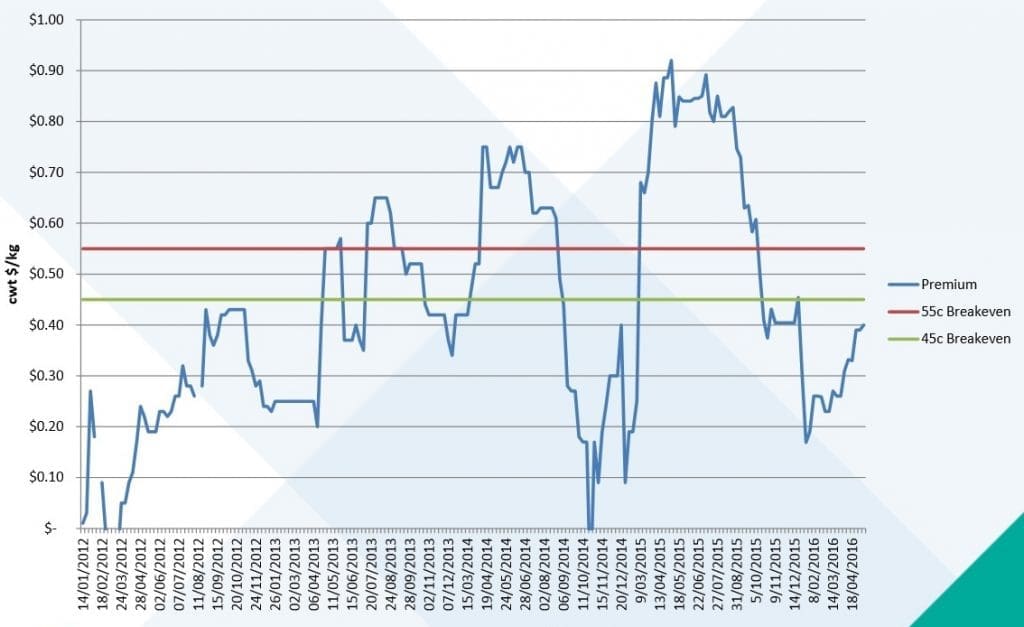 The first point worth noting was how volatile the premiums could be through a yearly cycle.
"The time spent above the red line (representing a breakeven for 2015-16 cattle pricing) or green line (pre-2015 breakeven pricing) represent money being made as a premium. But for the much larger part of the year spent below the red or green lines, this producer would have been financially better off using HGPs," he said.
An analysis carried out in 2013 – well before the current surge in cattle prices – suggested HGPs were worth around $172 million to the Australian beef industry each year, comprising $134m in value to the feedlot sector and $38m to the grassfed sector. Implants were calculated to have added 150,000 tonnes more beef to total Australian production that year.
The issues surrounding reasons for use, and non-use of HGPs are even more sharply focused in a year like this, when the national beef herd is approaching 40-year lows, and beef exports are likely to plummet 17pc, to below one million tonnes.
See this morning's separate story – Little evidence of HGP discounting in meatworks grids