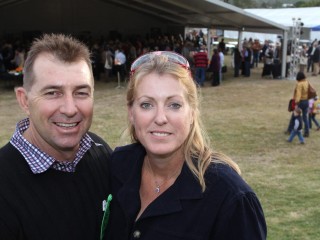 When severe drought took hold of their western Queensland cattle property in 2000, Glenn and Natalie Williams decided to meet the challenge head on.
They sold their entire breeding herd and launched into a full-scale development program.
As they told last week's MLA Meat Profit Day at Eidsvold, they now believe it was the best decision they have ever made.
It allowed them to transform what was a marginal and undeveloped desert block into a model of grazing productivity.
Granville is a 7600 hectare property 50km north of Jericho in Central Queensland, comprising Ironbark and Box country with scattered patches of Brigalow and Gidgea.
When Glenn and Natalie, an underground miner and registered nurse respectively, bought Granville in 1995, the entire property was divided into just three paddocks.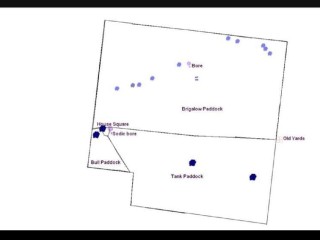 The inability to strategically rest the large paddocks had led to degradation and little to no ground cover, particularly around the creek and the handful of dams where cattle watered.
The Williams began developing the property through pulling and introducing buffel, euracloa and legumes.
When drought tightened its grip in 2000, they assessed their situation and decided to treat it as a development opportunity. They made the tough decision to sell all of their stock and to invest in wire and water.
"We knew our cost of production and we knew what our figures were," Glenn said. "We knew we weren't going to achieve what we said we were going to achieve, so we looked at how we could stop the bleeding."
They established a rotational grazing system incorporating 49km of new three wire internal fences, 35km of new single wire electric fencing, 72 troughs, 145km of 63mm polypipe, 34 poly tanks (5500 gallons each) and 13 holding squares.
They knew they could not fund the infrastructure development from their on-farm cash flow alone, particularly given the property's minimal carrying capacity at the time.
They looked for other alternatives including leasing more country, investing in external cash flow businesses and contracting excess machinery out. Off-farm income through Glenn's work as an underground miner at Emerald played a key role. "If you don't think you can manage your farm and have a full time job, that is a fallacy," Natalie said.
When the drought broke in 2004, Granville was ready to go. Three paddocks had become more than 30.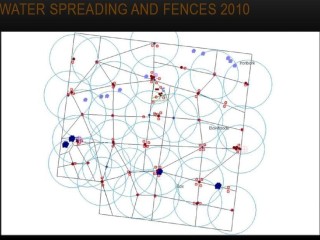 The farthest distance cattle had to walk to find water anywhere on the property was 1.2km. The comprehensive network of watering points and grazing cells allowed for optimum utilisation and strategic rest of the entire pasture resource.
Transformation
On every measure the transformation on Granville has been significant.
In 1996-97 more than 80 percent of the property was classified as "C", meaning degraded, under the then land condition assessment scale. By 2005-06 more than 95pc was classified in the highest "A" class category.
Carrying capacity has climbed from 140 livestock units (LSU) in 1995 to 4000 in 2010, and 5000 this year.
NIRS dung sample tests taken every month over the past 15 years document an improvement in crude protein levels from 4.8pc – the level required for maintenance of breeder cattle – to just over 8pc in 2009, and even higher now.
Over the same period time average daily weight gain of cattle on Granville has risen from 0.35kg/day to 0.55kg/day since 2009 – not bad for what was previously considered a "desert block".
Gross sales, when calculated on an average return of $1.50/kg, have increased from $26,827 in 1995 to $1,505,625 in 2011.
Photographs of a fenceline and trough standing in bare ground in 1995 and then immersed in buffel grass in 2009 and again in 2010 tell the story. (The Williams said they avoided showing photographs from 2011 because the extraordinary level of rainfall received this year would have given a distorted picture.)
The development work means the entire operation can now be run with just 30 percent of a full time equivalent. Mustering takes half a day instead of a week.
The couple said the rotational grazing system has created quiet cattle and, and just as importantly, "laid back handlers". It has freed up their time to pursue other business interests.
Clearwater revival
What really pleases the Williams is the sight of clear run-off water.
"There was extensive groundcover loss, particularly around our waters," Natalie said.
"Now we see that due to the grass cover and the waters and mineral cycles that are happening, we now have clear run-off from Granville.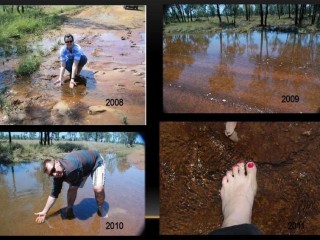 "From 2008 we started to notice really low sediment levels in our water flows, and this year we had some significant falls of five to six inches in one fall and the water still ran clean, so we are pretty happy with that and hope we can maintain that into the future."
The improvements have been achieved through both the driest year on record in 2002 and through flood years such as in 2006, when Granville received 350mm of rain in a single night – the heaviest recorded fall since the 1950s.
The Williams emphasise the importance of investing in education and paying to attend courses whenever possible. They are graduates of RCS grazing management courses and have attended a wide range of workshops and seminars covering everything from low stress stock handling and AI techniques to investment workshops and tax planning and marketing seminars.
They make a point of attending courses together to achieve double the benefit.
"If you come home from a course all invigorated, you might learn 100pc and you do 10pc, but if two of you go you will actually do 20pc, and your momentum and enthusiasm lasts for longer," Glenn said.
Paradigm change
A lesson learned on a trip to South America a few years ago has also prompted the Williams to apply a highly flexible approach to managing their pasture resources from year to year.
"After the drought we did a back packing trip to South America for three or four months, and they have the idea that every paddock is a different business every year," Glenn said.
"That changed our paradigm.
"We are pretty flexible within our beef business, whatever runs or whatever grass we have got, protein values, we'll manage that."
The Williams say that tackling drought head-on in 2000 was one of the best things they could have done.
"When we came out of that drought we not only rejuvenated ourselves but our place was ready to go and all the infrastructure was in place," Glenn said.
"A lot of people race around feeding their cattle and losing money and extending their overdrafts, and are still paying for it in 10 years.
"I have got to admit when you have 800 or 900 cows, and you think you've got the best cattle and they all walk up to your car and you've got them at 40-60 day joining periods, it is one of the hardest things to do.
"But once you have actually done it, and you realise that you can buy cattle back and you do have money in the bank, that was one of our crucial decisions."