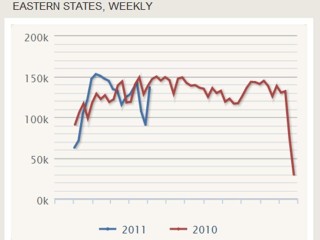 The Eastern States beef kill rose significantly last week, after a sequence of low-throughput weeks caused by recent public holidays and further wet weather disruptions in some areas.
The combined-states weekly kill for the week ended last Friday, May 6, reached 136,187 head, up substantially on a week earlier when only 90,337 head of adult cattle were processed due to the unusual confluence of Easter Monday and Anzac Day national holidays.
While momentum is growing, national kills have not risen above 145,000 head since the third week in February.
The Queensland state kill last week reached 69,045 head, still up 44 percent on a week earlier, despite the fact that last Monday was a state Labour Day holiday.
With a fine weather outlook ahead, no immediate public holiday disruptions on the horizon, and forecasts suggesting a heavy cattle turnoff between now and end of financial year is likely, the prospect of big kills above 150,000 head in coming weeks looks solid. The only real obstacle to that could be softening livestock prices, under the weight of the rampant Australian dollar.