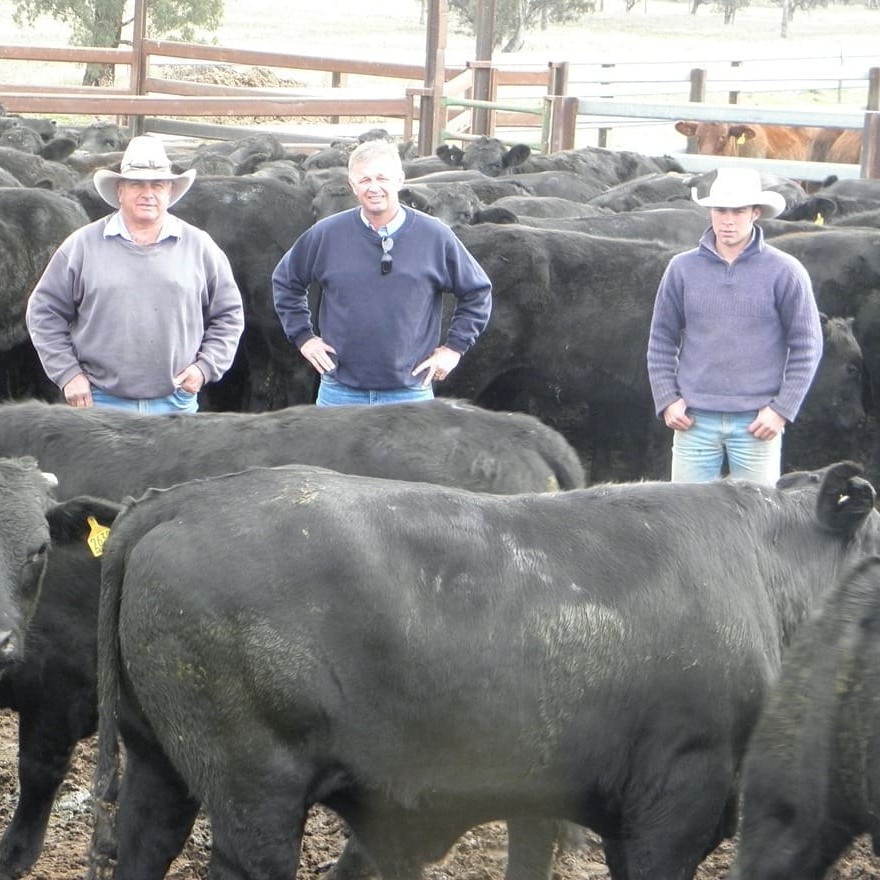 Eight years and almost 10,000 head after selling its first line of feeder steers on Auctions-Plus, one of the New England region's largest cattle operations continues to sell its entire annual calf turnoff via the online marketing platform.
Developed over many years by Fred Millar and family, the SJPM Pty Ltd cattle business includes 10,000ha Macintyre Station north of Inverell towards Ashford, and Myall Creek, another 4500ha of breeding country near Delungra, about an hour away.
Between both places, the business runs about 2500 breeders, with a parallel sheep breeding operation numbering some 3000 ewes.
Macintyre Station breeds and backgrounds all its own cattle turnoff, plus some trading when seasons allow, but made a major change to its production system occurred eight years ago when it made a decision to close its own feedlot, and move to marketing its steer and heifer turnoff as feeders.
Genetics-wise, the business specialises in using Brangus x Angus breeders, mated back to straight Angus bulls. This adds a little hybrid vigour and calving ease to the Angus meat quality genetics, and providing a touch more adaptation on the Delungra country. Joinings have been split to spread the company's turnoff across a wider part of the year.
Calves are mostly grown-out and backgrounded on lucerne to heavy domestic or export feeder entry weights.
Where years ago when the business's own feedlot was in operation, it sold finished steers direct to supermarket buyers, the entire calf turnoff now finds its way onto Auctions-Plus, selling in four or five large blocks each year via local agent, Bob Jamieson Agencies 'Blue Ribband' feature sales.
Typically, the total annual turnoff numbers are about 1200-1300 head, including about 800 steers and 400 heifers, with the remainder of the heifer turnoff kept as replacements. Weights are typically around 380kg.
Individual sale numbers are up to 200 head, tightly bracketed by liveweight. Auctions-Plus lots are generally two decks in size, simplifying handling and transport, numbering about 45-50 head.
Young cattle are yard weaned, worked with dogs and inducted into a paddock backgrounding program in mobs of 100-150, based on tight weight ranges, and fed for around 100 days.
"The impact of Auctions-Plus for us has been in broadening the buyer audience," Macintyre Station livestock manager Tony Keyte said.
"There's a few bigger feedlots that tend to act as repeat buyers, because they are very familiar with the performance of the cattle, but it's not uncommon for buyers from as far away as Victoria to compete," he said.
Mr Keyte said the advent of the video footage for each Auctions Plus lot had been a big step forward in more effectively describing and marketing the cattle before the Friday online auctions.
"It's not uncommon for me to receive calls from potential buyers after the video is made available, asking more questions about the background to the cattle," he said.
"When done properly, it enhances the description process enormously."
(Click image above to view an example of a video previewing a line of Macintyre Station steers prior to an Auctions-Plus sale).
In an extraordinary achievement, Macintyre Station has never passed in a beast offered on Auctions-Plus over its past eight year history of using the on-line marketing platform.
Pegging reserves at a realistic level is part of the explanation behind that, but the reputation of the Macintyre cattle for quality and performance is perhaps the biggest factor, Mr Keyte believes.
"Typically we'll see four or five bidders operating on them, and they'll get the reserve quickly, before slowing down a bit. But it's not uncommon to see them sell for 10-15c above the reserve," he said.
The most recent run of Macintyre Station steers were sold on Auctions-Plus in December, when conditions meant young cattle were 'pretty hard to sell.'
Independent onlookers felt they probably got 15-20c/kg over the odds on comparison with saleyards cattle at the time.
Heifers lines often attract breeder interest, as well as feeders, and the most recent line of about 300 went to a near-neighbour as breeder replacements. At other times of year, they are more likely to be secured by domestic feeders.
Marketing agent Bob Jamieson (see this morning's companion Auctions-Plus article) said the Macintyre steers regularly found homes with grass fatteners as far south as Melbourne, as a result of the broader exposure they gained via on-line marketing.
"McIntyre Station has effectively developed its own little 'brand' within our own Blue Ribband feature sale Auctions-Plus 'brand', Mr Jamieson said.
"Whenever McIntyre Station cattle are listed on Auctions-Plus, people who have bought those cattle in the past sit up and take notice, because they know how they perform, and the feedlots love them," he said.