A MICROCHIP device that allows livestock managers to monitor their animals' health status remotely, around the clock, is about to hit a development milestone, with the company behind the technology ready to launch a commercial trial.
Spearheaded by Fremantle-based veterinarian, Dr Garnett Hall, the VetChip microchip is implanted subcutaneously under the animal's skin, using a similar method as animal identification chips used in companion animals.
The device uses bio-sensors to continuously monitor temperature, heart rate, respiratory rate, oxygenation levels, and activity levels. It can also be used for geo-location.
Biometric data collected by the chip is then interpreted by AI software to determine an animal's normal health status and detect abnormalities as they occur, which is provided to owners through a connected phone app.
After a successful seed round in 2021 in which the company raised $2 million, VetChip is now looking to raise $5 million through AgriFutures GrowAg, an online agrifood innovation marketplace which connects users to investment opportunities, research and expertise from Australia and around the world.
When capital raising is complete, the funding will primarily be used to conduct a commercial trial of VetChip's world-first technology over the next 18-24 months.
The key advantage of VetChip in farm animals is its ability to alert owners to emerging health concerns simultaneously at an early stage, where intervention can mitigate negative effects and spread of disease, aid speed of recovery and importantly, improve animal health outcomes.
AgriFutures GrowAg senior manager Arianna Sippel said this was world-leading technology which had the potential to change the lives of animals and their owners.
"VetChip has refined the technology to the point of commercial readiness, and with the right investment partners, the company is now ready to take that next step," Ms Sippel said.
Recently, VetChip was announced as the one of 12 recipients of the latest Western Australian Government's Asia Access Grants.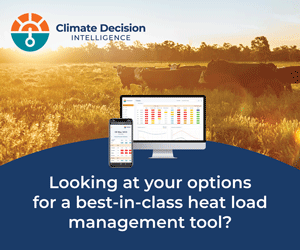 "We've had a lot of attention from industry and global animal health companies. If we can demonstrate that our technology has commercial potential, then the sky's the limit for its potential adoption," founder Dr Garnett Hall said.
"A big focus is training our AI algorithms to assess health, welfare and performance. The rapid advancements in AI are really exciting, and we believe that our technology will be an essential component of maximising the impact of AI in the veterinary world.
"Australia needs to invest in this sort of technology development if we're really going to lead the world in smart agriculture and animal welfare."
Dr Hall said the technology gave owners peace of mind that they were providing their animals with optimal quality of life.
"It effectively gives these animals a voice, because they can't tell you when they're feeling unwell," he said.
VetChip has also developed an API link to existing health record technology, allowing vets to make more informed decisions based on an animal's historical data.
"It also functions as an identifier chip, so eventually we envision animal owners being given the choice of the standard microchip, or VetChip which does both ID and health monitoring," Dr Hall said.
Human health source of inspiration
The human health revolution inspired by wearable technology was part of Dr Hall's inspiration for the device.
"It was around the time Fitbits were becoming popular, but I could see that technology wasn't going to be suitable for animals," he said.
"Several companies have developed wearable health monitors for animals, such as ear-tags or collars, but animals can either chew them off or they just get destroyed out in the elements. They also lack the ability to detect many important biological traits that an internal solution can."
VetChip would retail for around the same price as the wearable collars, Dr Hall said, but promised to provide far more insightful health data about the animals.
The technology is equally suitable for livestock from cattle and sheep to horses, pigs and domestic companion animals.
"The hardware is exactly the same, but the AI model's training and output can be customised depending on the species," Dr Hall said.
"This technology can change how animal management happens, and link with smart-farm projects where monitoring the animals is often the biggest limitation."
To learn more about the expression of interest in investment process go to the growAG website.
This investment opportunity is only for professional and sophisticated investors as defined in the Corporations Act 2001 (Cth). The content of this opportunity is intended for use by persons having professional experience in matters relating to investments and must not be acted or relied upon by any other person including, without limitation, retail clients.
Source: AgriFutures