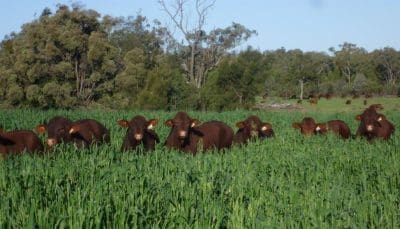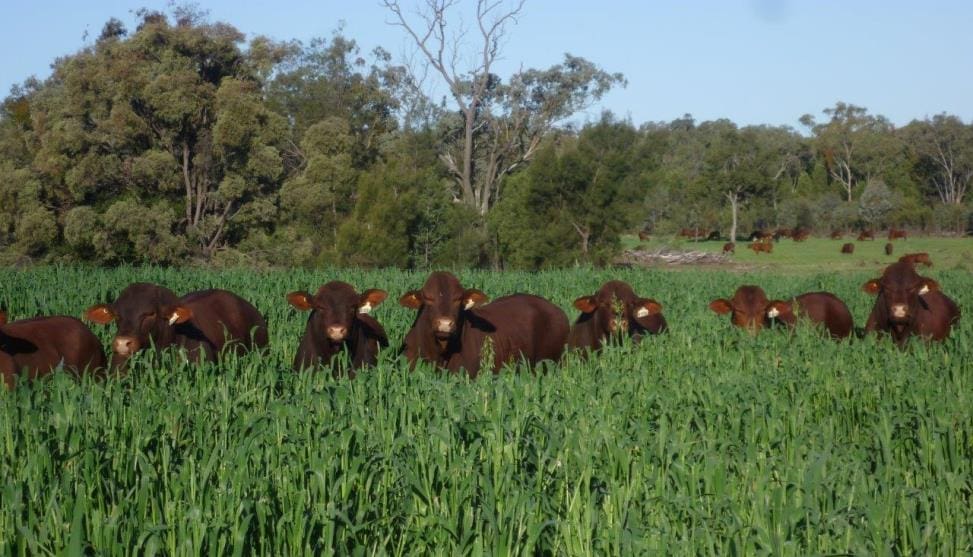 A COMBINATION of plenty of feed and not many cattle to eat it has created an interesting problem for many producers across the eastern seaboard as they consider their options for winter forage crops.
New South Wales and Queensland have seen large winter forage crops in the past two years – which have played a significant part in the demand for backgrounding cattle. But with hay sheds, silage bunkers and paddocks full of feed this year – the decision to plant is a tough one.
Qld's Darling Downs has been one of the areas with a bumper season, with an impressive summer sorghum crop and a positive outlook for cotton crops. Dalby Rural Supplies lead agronomist Andrew Johnston said seed sales for winter forage crops were down on recent years.
"Just after those dry years in 2019/20 we had plenty of orders in the system for oats because people were desperate for feed." Mr Johnston said.
"Sales are down at this stage of the year and that could be a result of all the green feed around. But some of my mixed cropping clients are still looking at growing some oats and putting cattle on them."
Mr Johnston said the majority of the Dalby area was in a position to plant crops after a bumper wet season.
"We have grain crops coming off at the moment and they are yielding incredibly well. Some areas have missed out, but the majority has a very good moisture profile and a very good outlook," he said.
"We'll have some guys starting to plant oats around the first week of March if the conditions are right and it is not too hot."
Fodder crops still stacking up in Northern NSW
Tamworth-based agricultural consultant Sam Newsome said there was still an appetite for growing oats and backgrounding cattle on the north-west slopes of NSW.
"The approach to this year's winter fodder cropping varies farm-to-farm depending on whether they are mixed farms or specialist grazing businesses," Mr Newsome said.
"While it has been tricky to manage fallows, most will have good sub soil moisture profiles, after a very wet November in particular, so will be approaching sowing with confidence."
Mr Newsome said all cropping enterprises faced cost inflation with chemical, fertiliser and possibly contracting costs increasing.
"They are weighing up agronomic factors such as the crop sequence and the funding costs of two-and-a-half weaners/ha or over $5000/ha in livestock purchases. An interest cost of 3pc or $50/head or $125/ha for a 9 month trade," Mr Newsome said.
"Those who are pro-livestock will be citing the lack of harvest risk and their careful management of pugging as cases for fodder crops. And those more focussed on cash crops will keep it simple and continue to specialise in grain production.
"Most of the mixed farmers are more likely to avoid fodder crops with the prospect of smaller livestock trading margins, due to buy in process, and amount of capital required to buy livestock."
Mr Newsome said grazing specialists in areas like New England were more likely to base decisions on herd recovery and pasture improvement plans.
"They will be weighing up their winter feed gap, which will be in turn, determined by whether they have restocked coming out of the drought, two-years-ago, to a point where wintered stocking rate and carrying capacity are in balance," he said.
"Many of these businesses however, are buoyed by the outstanding gross margins their fodder cropping achieved in 2020 and 2021 calendar years, courtesy of a rising cattle market.
"They may also be committed to a fodder cropping program, with a plan to crop that paddock for 3 years, in order to set it up for successful perennial pasture establishment."
Winter oats crops have underpinned a lot of backgrounding operations in the area for the past two years, with large runs of cattle moving south from Qld.
While the store cattle market is at record levels, Mr Newsome said there was still margins in backgrounding on fodder crops.
"If the market doesn't change too much you would be looking at buying a 250kg crossbred weaner steer for about $2,000 and selling it off oats 200kg heavier for $2650 to the feedlots," he said.
"With a good oats crop you will be running an average of 900kg liveweight per hectare, or about two-and-a-half head per hectare, on average, over 150-180 days – so if you factor in interest and inflated expenses, there is still potentially a reasonable gross margin.
"The big unknown is the end sale price risk, which can be difficult to mitigate. At $1800-$2400 for weaners, many breeders will be willing suppliers of backgrounders and like all business, will appreciate the cashflow from meeting the weaner market."
Feed glut in Southern NSW
With input costs for planting crops increasing, a shortage of cattle and an already substantial body of feed – many in Southern NSW are deciding not to plant fodder crops. Dual purpose grazing and grain or canola crops have been popular.
Agronomist Roger Garnsey said favourable conditions over summer had allowed some of last year's winter crop to stay alive.
"A lot of those rye grasses we plant in winter, which are usually just annuals, they've gone into a third year in some cases," Mr Garnsey said. "They won't need to re-sow those this year which is another reason why the crop will be down."
"They've had such an exceptional spring and summer, stock numbers down and they can't afford to buy a lot of them."
Mr Garnsey said if the late summer rain extended into the start of autumn, some producers might look at cutting some silage.
"Some farmers are being innovative and starting to grow autumn silage, no one ever considered that before because it was only done in spring," he said.
"A lot of the good farmers here are building up those feed reserves and making sure they are prepared for the next drought."