A NORTHERN cattle producer has likened the long-term pay-offs that can be achieved from investing in grass and genetics to the compound growth investors can earn from reinvesting dividends back into share portfolios.
Michael Lyons from Wambiana at Charters Towers was one of five panellists who spoke at the Northern Beef Research Update Conference in Brisbane on a panel focusing on producer experiences with northern cattle research.
The panel also comprised Katherine NT producer Jay Mohr-Bell; WA veterinarian and consultant Kevin Bell, who for the past four years has worked as the technical innovation manager with the Pardoo Beef irrigated pasture enterprise near Broome; Bush Agribusiness principal Ian McLean and ANZ Queensland corporate agribusiness manager Ben Barrett.
The one-hour panel session highlighted key areas of focus for northern cattle research and provided an opportunity for a record NBRUC crowd of 360 landholders, researchers, scientists and industry service providers to quiz leading producers and business advisors on research priorities and strategies.
Mr Lyons, an ag science graduate, Nuffield Scholar and fourth generation cattle producer on Wambiana, said northern cattle producers could harness the benefits of compound growth in a similar way to financial investors.
"When I look at our industry the two areas I think offer great opportunities for compound growth are in the way we manage our grasses and our soil, and in genetics," he said.
The grass asset was the most valuable asset cattle producers had, Mr Lyons said. Managed well over time, producers could increase ground cover, plant vigour and biodiversity. "Sure we are going to hit dry periods but if we consistently manage that well we can improve that grass or pasture resources over time."
Genetics were cumulative and additive. Sticking to a plan over time meant each generation of animals could be better than the previous generation.
"We can keep making good progress and compounding that growth," he said.
"I am excited to see some of the innovations in genomics which are allowing us to get good information for selection on traits that we can't see such as fertility.
"From my perspective any R&D that helps us to do a better job of managing these areas that can give me an opportunity for compound growth within the business, I am really excited about."
Mr Lyons said a key to greater adoption of research was ensuring projects worked with the whole production system.
"I realise often with research it needs to be quite reductionist, we need to try and remove as many variables as possible to test the hypothesis," he said.
"But I think when it comes to sharing those results, and if we're wanting to get good uptake and adoption, then we need to look at how that innovation affects the whole system, because the reality for us graziers is that we're juggling all those other things at the one time."
Mr Lyons said increasing biodiversity would be essential to cope with the likelihood of increased climatic extremes in future, which in turn relied on businesses being profitable.
"Profit gives people choice," he said.
"Choices that allows us to build reserves, to develop the property, to implement innovations, or to choose to reduce debt, expand or even invest off farm."
His comments were reinforced by Ian McLean, principal of Bush Agribusiness, who has extensive experience as a business advisor working with northern cattle operations. He was the lead author of the Northern Beef Report and co-author of the Australian Beef Report, and continues to deliver Business Edge and financial literacy training workshops to cattle producers across northern Australia.
He said more than 50 percent of the landscape and the northern beef herd was managed by profitable producers, which was positive.
However, there will still many who were not sustainable.
His advice on where improvements were most likely to be achieved was through focusing on improving operating efficiency – land, labour and herd productivity. "I like what Michael said about land productivity," Mr McLean said. "Understanding that land condition, that compounding gain, is a key part of it.
"Understand that long term carrying capacity and land condition, matching that stocking rate to carrying capacity, there are  lot of producers that do that very well, but there's a minority that aren't doing it well and I think that creates a big risk for the industry longer term.
Improving herd productivity and the efficiency of turning grass into beef, as Katherine, NT producer Jay Mohr-Bell emphasised in his presentation, was of utmost importance to the profitability of a northern beef enterprise, Mr McLean said.
"How efficient beef producers are at turning grass into beef is their number one profit driver," he said.
"We were all asked the question this morning about how much an extra calf is worth.
"A lift of 1 percent of reproductive rate is worth about $2/animal unit in northern production systems per year, so it is pretty significant."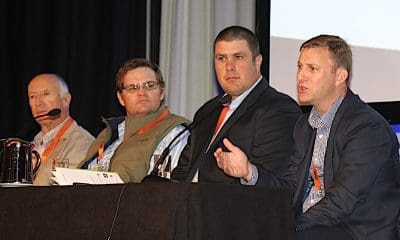 Ben Barrett from ANZ spoke about the traits the bank sees among successful northern cattle producing clients. Echoing the views of the other panellists, a proactive approach to land and herd management featured prominently.
Those who had invested in water and wire and pasture improvement were seeing the benefits and were well positioned to safely increase carrying capacity as a result of that infrastructure when seasonal patterns support herd rebuilding.
"What that wire and water does is also lends itself to more rotational grazing, giving country the opportunity to spell, to get biodiversity in the feed, and that is certainly driving a significant benefit for our customers," he said.
Matching stocking rates with grass reserves was also critical.
"In farming you have to be optimistic, but those who wait in the hope of rain and then find out it doesn't rain and then find themselves in trouble," he said.
"Those who manage their country to the grass reserves, they have less volatility in their numbers and then in turn less volatility in their profitability, so we really see those who make early intervention benefit in the long term.
Herd management, and focusing on 'fertility, fertility and fertility', was another important message.
"Controlled mating, a calving window in a tight band on a riding nutritional plane really helps with rebreed rates,". The difference between a producer running 10,000 breeders producing 5000 calves versus a producer running 8000 breeders producing 6000 calves was enormous, he said. "If you just change that productivity level, it is all about kilograms of beef being sold, it makes a massive difference to the financial outcomes."
Asked by DPIRD northern beef development officer Steph Coombes for one piece of advice they would offer to every station across northern Australia, 'know your cost of production' was a universal answer from the panelists, while Mr Lyons also spoke about the importance of developing business resilience to be able to withstand the difficult times.
Panel moderator Andrew Ash from the CSIRO threw in a curly question to end proceedings, asking the panellists to imagine a scenario where they were given five years notice that the live export industry would close. Could they adapt their northern production systems and remain profitable?
Mr Mohr Bell said it may be possible, with the most likely strategy for his operation involving improving country through clearing to grow improved pasture through the wet season to enable backgrounding and potentially growing out cattle for southern markets.
Kevin Bell said that Pardoo, with its unique irrigation developments and business plan to develop a 10,000 head Wagyu breeding herd, was focused on using the underground water resource to produce high eating quality beef in the region that did not depend on the live export trade.
He said a lot of pastoralists in the region also now have country in southern agricultural areas, which would probably increase in the event of a live export ban.
Mr Lyons said moving to more composite breeding to harness the benefit of numerous breeds and focusing on delivering into a dedicated supply chain would be among the likely strategies.
A recently announced plan to build a 50,000 head feedlot, irrigation development and abattoir near Hughenden, was a positive development for the region, he said