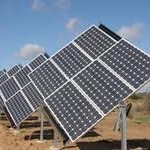 The Australian Agricultural Co will spend close to a million dollars on a solar power generation project designed to reduce the company's carbon footprint, as well as its annual energy bill.
Under a project financed via the Clean Energy Finance Corporation and National Australia Bank, AA Co will install 15 solar systems ranging from 2kw to 99kw at a number of company-owned properties across Northern Australia.
The power generated will be used in stock water pumping applications, feed milling operations and to supplement homesteads currently connected to mains power.
The $990,000 project is part of a broader investment strategy in solar power generation for the company.
An AA Co spokesman said photo voltaic (PV) systems would be installed across 15 grid-connected sites in Queensland. Locations include stations at Julia Creek, Normanton, Dalby (Aronui feedlot), Surat and Comet.
"These systems will enable us to cut our current grid energy consumption and associated carbon emissions by almost 30 percent," the spokesman said.
"The solar program is part of our plans to implement sustainable environmental management that protects and enhances the resources that support our production systems, and helps us secure our long-term future," he said.
The total cost of the project is $990,000, with CEFC providing a $500,000 loan facility and NAB financing the balance.
The CEFC finance (originally through Low Carbon Australia, which has now been integrated into the CEFC) is structured so the savings from the project and new revenue streams cover the capital and financing costs.
The financing arrangement has allowed AA Co to keep capital available for its other developments underway.
"This is a great demonstration project in rural applications for CEFC funding," said Clean Energy Finance Corporation chief executive, Oliver Yates.
"As the relative cost of solar energy generation continues to fall, the business case is strengthening for the rural, utility and commercial sectors to embrace solar. However, there are still impediments to business investment in solar systems. The CEFC can catalyse investment and increase capital to fund the market and reduce finance costs of both shorter-term bank funding and longer-term investment," he said.
Mr Yates said the CEFC had received a strong response from the solar sector with a range of investment opportunities focused on overcoming financial impediments for investment, and new financing models for a range of solar technologies in Australia.
"The CEFC has received strong market interest for aggregation finance and delivery models for smaller individual projects in the commercial, rural and industrial sectors, as well as for large-scale solar utility projects," he said.
NAB Client Solutions & Advisory General Manager Ben Edney said the AA Co project demonstrated the business benefits of commercial-scale solar investment, and the additional value that can come from partnering with the CEFC.
Behind the project:
The Clean Energy Finance Corporation (CEFC) has been established by the Australian Government to mobilise capital investment in renewable energy, low-emissions technology and energy efficiency in Australia. The CEFC's flexible mandate and commercial approach provide an opportunity to achieve genuine market-based change by helping overcome the financial barriers that have previously prevented clean energy investment at scale. Click here to learn more www.cleanenergyfinancecorp.com.au
Infinity Solar is installing the solar systems for the AA Co project. It is one of the largest providers of renewable energy solutions in Queensland and northern New South Wales, and also operates in the Northern Territory.
Trina Solar is supplying the PV panels for the project. It is an internationally recognised manufacturer of PV modules listed on the New York Stock Exchange. Trina Solar is a vertically integrated solar manufacturer with capabilities of solar modules, solar cells and solar wafers.
SMA Solar Technology is supplying the project's PV inverters. It is a global leader in the development, production and sale of PV inverters. SMA is represented in all important photovoltaics markets in 21 countries.