With feedlot ration prices hitting two-year highs recently, it's little wonder that the world's largest beef producer is pushing forward with a genetic selection project designed to deliver cattle that can more efficiently convert feed – whether it be grass or grain-based – into bodyweight.
As Beef Central's regular feedlot breakeven has shown (click here to view), typical feedlot ration prices ex Darling Downs for 100-day cattle reached $335/tonne recently, the highest value seen since the big global surge in grain prices in 2007-08.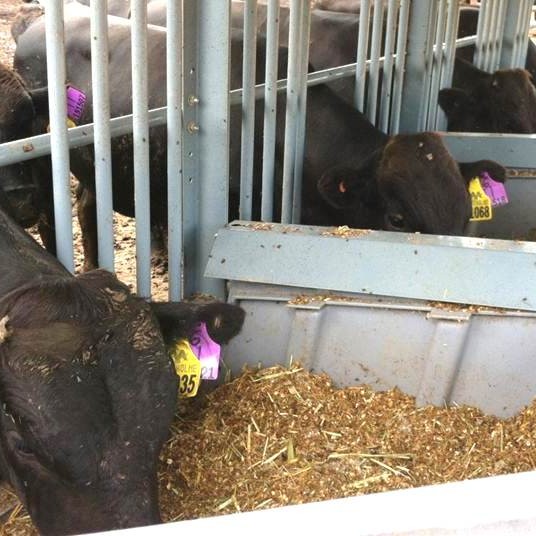 The Australian Agricultural Co will this year send some of its first young bulls measured for feed efficiency into the paddock, having earlier spent about $500,000 installing a GrowSafe feed conversion efficiency testing station at its Goonoo feedlot in Central Queensland.
Add the feeding cost component, and the company's investment in measuring feed conversion performance in its seedstock animals will go well past $1 million, but the long-term payback has the potential to be 'extremely rewarding,' indications suggest.
The Goonoo facility has the capacity to test around 500 head of cattle each year, measuring intake and bodyweight gain data on an individual animal basis.
The testing station is being used to analyse a spectrum of young bulls (and potentially, elite females to be used for embryo work) from Fullblood Wagyu through to component cattle being used to develop the company's composite breeding programs.
Three batches of young cattle have now gone through the facility.
"It's allowing us to identify the outliers, for both good and bad feed conversion efficiency," chief operating officer Troy Setter told Beef Central on Saturday, while attending the annual Australian Wagyu Association conference in Geelong.
"In the early stages it's every bit as important to identify those poor feed converters, and get rid of them, as it is to find and select from the high performers," Mr Setter said.
"As production costs in Australia continue to rise, we have to focus more heavily on traits like feed conversion ability. Fertility has up to now been a big driver in breeding cattle, but feed conversion efficiency, together with carcase quality are areas where we are now doing more work in."
As any animal production/nutrition textbook will describe, there is enormous variation in net feed conversion efficiency among beef cattle, and the early results shown in AA Co's testing station work are no different.
While the industry generally regards net feed conversion efficiency (measured as kilograms of feed per kilogram of bodyweight gain, minus body metabolism maintenance requirements) in beef cattle as averaging about 7:1, the truth is that individual cattle range anywhere from 4:1 to 10 or 11:1, and even worse.
AA Co's early data capture experience using the GrowSafe system absolutely reflects the literature, with some 'truly exciting' individuals coming through the program.
Some of the 'rogue' animals tested so far have had conversions in the 3:1 range – a performance figure more commonly seen in monogastrics like pigs, rather than cattle.
"They're the ones we need to look at. But of course you can't single-trait select – we have to look at that performance closely alongside meat quality and other traits. But with genetic diversity comes opportunity," Mr Setter said.
"We've already identified young bulls (both from the company's composite program and Wagyu) with the magic combination of fertility, carcase traits, feed conversion performance and growth rate," he said.
"We want to retain those elite outlier animals through to their full growth weight, just to confirm the data, but they will then be fully exploited through ET and AI programs so we can spread that genetic foot print and quickly and as deeply as we can."
Quite a deal of work has been done earlier through the Beef CRC on correlations between NFCE and other desirable traits, the big potential conflict being compromised growth rate. The good news, however, is that those 'outliers' exist in the broader cattle population that can deliver both high growth and low (desirable) NFCE.
The first highly promising bulls to pass through AA Co's test station will be put over breeders next year, meaning the first progeny entering the feedlot pens will not be seen for at least another two years.
"It's certainly a long-term project, but once the wheels start turning, it can be a very substantial lift in performance," Mr Setter said.
"It's really a ten-year cycle for this project to have a serious impact, but we should start to see the early results in the next three years."
But the impact will only gain momentum as the genetic selection for NFCE starts to reflect in the company's breeding herd, as older cows are replaced with heifers carrying some feed conversion selection pressure, as well as the paternal side of the calf's genetics.
"It's a bit like a snowball at the top of the hill. It will start off small, but gain momentum as it moves along. If over time, we can knock a kilo per day per animal off our feed requirement, it would have a dramatic impact on our annual feed bill," Mr Setter said.
To illustrate this point, Beef Central has applied the formula used in our regular feedlot trading budget (see earlier example article) to gauge the impact of a 1kg/day (10pc) improvement in NFCE, adjusting from our chosen, typical NFCE figure of 7.5:1 to 6.5:1 (as fed).
Using our formula, the adjustment can be gauged two ways:
A 10pc improvement in NFCE reduces daily consumption from 15kg of finished ration to 13kg, without changing the carcase weight (356kg), producing a massive $70 impact on the net feeding cost per beast over a 105 day feeding program
Approaching it from the 'other direction', if daily consumption is left at 15kg, the 10pc improvement in NFCE delivers a daily gain of lift of 0.3kg (2.0kg to 2.3kg/day). Again, that delivers a net benefit of around $70 a head over the feeding program.
Mr Setter said an NFCE financial impact would apply equally as much, if not more, in open range grazing situations as it did in the feedlot.
"If, for example, NFCE could be improved by 10pc across the board, you could arguably run 10pc more cattle, and/or potentially extract higher fertility over improved breeder body condition at mating time."
Looking at the Wagyu production stream within AA Co's operations, the NFCE benefits could be seen equally as much, if not more, as in the company's composite 'conventional' beef program.
"Our Wagyu might spend 300-400 days in the feedlot, but they typically spend 400 days in the paddock prior to that," Mr Setter said.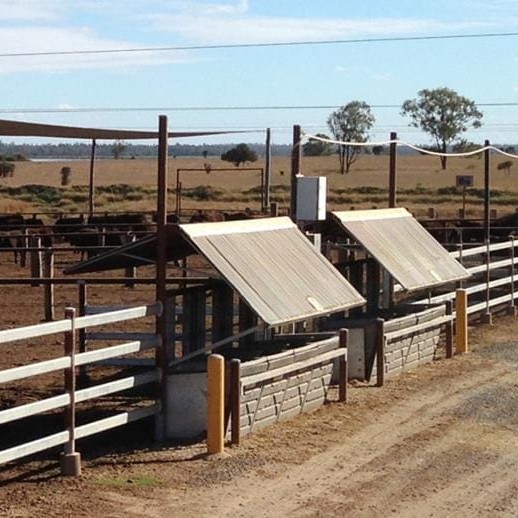 Ration make-up could obviously influence the impact of better NFCE in feedlot cattle. Feeding a 100-day animal on a high grain-based diet would obviously deliver a better payback on a 10pc improvement in NFCE than a Wagyu animal fed a higher roughage-based diet over the same period, or on an annualised basis. But the length of time feeding for the Wagyu could narrow that gap significantly, if the animal produced better performance.
How AA Co plans to manage the Wagyu side of the NFCE testing process is that, as a young Fullblood bull is about to enter the northern breeding herd, he will have been tested for NFCE, while real carcase data will be provided through a half-brother.
"If we have real carcase data from a half-sib, and not just scan data, we think it will improve the accuracies as well as the speed of gain," Mr Setter said.
The adoption of the GrowSafe measurement technology has been the catalyst for change for AA Co in the area of NFCE assessment, because it solves many of the points of resistance to individual testing encountered previously.
The main reasons why NFCE has not been selected for earlier has been that:
The difficulty and cost involved in testing animals on a large scale for efficiency. The Canadian-developed GrowSafe technology addresses these challenges, providing a cost effective, low-labour means of individual animal NFCE assessment. AA Co had already put some cattle through the similar facility at the Tullimba research feedlot, but found it needed greater control, and access to scale, to make the process work better. One of the benefits of enterprise scale in a business the size of AA Co is its ability to financially justify installing its own GrowSafe facility to test large numbers of cattle in coming years
The fragmented nature of the seedstock industry
There are not yet any price signals from feedlot operators to motivate breeders to select more heavily for the trait.
AA Co is already working with some of its key buyers of feeder cattle (principally, domestic heifers) over the move into selection pressure on NFCE, and over time, it is assumed that cattle pricing will begin to reflect the anticipated improvements in feed conversion efficiency.
See this morning's companion story, "Red Wagyu injection into AA Co composite beef program"
More reports from the Australian Wagyu Association annual conference during the week