WITH more than 30 years of electric fencing experience under his belt, NSW fencing demonstrator and cattle producer Mike Thomas has seen just about every fencing mistake there is to see.
He has built electric fencing to contain everything from elephants to worms (seriously! more on that below), and has has used electric fencing in almost every conceivable application to keep livestock in and pest species out.
Mike says there is no single environment where electric fencing will not work effectively, provided people avoid common mistakes and don't take short cuts.
Beef Central spent some time with Mike at the FarmFest field days near Toowoomba earlier this month where he was giving practical advice on electric fencing and demonstrations at the Gallagher site.
We asked him to tell us about some of the more common mistakes he sees people make with electric fencing, and he was only too happy to oblige.
In fact he immediately produced a small container holding various odds and ends which he uses at field days to illustrate some of the more regular problems he encounters.
Polypipe is a no-no
The first item he produces is short, thin piece of polypipe.
As a cost saving measure he said people will often cut polypipe into short lengths to use as insulators around steel posts for example.
"They twitch it onto a steelie and they either twitch it on too tight and it pierces through and shorts out, or they don't do it tight enough, and the thing vibrates loose and the live wire shorts out.
"Another problem with polypipe is that it has carbon in it.
"If you get enough of it, you can have significant powerloss problems. So polypipe is a no-no."
Not all plastic insulators are equal
He then produced a string of black plastic insulators tied together, representing many of the various makes currently on the market.
Presented side by side, the clear differences that exist in strength and durability between the various brands are obvious.
Some use thin and flimsy pins to secure live wires which would seem unlikely to last out several months let alone the several years that would be expected.
Another he pointed out uses conical shaped locking pins to secure the wire in place. The shape of the pin means it is all but impossible to ensure the pin will stay in place no matter how much pressure is used to force it into the holes that are meant to secure it. "Eventually that pin will vibrate free, releasing the live wire and causing a short," Mike explains.
Some however are sturdy and use solid locking pins that lock in place and must be physically turned before they can be released.
"If you are going to use plastics, at least use good ones," Mike says.
Porcelain beats plastic
He advises the use of porcelain over plastic insulators where possible.
Porcelain insulators do not break down over time with sunlight, do not melt in fires and are more robust in standing up to feral animal pressure.
Porcelain insulators may cost about the twice as much as plastic insulators, but over the time they are cost less because of their durability, Mike says.
"At the end of the day, the cost of insulators along a kilometre of fence is negligible, the main cost is in your wire and your posts," Mike said. "The accessories that go into it are only a very small part of the entire cost so you might as well do it properly."
Bad connections
As with any electrical circuit, if you don't have good connections you won't achieve an effective current flow.
Most people know how little corrosion it takes on a battery terminal to stop a vehicle from starting.
Here is one tip Mike offers to ensure good, long lasting connections and to also save some money.
At the end of a fence assembly such as this example pictured above, people would normally run an insulated cable from the top live wire to the bottom live wire.
Mike's tip is to leave a long tail on the live wire after tying it off to the insulator, and then run the tail down and through a steel post insulator to bypass the middle earth wire, before joining it onto the bottom live wire using one clamp (as pictured below).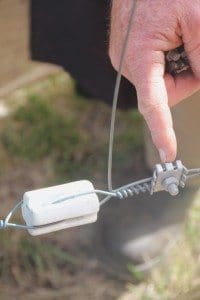 All it has cost to complete the connection is one clamp and one steel post insulator.
Mike follows a similar technique with the earth wire.
He leaves a tail on an earth wire after it is tied off at the top of the steel post and then runs it down the post (as shown below left and below centre), and then joins it to the bottom most earth wire bottom with a single clamp (as shown in focus bottom left)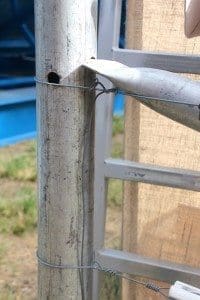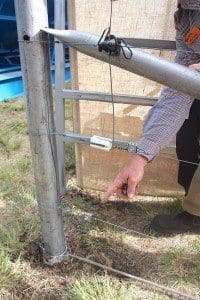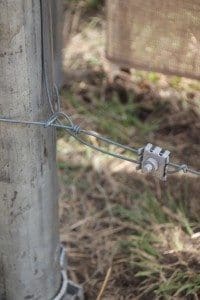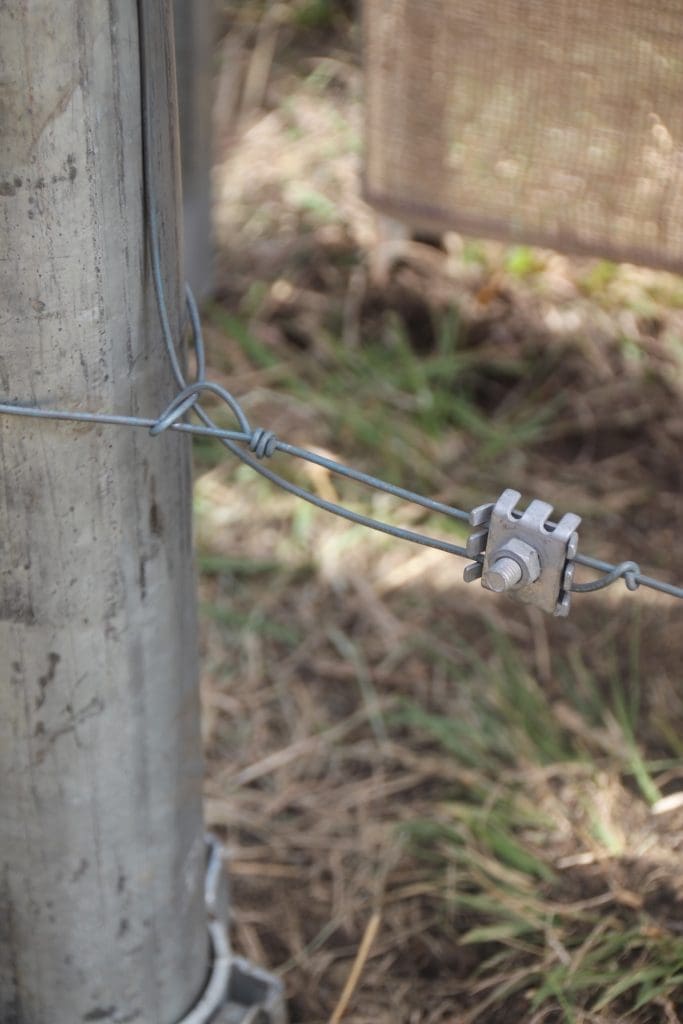 This system not only helps people to ensure good connections but which also saves them some money at the same time.
Corrosive clamps
If you are going to use clamps make sure they are galvanised, Mike advises.
Zinc plated and alloyed clamps will corrode which will diminish the connection over time.
Clamps also need to work under tension to ensure a good connection so choosing well-made clamps is important.
Beware copper wire
A similar fault Mike often sees is people opting to use insulated copper cable instead of galvanised.
When galvanised wire is joined to galvanised wire there are no issues with electrolosis.
"But if you join copper to gal, you have a major problem with electrolosis and three months down the track the whole thing just turns to custard."
Underpowered energisers
"You only one chance to give a good first impression," Mike says.
An electric fence needs a degree of physical strength but its primary purpose is to serve as psychological barrier.
Mike says many people tend to under power their fence by choosing a smaller energizer at first with the intention of increasing the power as they extend their electric fence over time.
Mike reckons choosing a bigger energizer at the start is important to ensure a fence has the power it needs to work through vegetation growth and deliver an effective training shock to the animal.
"You need an energizer that has the guts to brown the moisture out of the offending competition as it grows around the live wires. A big energizer will overcome that."
Think of electricity as water
When considering how electricity moves along a fence, it pays to think of the wire as pipes and the electricity as water, Mike says.
A common strategy when people wire an electric fence and arrive at a gate opening is to tap off one live wire, run it under the gateway, and then spread it into two wires on the other side.
If that was water, what would happen?
The water would be split from one pipe into two, and only half the flow would travel along each pipe. The more times that is repeated, the more times the volume would be halved in each ensuing pipe.
When a tap is turned on near the end, the flow would be very small.
"With electricity it is the same. We need to be able to push current flow down the line so that when an animal touches it or growth comes up on the fenceline the pressure is there – pressure for us is voltage."
He recommends wiring in parallel to dramatically boost the conductivity of the system and ensure each length of fence has the power to work through growth and to reach animals effectively.
Inadequate earthing
"Earthing is half the deal," Mike says. "But a lot of people do not understand the importance of the earth side of the system."
Half of the task with electric fencing is to get power to the animal, and people go to the expense of insulating wires and doing that properly, Mike says. However, they then neglect the importance of getting the power back to energizer to complete the circuit.
The animal is simply the switch in the system bridging live to earth," he said.
There are two ways of getting the current back to the energizer. One is back through the ground via moisture in the soil, which is picked up by a series of earth stakes connected to the earth terminal unit, creating a circuit.
But when conditions become dry, Mike says, there is no ability to get the power back and animals can just walk straight through.
For that reason he suggests that people run earth wires.
He explains:
"What happens is the animal comes back in and touches the live wire. They mightn't get much shock in the middle of a drought, then they go a little bit further and touch the earth wire, which is connected all the way home to the energizer earth terminal. The circuit happens within the fence, even with the animal's feet off the ground they still cop an effective shock."
Wire gauge: Bigger is better
Wire gauge is vitally important, Mike says. As a rule he recommends 2.5mm [12.5 gauge] wire which has 35 ohms resistance/km. "It is reasonably strong, visible and conductive," he said.
"Two of these wired in parallel (joined together at each end of every strain) will halve the fence resistance, therefore doubling the current flow, so it stands to reason that the more live wires one has in the fence all wired in this fashion, the more effective kilometres of fence you will effectively power from the energiser.
"If you needed to travel a long distances, with say one live wire, it would be advisable to increase the wire gauge to something like 4.0mm, (8 gauge) which has only 14 ohms resistance/km, equal to running two and a half, 2.5mm wires."
"Gallagher supply aluminium coated high tensile which is better again at 11ohms/km.
"In summary bigger is better. Always use high tensile wire if feral, or wild animals are an issue – greater strength which equates to less maintenance."
In summary
Asked if there are any environments he has encountered where electric fencing will not work, he says is yet to see one.
"You get the right fence design, do the job properly, don't take shortcuts and put a good high powered energizer on it, you will get a result," he said.
He should know – he has literally controlled everything from worms to elephants using electric fencing.
Worms?
"A bloke had a worm farm on a property at Taree and he wanted to keep worms in a confined area," Mike explained.
"It was very simple really, all we did was pegged a live wire to the ground, and it has obviously shorted out, we put a pretty high powered energizer on it, and the worms will not go outside the electric field we created."
So how does the worm farmer muster his worms? "With a wormy horse," Mike answers without missing a beat.
Elephants were just one of many species Mike had to control with electric fencing when he helped to fence the then brand new Western Plains Zoo near Dubbo back in the 1980s.
Mike's overall tip is simply this: "Don't take this cheap method of fencing and cheapen it further by taking shortcuts."
"The main reason a lot of people are taking the electric track is because of cost reasons," he says.
"For roughly a third to half the cost you will buy and construct an electric fence that is the equivalent of a non-electrified fence.
"When you do it properly you will start to control animals that you never dreamt of controlling."