NATIONAL supermarket retailer Woolworths is on track to launch its new Melbourne meat processing and packaging facility sometime next year.
The new facility, on a greenfield site understood to be near Laverton in the city's southwest, will represent the second phase of an expanding Australian joint venture that Woolworths is undertaking with UK-based specialist retail meat processing and packaging company, Hilton Food Group.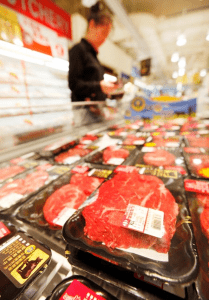 In March last year, the Woolworths/Hilton JV opened its first project, the state-of-the-art Bunbury Meat Centre in Western Australia. The centre cost $31 million to construct, in a move designed to meet the growing demands of WA retail customers for quality beef and lamb cuts and value-added products.
The Melbourne facility currently on the drawing boards will represent the second facility for the Woolworths Meat Co Pty Ltd joint venture company, and industry speculation persists that a third will be added, either in NSW, or next to Woolworths existing BrisMeats site near Ipswich, west of Brisbane.
Based on the size of the WA retail market alone, and its isolation from other large population centres, it's reasonable to assume that the Melbourne facility will be considerably larger than Bunbury, key trade contacts say.
The Bunbury Meat Centre is attached to the V&V Walsh beef and lamb abattoir supplying Woolworths' processing requirements in the west. Having a meat processing and value-adding facility alongside a dual species abattoir makes the Bunbury Meat Centre a unique facility in Australia, Woolworths said during the launch.
The new Bunbury facility embraces latest equipment and refrigeration technology, delivering world-class cold-chain practices. It includes Modified Atmosphere Packaging capacity for more than 110 SKUs, the installation of MHP packaging equipment, racking and automated conveyor systems.
Further equipment installations cater for large-scale centralised sausage manufacture, corned meat production and many other value-added lines.
Woolworths chose not to respond to approaches from Beef Central for information to support this article about developments in Melbourne, however its joint venture partner in the project, Hilton Food Group, was more forthcoming.
Hilton is a highly successful UK-based listed meat company, said to be the world's largest specialist retail packaging firm, with operations across western and northern Europe, the UK and now, Australia. Hilton's 2011 sales exceeded A$1.4 billion, mostly through large supermarket groups.
Its alliance with Woolworths in Australia represents its first venture outside the Europe region, in a move the company described as 'strategic.'
In its latest annual report, Hilton says its joint venture with Woolworths Limited in Australia is "performing well, and in line with expectations. The conversion of the Bunbury site in WA, to increase retail packed meat production, is substantially complete."
Hilton confirmed that a similar JV arrangement would apply at Woolworths Melbourne factory, due to commence production in 2015. Plans are understood to be currently at the development approval stage.
"The joint venture's initial task was the conversion of Woolworths' meat processing facility at Bunbury, in order to substantially increase production of retail-packed shelf-ready product lines. This has been executed to plan, with the new product lines being well received by the local market."
Hilton said it was also 'advising' Woolworths at its BrisMeats facility, which some have interpreted as an indication of likely further plans ahead in Brisbane.
"In Australia the Hilton group is involved in a joint venture with Woolworths, under which it earns a 50pc share of the agreed fees charged by the joint venture company for operating certain Woolworths' meat processing and packing plants, based on the volume of retail packed meat delivered to Woolworths' stores," the company's annual report said.
Woolies' move to in-house meat processing could potentially reduce orders from third party meat processors such as Beak & Johnston, and Creative Food Solutions, some reports suggest, although this could be offset by increasing orders of ready-made meals – an area Woolies chief Grant O'Brien and his supermarkets boss Tjeerd Jegen are keen to expand.
In May last year Mr O'Brien said the company was considering building factories to produce heat-and-serve ready meals, as existing food manufacturers lacked the capacity to supply the volume and quality the company required to service this fast-growing market segment.
As part of its strengthening alignment with Hilton Food Group, Woolworths recently advertised for a project manager for its Melbourne facility.
"The joint venture will deliver significant investment in manufacturing techniques new to the Australian market as well as creating new jobs in our company," Woolworths said in the job description. "As project manager, your main responsibility will be facilitate the various business functions within the project by utilising effective project delivery techniques, practices and tools within an established program governance framework."
Contrary to some rumours, the Melbourne moves by Woolworths and Hilton appear to be unrelated to talk about a purchase of the mothballed Castricum Dandenong abattoir by processing industry veteran, Joe Catalfamo.
Mr Catalfamo sold his Tasman Group business to JBS four years ago for a reported $160 million, but it is understood he has recently finished a 'non-compete' clause built into that sale contract.
Some have suggested that there is Chinese money behind the Castricum plant deal, but Mr Catalfamo has not responded to Beef Central requests for an interview.
Castricums has been shut for four years or more, but at one time had capacity for 800 cattle and 4000 smalls a day.
About Hilton Food Group:
Hilton's business was established in 1994 to set up and operate a beef and lamb central meat packing facility in Huntingdon, England. The business has grown rapidly over the past 18 years, and now includes further processing beef, lamb and pork facilities from Denmark to the Netherlands, Ireland, Sweden, Poland, France and elsewhere.
Mirroring the business arrangement with Woolworths in WA, each of Hilton's central meat packing plants in Europe is operated on a dedicated basis for Hilton customers, mostly global and large regional supermarket retailers. Hilton's website says its business model has been adapted to meet local requirements with customers in each country.
The company has a reputation in the European marketplace for driving a hard bargain on raw material pricing, based on volume. Its website says Hilton Food Group has a "simple, clear and well-defined strategy" focussing on four key elements:
Maintaining an 'uncompromising' focus on unit costs, quality and product development
Building volumes with, and extending product ranges for existing customers
Partnering with existing customers in new territories
Gaining new customers in new territories.
Hilton says it has relationships with suppliers of quality meat around the world, sourcing product from more than 40 different suppliers. This gave Hilton a "high degree of flexibility and our customers the knowledge that Hilton can secure supply at competitive rates," its website says.
Read Beef Central's earlier coverage of last year's launch of the Bunbury Meat Centre.