WET weather is again impacting on eastern states beef processing operations this week, with the prospect of more disruptions next week.
BOM's current eight-day forecast (see image below) has parts of Eastern Australia receiving a drenching between now and 17 May. Areas in purple and blue in central, western and coastal Queensland could receive record May rain of 150mm or more. Most of the remainder of Queensland is likely to receive 50-100mm, on top of isolated falls over the past week, and large parts of NSW and eastern Victoria are also forecast to receive 25-50mm in coming days.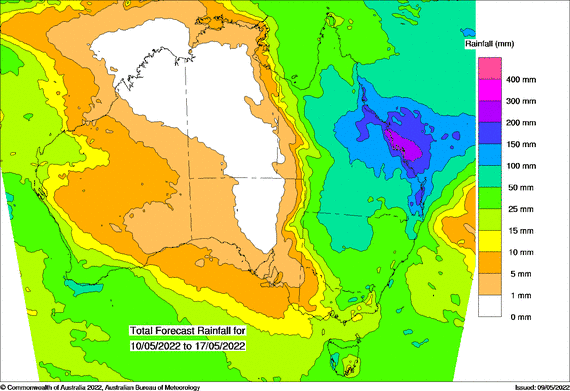 Several Queensland processors are already calling days off this week, in anticipation of further cattle supply disruptions. One Queensland processor with multiple sites said he could not remember a more rain-disrupted start to a processing year since 2011.
Queensland's five large central and northern export sheds look like being hardest-hit by current weather patterns, but large numbers of cattle from central and northern parts of the state also flow into the state's southeast corner, and indeed, head interstate for processing.
Feedlots, mostly located close to all-weather roads, are providing something of a lifeline for some Queensland processors this week, in providing a reliable access to extra grain slaughter cattle to fill holes in rosters during wet conditions.
This week's weather challenges come on top of a sequence of three or four short killing weeks caused by public holidays in April, further delaying the recovery process in numbers. The result has been a shortening in meat stocks on hand in cold stages across eastern Australia.
On the meat trade side, the current favourable movement of the Aussie dollar – currently sitting around US71c – is adding some weight to Australian beef's competitiveness in international trade.
Grids mostly stable
Direct consignment processor price grid offers were mostly stable this week, with no sign yet of 'wet weather money' designed to lure cattle forward during challenging supply logistics periods.
In southern Queensland, competitive grids this morning had best offers for heavy grassfed four tooth steer at 775c/kg (780c in one case for HGP-free, or 770c implanted), and 715-720c/kg for heavy slaughter cow.
Recent rain is still seeing several operators playing catch-up, with some cattle originally booked back in April only being delivered this week.
Female kill nationally continues to operate at, or below 40pc over the past month, suggesting herd rebuilding is still well entrenched.
In southern states, best heavy cows are making 720c/kg this week, with heavy four-tooth PR steers around 790c – not far off Queensland rates. There's been little or no sign of additional southern processors operating in northern markets to this point – partly because local southern supply is reasonably comfortable at present.
One of the factors behind that is that there are more cattle on feed across Australia now, compared with this time last year, providing a few more for the weekly rosters.
NLRS had not filed last week's seven-day kill report by the time this item was posted. Results and trends will be added here, when they arrive.