WEATHER is again shaping as the key influence in processor access to slaughter cattle over the next ten days, with BOM reporting the likelihood of more heavy rain across large parts of NSW, southwest Queensland into the Channel Country and across parts of Victoria.
BOM's eight day outlook pictured below (click on image to enlarge) shows falls of 50-150mm (coloured in aqua) across a vast part of NSW and southern zones of QLD, and further south.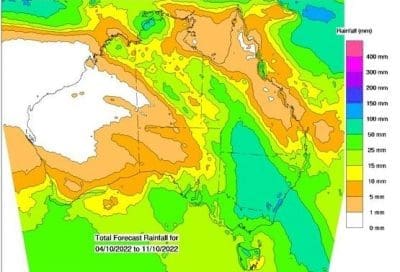 Major and minor flooding is forecast later this week across western NSW river systems and some local authorities are warning livestock producers to shift cattle and sheep from low-lying areas to higher ground in coming days. The other major potential impact is to grain crops, some approaching harvest.
Processors say it is likely to significantly impact supply for the following week, in regions where rain falls – especially on top of already wet ground.
Some western rivers are only just starting to go down after the previous heavy rain event.
The rain is likely to extend the impact of southern states buyers operating in Queensland, due to the severe shortage of killable cattle at home.
Queensland processors generally this week were reasonably well covered for immediate cattle supply, having the benefit of a couple of weeks of drier weather to catch up on earlier bookings.
Grids steady
Several processors were hard to reach today due to travel commitments, but it appears direct consignment grid prices are little changed this week, after widespread 10-20c/kg rises in Queensland the previous week.
Queensland processors last week lifted over-the-hooks rates, jumping heavy cows 20c/kg, quoted again this week at 690c/kg on several competitive grids, and 750-755c on a four-tooth grassfed ox (some of those quotes HGP-free) – up 10-15c on rates prior to last week.
Southern states quotes seen this morning included 740c/kg on heavy cows and fourth tooth ox 815c.
Many southern states plants are still struggling to add a fourth working day to their weekly rosters – such is the lack of local cattle about – while a number of large Queensland plants are continuing to operate on four-day weekly rosters, due to the weather impact.
NLRS weekly kill statistics will be added here later this week, when they arrive.