FURTHER wet weather is playing havoc with beef processing operations across eastern Australia this week, with many plants scheduling kills at 50 percent or even less of realistic operating capacity.
The weather disruptions have become an underlying feature of beef processing across the five eastern states since July-August, adding to an already extremely difficult procurement challenge caused by a beef herd at 20-year lows caused by earlier drought.
Feedback from processors across Queensland NSW and Victoria suggests many plants are scheduling additional dark-days this week, as further rain impacts the supply process, via both direct consignment and saleyards channels. That comes on top of killing schedules already greatly limited by this year's overall shortage of slaughter cattle.
It means that the current week's Eastern states tally to be reported next Monday by the National Livestock Reporting Service is likely to hit new lows, for mid-year kills outside of the traditional Christmas/New Year stoppage period.  If we were to have a stab at it, we'd say an Eastern States kill of about 100,000 head is looking likely for this week. Queensland's kill alone could well come in under 60,000 head, one estimate suggested.
"It's wet from the Gulf to Hobart"
"It's wet from the Gulf of Carpentaria to Hobart at present, and it's making life very difficult for procurement," a large multi-site processor livestock manager told Beef Central this morning.
There were some colossal declines in saleyards numbers recorded across eastern states last week, with Roma prime and Dubbo sales down 51pc and 41pc respectively. Forbes sale yesterday was back to 850 head due to more localised rain and flooding, while Wagga sale held up a little better, managing to raise a yarding of 2100 head.
Rome store sale this morning (Tuesday) delivered just 600 head, one of the smallest offerings seen in some years, with many buyers choosing not to attend at all through lack of slaughter-types. Equally, it looks like only very slim pickings at the weekly Dalby sale tomorrow.
Just 42,000 head were yarded nationwide last week, on top of 39,000 head the (equally wet) week before – compared with almost 49,000 head for the drier week ending 26 August just a couple of weeks prior.
Sourcing paddock cattle through direct consignment is proving equally problematic at present, and processors this morning indicated that they had virtually given up on throwing 'wet weather' money out there in an effort to bolster direct consignment kill numbers.
Queensland plants reported to be badly affected this week include Teys Beenleigh and Lakes Creek, NH Foods Oakey (back to 700 yesterday and today, and no kill tomorrow) and JBS Dinmore, which is this week effectively back to half-pace.
The only Queensland plants that are anywhere close to working at normal operating capacity at present are the dedicated grainfed plants like Beef City, Kilcoy, ACC and Churchill (Woolworths), where all-weather road access from feedlots is better-guaranteed.
Earlier forecasts that October might provide some relief for processors desperately seeking to raise a kill are now looking optimistic, as further wet conditions pushes that opportunity back, and back.
It might still happen if it stopped raining today, but that's looking unlikely, with western Queensland centres like Bedourie recording another 65mm overnight, with more rain forecast later this week.
It's now looking increasingly likely that some cattle out of Queensland's channel country that are ready for slaughter now will not be processed until sometime early next year, as rain disruptions make paddock and road movements impossible.
One large channel country cattle operator has large runs of cattle that were due to start to go to works in May still in the paddock, and looking increasingly unlikely to be slaughtered this calendar year. That's likely to present problems in terms of grid penalties on both excess weight (+400/420kg carcase) and fatness that could seriously erode their profitability.
Little movement in grids
There's been no significant change in direct consignment grid offers this week for kills at southern Queensland plants before the end of September.
Current offers, now unchanged for four weeks, have four-tooth grassfed ox at 560-570c/kg, depending on location and transport advantage, and heavy cows 510-520c/kg. Take 10c off that for Central Queensland kills, and another 10c in northern regions of the state. Northern NSW grids have heavy full-mouth cows top cell this week at 500c/kg and four-tooth steer (HGP-free) at 565c/kg.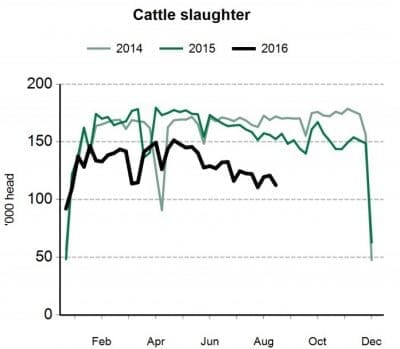 NLRS reports that the seven-day eastern states kill for the week ended Friday reached 116,758 head, up 4pc on the previous very low week, but still 21pc behind last year.
Queensland's kill at 61,824 head was more or less unchanged from the previous week, but still 19pc down on this same week last year.
The NSW kill rose 12pc last week to 26,498 head, but that was coming off a very low rain-affected base the week before, and was still down 23pc year-on-year. Victoria's kill at 18,213 head fell 5pc on the previous week, down 26pc year-on-year.
South Australia's kill reached 6656 head, an 18pc decline on last year, while Tasmania got back to work after a major plant closure, processing 3567 head for the week – back 20pc on last year.
As this graph shows, eastern states kills continue to track downwards as the 2016 year progresses, and follows a similar trend (albeit about 40,000 head per week lower) as last year.