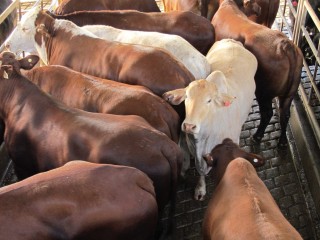 The national beef kill was steady again last week after several weeks of declines during the latter stages of May.
The tally for the week ended last Friday, June 10 was 140,902 head, down about 650 head from the week previous, according to MLA's NLRS processing report issued today.
Queensland's weekly kill reached 74,384 head, down just 96 head from the previous week. It appears the export-oriented Queensland kill has now reached a level of equilibrium based on current soft international market demand and available supply, one processor said.
New South Wales last week recorded a kill of 36,830 head, virtually nil change; South Australia killed 7036 head, down 1pc, while Tasmania rose 1pc with a tally of 4342.
Victoria, which recorded an unusually large rise the previous week when supply was boosted with stock sourced out of Queensland and the NT, eased 4pc to process 18,310 head for the week ended Friday.
Western Australian figures are not recorded by the NLRS service.
National Livestock Reporting Service manager, Travis Parcsi said the steady slaughter levels evident in recent weeks did not come as a surprise.
"Looking over the year so far, there was a slow start in January, with February doing large kills. Then came all the disruptions around Easter/ANZAC day, with May also doing large kills playing catch up," he said.
"Rain has also been falling over areas at times just when supply is potentially able to be increased."
Mr Parcsi said it was difficult to predict patterns going forward, but this week was likely to produce a smaller national kill due to Monday's Queen's Birthday holiday. Victoria also had a Butcher's Picnic holiday yesterday, which affected some processors.
A factor which might come into play over the next fortnight might be the historic tendency for the flow of cattle to increase leading up to the end of the financial year, as producers manage their tax affairs.
The difficult trading conditions for processors at present would suggest there is little incentive to carry out bigger kills any time in the near future. However evidence of recent cattle movements across the supply matrix would suggest there will be a rise in processing activity next week.
The Eastern Young Cattle Indicator closed yesterday at 381.25c, down 4.25c on Tuesday last week, and the lowest figure recorded since December 6. The heavy steer (Jap ox) indicator closed at 176.7c, down 6c.