GLOBAL beef demand factors and short-term cattle requirements are influencing processors' grid pricing decisions this week, with some large multi-site, multi-state operators reducing offers yesterday.
However, reflecting the range of factors in play in the beef market at present – weather included – there is some wider spread among processor offers for slaughter cattle. Some are unchanged (at time of publication of this item), others are lower, and still others have withdrawn from making public offers for the timebeing.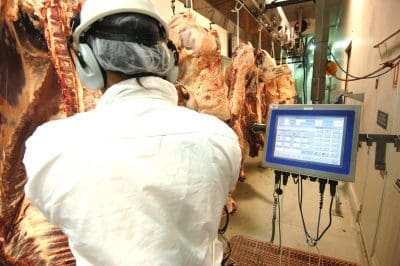 Best offers seen from competitive processors in Queensland this week have heavy cows at 750-765c (some of those lower offers back 10c), and heavy four-tooth steers 810-825c (some also back 10c).
One large Queensland processor who has not altered its grid this week said there was 'still weather around,' and his business did not want to run the risk of 'stalling' in cattle supply heading into Easter.
Southern states processor quotes this week were again more or less the same as Queensland – although supply continues to be described as 'very difficult.'
"You could quote 1000c/kg for heavy grass steer in the south this week, and you still wouldn't get any – because there is none there to buy. They have all gone as feeders," one large southern operator said bluntly this morning.
Another regular contributor to this data set has withdrawn quotes this week, confident it has enough supply secured to last through to the post Easter period.
Six diverse impacts on supply and demand
Set out below are six significant impacts on the current slaughter cattle market:
After an encouraging first-quarter where international beef demand strengthened in the post-COVID recovery period, signs have emerged in the past couple of weeks of softer demand – particularly for better quality grainfed beef.
The Ukraine War, spiralling fuel prices and higher cost of living, and prospects for interest rate hikes have been blamed for more subdued consumer optimism around the world. The trend is reflected in 90CL grinding beef prices into the US, now back 6pc in value from where they sat at the start of February, at 885c/kg CIF.
Recent reports of another rise in COVID infection, with Shanghai's 25 million inhabitants entering lockdown this week, and rates of infection on the rise in Australia, have also curbed demand – especially at food service level.
Currency is also starting to concern some Australian export beef traders, with strong prospects for the A$ to rise in value in coming months, in line with interest rates. The A$ has spiked from US71.9c a fortnight ago to above US75c yesterday – its most dramatic movement in the past 12 months.
This is reducing Australian beef's competitiveness on the international stage, and is further impacting the sell side of the equation. That applies especially as Australia is currently producing some of the most expensive meat in the world.
As described last week, the upcoming sequence of three short killing weeks covered by Easter and ANZAC Day have also reduced weekly processor demand for slaughter cattle by an average 20pc per week over the next month or so.
Shipping disruptions and container access issues are also still hampering export operations, some processors report, itself having an indirect impact on cattle demand.
This week's rain is also having some bearing on supply and demand, with both Roma and Warwick store sale numbers well back this morning. Isolated cattle regions around Roma have recorded up to 100mm in the past 48 hours, and parts of the inner Darling Downs are again awash, after falls topping 200mm in recent days. Northern NSW is also again badly impacted.
Some processors have seen cattle consignments cancelled this morning as a result of road and paddock access issues.  See tomorrow's weekly rainfall wrap for details.
Processor margins: Remember, it's a model
In other news this week, Thomas Elder Markets' monthly processor margin model has shown some improvement in trading conditions during February.
February saw the model's monthly average margin narrow from a loss of $345 per head in January to a loss of $272 per head of cattle processed. This was the best monthly result seen for the model since June 2021, and brings the average annual margin for 2022 to a loss of $308 per head.
Analysis of the annual average processor margin, according to the model, versus the annual Australian cattle slaughter volumes highlights a reasonably strong relationship between the two series.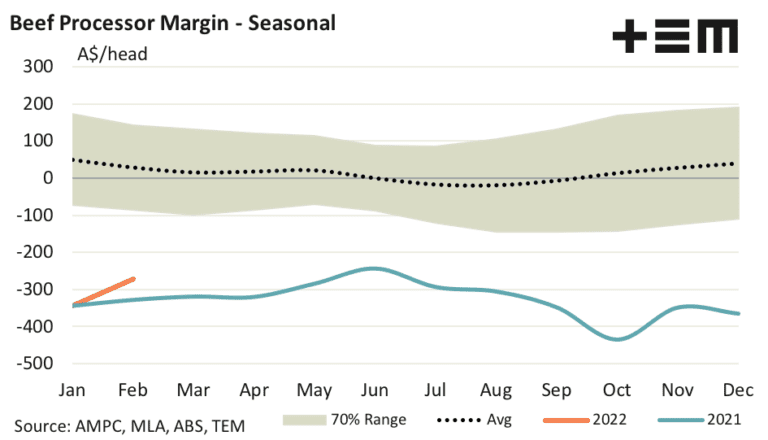 Precipitated by a recent reader comment on Beef Central, TEM recently provided some useful background to allow readers to better understand the model, and how it is constructed.
In 2019 the Australian Meat Processor Corporation released a report on their representative beef processor model. The model was built to "gain insight into the drivers of economic performance and sustainability in the red meat processing industry." It was designed to represent a theoretical single species cattle plant, processing a mixture of grass and grainfed steers.
AMPC was keen to outline that "given the many assumptions required to build the model, this should not be seen as a whole of industry model, but rather a reflection of an average industry participant. Due to the diversity of plant size, operational processes, and supply chain focus across the red meat processing industry, individual processors will certainly vary from the modelled results; however, the model provides an indicator of the broad industry trend," it said.
Having assisted with the development of the original AMPC model, Thomas Elder Markets wanted to continue reporting on the trend in profitability of the beef processing sector, constructing a new model built on a similar basis to AMPC's original.
"An environment of low slaughter and tight cattle supplies corresponds to more difficult trading environments for the beef processor," TEM said. "This was particularly evident when the 2021 annual slaughter of just six million head pushed the model to its worst ever annual average loss of  $327 per head of cattle processed."
Australia's annual slaughter forecast at 6.65 million head in 2022 suggests margins should begin to improve from the depths seen in 2021, TEM said.
As the line of best fit demonstrated, annual average margins are anticipated to move into the $150 per head loss region as the year progresses.
Weekly kill statistics
Delays in delivery of statistics by some processors has again delayed the production of the NLRS weekly kill report for last week. Results will be added to this report when they arrive.
It seems odd to Beef Central that for years, all processors have been able to conform with NLRS data delivery deadlines sufficient to produce a Tuesday weekly kill report. Recently, delays from some have seen the report held over until Wednesday, meaning the information is already almost a week old by the time it is available. This is data of socialised benefit to the broader industry – including processors.
Beef Central thinks processors can do better.
UPDATED: Last week's national adult beef kill was the largest of the year, reaching 98,667 head, up almost 10pc on the rain and holiday affected week the week before. Queensland jumped to its biggest kill this season of 49,784 head. Female port of that continued near record lows, accounting for just 32pc of the total state slaughter. The previous week sank to just 29.8pc, among the lowest ever seen.
The NSW lifted about 2300 head to 26,897 head after earlier rain disruptions, while Victoria also rose about 20pc to 12,206 head after the previous week's holiday disruption.