SOME, but not all processor grid offers in Queensland have risen this week, while southern Australian saleyards cow prices continue to fire on all cylinders.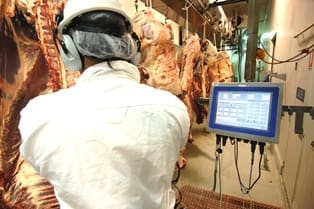 Flow of cattle into southern Queensland plants is looking tighter this week, and there are suggestions that at least one large export plant may skip days next week, as a result.
Best offers from competitive processors in southern Queensland currently range from 600c to 620c on four-tooth heavy ox (HGP-free at the top end of that range), and 520-540c on best heavy cows.
"It's very much a week to week proposition at the moment," one large processor's livestock buyer said this morning. "Short weeks have helped, with public holidays and local show holidays limiting throughput earlier this month, but numbers are getting increasingly tight," he said.
Southern competition
Making matters worse for Queensland processors, there has been a big flow of cattle south out of Queensland into plants in NSW and Victoria.
While that is not particularly uncommon at this time of year, what's startling is just how far north some of this southern buyer interest has penetrated. Both Mareeba (inland from Cairns) and Charters Towers (inland from Townsville) sales have seen buyers in attendance representing processors well into southern states in the past week. Paddock sales have also occurred.
Freight cost on those far-northern cattle to get them home could easily be $100 a head, Beef Central understands – similar to the cost of southern cattle out of say, Barnawartha coming north.
The most popular theory behind the strength of southern buying – both via saleyards, and across the border into Queensland – is the unusually strong demand for Australian beef coming out of the US presently, since the collapse in US beef processing capacity due to COVID-related plant closures.
US cattle slaughter plants are slowly increasing production as they start to recover from COVID-19, but numbers still remain well below year ago levels, Steiner Consulting's Daily Livestock Report said overnight.
"Yesterday total US cattle slaughter was above 100,000 head for the first time since early April, while fed cattle slaughter is estimated at 78,000 head per day," DLR said. "But this daily fed slaughter number is still 17,000 head per day less than it was at this time last year."
How rapidly the US processing industry gets back on its feet will determine how long the current level of demand for beef out of Australia persists, trade sources said this morning.
Large inventories of beef apparently remain in cold storage in the US, waiting for US further processing, portioning and retail-ready plants to get back to work.
Further south, a large northern NSW export processor has current offers for kills week commencing 1 June of 540c/kg on heavy cows and 560c/kg on four-tooth steer (HGP-free).
Over the hooks quotes in NSW last week lifted 2c/kg on cows, with heavy descriptions making 500-519c and four-tooth grown steers unchanged at 563c. In Victoria, last week's OTH quotes saw heavy four-tooth grass steers up 4c to 599c, and best cows up 6c to 519c.
Southern yards' stellar run
Cattle prices at Wagga continued their stellar run leading into the winter, gaining 15-28c/kg yesterday. One processor described cow prices as 'off the planet.'
Nearly all classes of stock were quoted as dearer thanks to a mix of stronger processor competition, along with feedlot and restocker demand ramping up. The standout prices of the sale were in the export run where bullocks weighing just over 600kg hit 400c/kg, lifting rates by 15c to average 387c/kg. The cow market rallied, and prices were generally 6-8c/kg dearer. Heavy cows sold from 295-328c to average 318c/kg (equivalent of 630c/kg at the lead), with leaner types from 275-310c/kg.
At Gunnedah this morning, the higher yielding cows sold from 300-316c/kg liveweight, were as much as 16c dearer with the balance improving by 8c to 9c/kg.
Heavy cattle were in demand at both Central Tablelands Livestock Exchange (CTLX) and Inverell Regional Livestock Exchange (IRLX) today, with processors dominating the buyer's panel and the COVID-19 pandemic creating unexpected market opportunities.
Paul Glyn, Nutrien Ag Solutions, said despite a solid yarding of 1485 head, numbers did not keep up with the strong demand from the processing sector.
"When Coronavirus first hit, we thought it would affect the processor market, but even with China slowing down there have been new markets created, especially with some processors shutting down in the US," Mr Glyn said.
"Numbers are down for heavier cattle with the change in season and increased feed in paddocks, as producers start to hold onto to cattle for longer which means processors have had to pay higher prices to get the stock they need."
Ralphs Meat Co and JBS snapped up most of the heavy cattle in the market with the average cows making 296c/kg and the top lot 327.2c/kg.
Heavy cattle were also in demand further North at IRLX with cows selling 20 to 40c/kg dearer than the previous week.
Will Claridge, C.L. Squires & Co said there was extra competition from lotfeeders and processors for what was a good quality yarding.
"Nationally numbers are low, while we are also seeing increased demand from processors with the US taking meat at the moment, which has resulted in dearer prices for all finished stock," Mr Claridge said.
Cows topped at 314.2c/kg, while the average type made 280.4c/kg.
Kill rises 6pc
There were rises in most states in weekly processing activity reported through NLRS last week.
The eastern states kill rose 6pc to 131,155 head, still down 15oc in this time last year.
Queensland's kill rose 5pc to 67,861 head, partially impacted by an Ipswich Show holiday the week before that took the nation's largest processor, JBS Dinmore out of the play for a day.
NSW suffered some rain impact on throughput, back 9pc on the previous week to 26,216 head. Victoria lifted 27pc to 28,784 head, South Australia jumped 28pc to 3221 head, and Tasmania advanced 6pc to 5073 head.