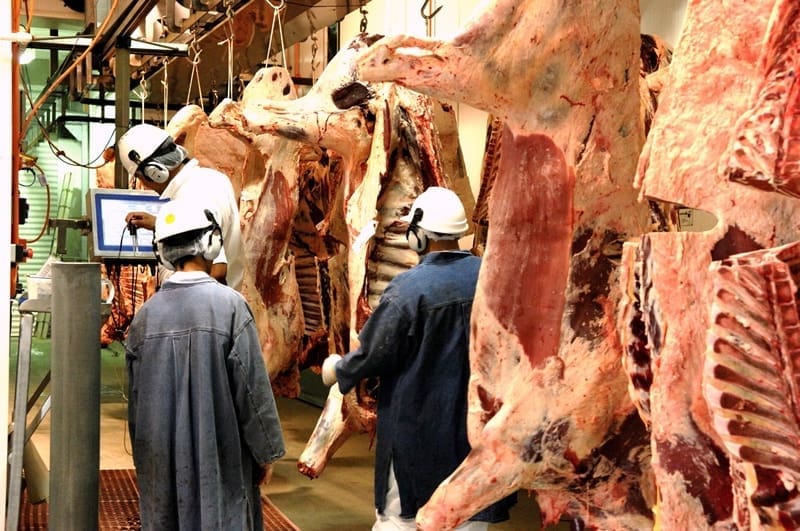 DIRECT consignment slaughter cattle prices have entered free-fall territory in the past week, as the relentless surge in stock turnoff across eastern Australia pushes supply and demand seriously out of balance.
While the slaughter market held on remarkably well under the weight of heavy supply during February, the system has buckled under the weight in the past three weeks, with many cattle descriptions in Queensland and NSW now 50-65c/kg behind mid-February direct consignment rates.
While processor grid price quotes this week in southern Queensland continue to be in a state of adjustment, as of Tuesday morning they had dropped another 20-25c/kg on last week, with best heavy cow offers now at 375-380c, and four-tooth grassfed steer 470-475c.
This time last month, southern Queensland heavy cows were still worth 445c/kg and four-tooth steers 525c.
Significantly, several Queensland and NSW processors are not currently offering quotes, saying they have kill requirements covered for the next four, five or six weeks in some cases. Some are taking space bookings only, with no price attached, until closer to slaughter date, such is the fluidity of the market.
That's despite additional shifts and Saturday kills being run at a number of large export sheds across the state recently, which helps explain the particularly large eastern states kills seen in early March. The kill for week ending 1 March (last week's NLRS figures not yet available – see comment below) above 152,000 head was the largest since the end of October, 2015.
One processor told Beef Central it was rostering every available shift and operating each shift at maximum capacity, in order to try to meet the demand for space.
Several points are evident in the current rapidly changing market dynamic.
As often happens to slaughter cattle in a deteriorating market, a yawning gap of price difference is emerging between direct consignment and saleyards slaughter cattle, especially for heavily oversupplied lines like cows.
Particularly large saleyards numbers across eastern Australia last week, especially cows and light young cattle, pushed prices dramatically lower. Weekly yardings have risen to levels not seen since the last drought-induced turn-off phase in 2015, and the market appears to have reached something of a tipping-point, with prices in sharp decline across all categories. Young cattle are struggling to find a home due to a lack of interest from feedlot buyers and restockers.
The trend is reflected in the Eastern Young Cattle Indicator, which hit a four-and-a-half year low of 391.75c yesterday – its lowest level since late 2014.
With processors filling most of their capacity via direct consignment channels, a pricing gap as wide as 100c/kg has emerged for cows bought via the saleyards system versus direct consignment.
Producers desperate to get cattle killed due to drought, who cannot get a meatworks slot for at least five weeks in some areas due to competition, are sending cattle to saleyards, only to get hammered.
One estimate seen this week suggested pricing could be as much as 100c/kg difference, carcase weight equivalent – worth about $300 a head – between saleyards and direct consignment cows at present in some centres. One observer said he had never seen a bigger saleyards/direct price gap, in 40 years of watching Australian slaughter markets.
The second point, influenced by basic supply and demand, is a much larger price differential that is emerging between cows and plainer cattle, and better quality, more desirable lines now in shorter supply.
While grainfed and MSA lines also fell in price this week, the impact was nowhere near as large. Spot grainfed 100-day steer was quoted this week at 545c, back just 10c on the previous week; while MSA grainfed steers this week were 495c/kg, back 10-15c.
If current feedlot occupancy figures are correct (see last week's quarterly feedlot survey results, which carry considerable lag being for the December quarter, now ended ten weeks ago) there could be considerable numbers of non-committed grainfed cattle hitting the market in the next month or two.
Looking ahead, there are two short killing weeks coming up which will further congest the industry's ability to handle the big surge of drought cattle. Weeks 16 and 17 (April 15-27) will schedule four and three-day working weeks, respectively, due to the two Easter holidays plus Anzac Day on April 25.
Yesterday's public holiday observed in several states has delayed publication of this week's eastern states slaughter summary by the National Livestock Reporting Service. A brief summary will be added to Beef Central tomorrow.