MORE Queensland export processors have lowered their cow and bull grid price offers during the past week, in the face of record-high margin losses and flat meat sales demand – especially for manufacturing meat on the international market.
Queensland cow offers from processors in southern and central parts of the state now sit in a narrow band between 600-610c/kg, with this week's changes more about aligning with offers from competitors who moved earlier, rather than finding new ground.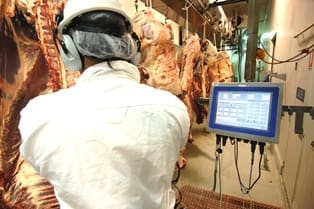 Reductions in offers on females in Queensland started the previous week, when some multi-site processors dropped their grids a full 20c/kg off the record-high numbers available over the previous three weeks.
Slaughter cows in southern states have also shown signs of easing, with representative offers back to 590c in publicly accessible grids in southern NSW and South Australia.
Grassfed steers remain at, or near record highs across the eastern states, with four-tooth heavy steer in Queensland at 680-690c/kg this morning (some of those higher offers for HGP-free only), and 655c/kg in southern states.
Tough trading conditions in export manufacturing beef is the primary reason why processors have moved on cows first in the latest pricing cycle.
While there has been a modest rise in export manufacturing beef prices since the start of the year, this has come off a very low base, and is still close to 60c/kg CIF below the market this time last year.
With slaughter heavy steers currently more than $700 a head more expensive in Australia than in the US, Australian beef is not only scarce, but increasingly uncompetitive on price, on ther world stage.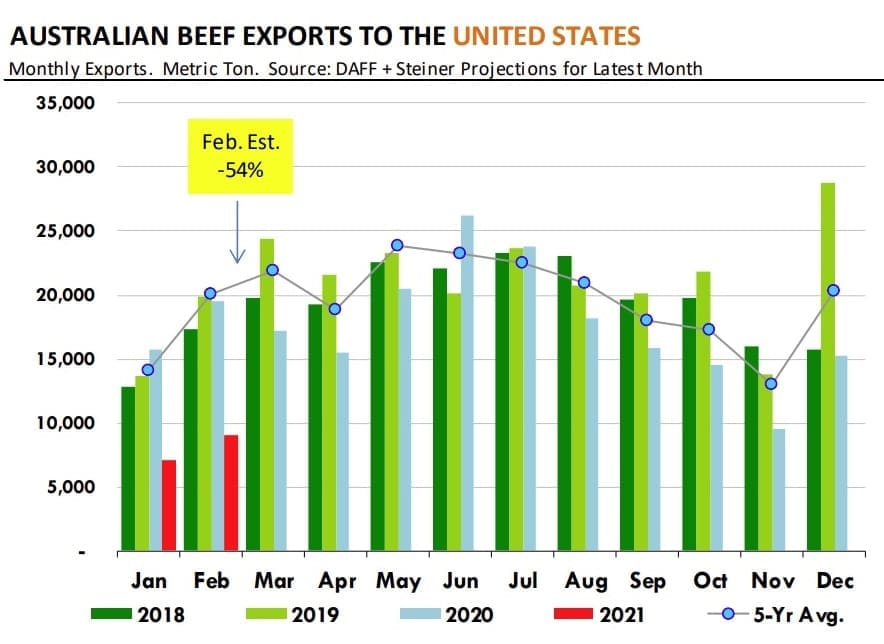 This graph from Steiner Consulting's Weekly Imported Beef Market report shows the dramatic decline in Australian beef exports to the US this year (red lines), versus 2018-20.
Steiner's latest weekly report suggests imported beef trade was difficult to develop as asking prices from overseas packers remained high, while domestic US users struggled with uncertainty over future demand.
Prices were higher for lean and extra lean product due to a) the seasonal decline in the supply/availability of New Zealand bull meat; and b) the decline in the price of domestic 50CL beef.
Least cost formulations once again favoured extra lean beef and buyers were looking to cover needs, Steiner said.
"However, market participants also noted that buyers recognise the dearth of product available and often will sit on the sidelines and do nothing rather than bid up the market. The hope is that supply availability will improve once the New Zealand cow run gets underway.
"US import data in the last four weeks and projected Australian beef exports for January and February confirmed what everyone is saying: spot imported beef supply is tight. In the four weeks ending February 6, imported from all markets were 7413t or 9pc lower than the previous year," Steiner said.
Kills remain subdued
The softening in cow prices comes despite an acute shortage of slaughter cattle across eastern Australia, which has seen the processing industry's new season still stuck in first gear.
Processors from Tasmania all the way to Central Queensland are operating on greatly reduced shift tallies, reduced days per week, or in some cases (like JBS Dinmore and HW Greenham Tongala) entire shifts or lines have been removed for the time-being.
Last week's eastern states beef kill for the seven days ended Friday produced a tally of 97,184 head. The industry has failed to reach 100,000 head in weekly kills since before Christmas, and now looks unlikely to do so before March. This week last year, for example, eastern states beef kills were well above 131,000 head, representing a 28pc decline.
All states remain dramatically lower than this time last year.
Queensland's kill last week reached 45,339 head, down 27pc year-on-year, while NSW at 26,415 head was back 24pc. Female slaughter in both states (the only two states to record steer and female slaughter separately) show even more dramatic declines, with Queensland down 32pc and NSW 37pc in year-on-year comparisons.
Further south, Victoria's kill last week was 19,596 head (-30pc), while South Australia accounted for 3108 head (-34pc) and Tasmania 2726 head (-46pc).