A MODERATE, but encouraging lift in demand and prices for Australian beef in some export markets is starting to rein-in some of the big losses experienced by beef processors this year.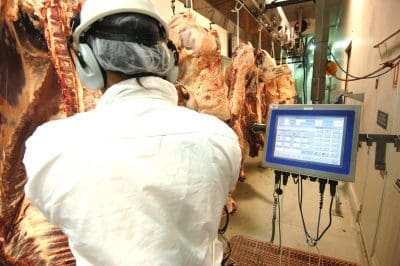 With near record prices for slaughter cattle during the first quarter making Australian exports less competitive on the world stage, processors across the eastern states have had a tough start to 2021.
As can be seen in the most recent beef processor margin model published by Thomas Elder Markets published below, processor margin has tracked sideways for the last three months, with losses in excess of $300 per head for each month – reaching 20-year lows.
January's margin loss sat at $340, but the February figure had a small revision, with the loss revised down from $339 to $326 per head. The updated beef export figures for February saw a marginal improvement into processor receipts, and this managed to return a few extra dollars to the processor pockets.
However, March data showed the negative margin widening again to record a $336 per head loss. This brings the average annual margin loss to $333 per head for the 2021 season so far.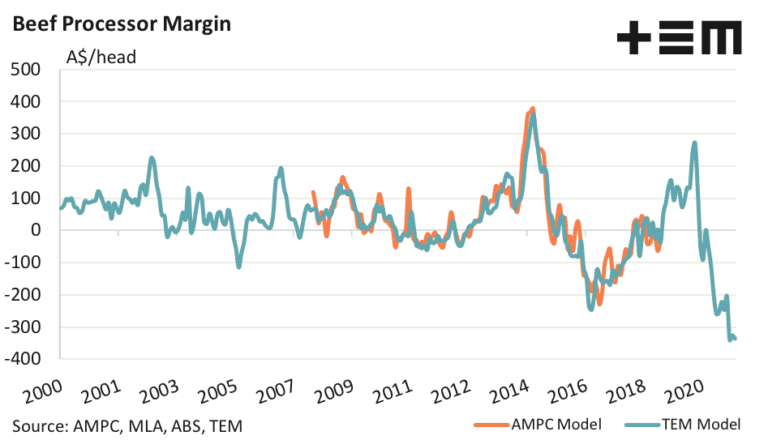 However reports from export meat trading desks this week suggested a moderate rise in demand and price for many key items, especially manufacturing beef, after a bleak period closer to the start of the year.
Imported 90CL grinding beef into the US last week was quoted at A$702.4c/kg CIF, up 38c/kg or almost six percent on a month ago. COVID challenges and changes in supply out of South America are part of the reason for the upswing, Beef Central was told.
Imported beef prices in the US continued to trade very firm for much of last week, Steiner reported in its latest weekly imported beef summary. Spot supply availability remained limited, pipeline supply continues to be stretched, demand from alternate markets has been very good and market participants are concerned about price inflation during the northern summer, Steiner said.
"For now this situation continues to incentivise buyers to stay in the market and try not to get too short," last week's report said.
Lifts in price for domestic US pork and chicken have helped imported beef's cause this month.
"What the sharp spike in a number of protein items has illustrated is that buyers cannot afford to be short in this market," Steiner's report said.
"Therefore we continue to see good interest for imported product even at the current higher price levels. One issue that continues to be debated is the lack of a big price momentum for coarse ground beef at a time when we have seen significant price inflation for chicken and some pork items.
The price of boneless/skinless chicken breasts has more than doubled in the US compared to last autumn, while coarse ground beef prices during that time have increased by only 25pc.
"We think this has to do with two things: First, chicken prices were especially weak last fall given all the challenges for US foodservice operators during the COVID surge. So chicken prices are up from very low levels, while ground beef prices were more stable last year.
"Second, promotional planning at foodservice requires several months. Last summer foodservice operators and their marketing department looked at the huge spread between ground beef and chicken breasts and the choice was a no-brainer. Chicken breasts offered an excellent marketing opportunity at a time when ground beef market was extremely uncertain, especially with fed cattle supplies expected to tighten in 2021 and 2022."
Slaughter cattle supply challenge eases
With consecutive short processing weeks this week and next week in Australia in many states due to the Anzac Day and Labour Day public holidays, most processors appear reasonably comfortably covered for slaughter cattle until mid-May.
As a result, large Queensland processor grids were unchanged again this week.
Direct consignment offers from competitive operators in southern parts of the state this morning showed heavy grassfed four-tooth steers anywhere from 635-670c/kg carcase weight (some offers HGP-free only), and good heavy cows 580-585c/kg.
Rates in Central Queensland appear 10c/kg behind that, while in southern NSW rates around 645c are seen on heavy steers, and best cows 590c. In eastern parts of South Australia, rates are a little higher, at 655c on grassfed heavy steer and 600c/kg on heavy cows – currently the best money in Australia.
There was no Tuesday NLRS weekly Eastern States kill report provided by the time this item was published, due to slow responses from processors. Results will be added here later, after they arrive.