AT the risk of sounding like a cracked record, rain disruptions and sickness among staff from COVID and common flu reducing staffing levels are again impacting beef processing across eastern Australia this week.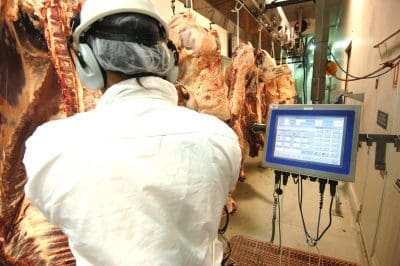 It's a theme which has characterised much of the first half of Australia's 2022 slaughter season, since most plants got back to work in mid-January.
Extensive areas of Queensland, the Northern Territory and eastern parts of NSW have received 25-75mm of rain over the past week, with a number of hot-spots around Sydney and Central Queensland in the 150-200mm range (see BOM map below of seven-day falls to this morning).
The northern rain, at least, is highly unusual at this time of year. It is causing plant stoppages due to cattle access issues, with several large operators in Central Queensland expecting to kill only two or three days this week as a result.
While some areas have received only modest falls this week, it comes on country that was already sodden from earlier rain, simply topping-up the problem.
One veteran Queensland processor contact struggled to recollect the last time operations in his region had been affected by unseasonal rain in July. He thought it might have occurred during the 1990s, but was not sure.
Roma's first store sale for the new financial year normally attracts a large yarding of 7000-9000 head, but just 3500 were available for this morning's sale, due to rain.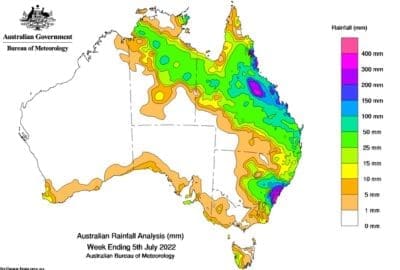 On top of this week's logistical challenges in getting cattle out of paddocks and onto trucks, most processors are again reporting rising absenteeism this week due to COVID infection or the common flu.
The supply side challenges facing the beef industry are clearly evident in national rates of weekly kill.
A somewhat grim milestone was achieved last week, when for the first time in recent memory, the Australian beef industry failed to slaughter more than 100,000 for a single week, throughout the entire first half. The largest kill for the year to date was set in week 26 (the final full week ending 24 June), when 99,738 head were processed in all states.
Post-drought herd recovery continues to weigh heavily on weekly kills, with many plants continuing to operate on minimal shift numbers.
Grids steady, at lower levels
Following a series of retractions totalling anywhere from 20-35c/kg over the past fortnight, direct consignment slaughter grids were mostly unchanged this week.
Quotes seen this morning from four large southern Queensland operators ranged from 685c/kg to 695c/kg on heavy cows (dependent on location), and 725-755c on four-tooth steer.
Some operators are now well-serviced for kills deep into July, and even early August, as cattle numbers start to flow more freely. Some are booking space-only for August kills, with no price attached.
Direct consignment rates in North Queensland are as much as 25c/kg behind the southern parts of the state at this point, as live export activity moderates. It's not unusual to see a 20-25c/kg freight difference between northern and southern parts of Queensland at this time of year, however.
Southern Australian rates moved 10c/kg lower last week, with current rates on heavy grass steer four teeth to 790c, and heavy cows 710c.
NLRS had not delivered the weekly slaughter summary by the time this item went to press. Results will be added here later.