THE first real blast of winter these past few days, with early frosts reported in susceptible areas, has sparked another surge in slaughter cattle bookings in Queensland and parts of northern NSW.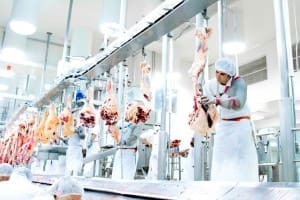 Anecdotal reports from the New England overnight included temperature readings anywhere from -2 to -8c.
Processors from Central Queensland down well into NSW report direct consignment kill slots now well subscribed for the next three to four weeks.
Central and southern Queensland plants, particularly, are now heavily booked out towards the end of June, as the heavy congestion in cattle flow caused by the drought is intensified by producers with feed making turnoff decisions due to the prospect of pasture now starting to decline in feed value.
That's probably as bad as kill access has been all year, but perhaps not surprising, given where we are in the normal seasonal cycle.
The trend is not quite as apparent in NSW export sheds, where booking demand this week has been described as 'steady' rather than 'sudden.' NSW plants are very full this week and next, with a little space still available week commencing June 15. But equally, bookings are now starting to accumulate across the state out to the middle of July.
"We're not over-supplied at present – far from it – but we're certainly not having to work that hard to raise a kill," one northern NSW processor contact told us this morning.
The supply pressure has not yet been translated into any sign of decline in grid pricing. Grids have in fact remained remarkably stable over the past four to five weeks, and despite the competition for kill space that lies ahead, and a gradual easing in US grinding meat prices, still show no signs of easing in value.
While saleyards cattle for a period a few weeks ago appeared to be well above direct consignment rates, that now seems to have stabilised, at par.
What continues to surprise is the industry's ability to continue to produce slaughter cattle in such abundance, given the events of the past 18 months. But everybody knows that cannot go on forever.
On the positive side, record high rates of dairy kill in New Zealand are anticipated to come to an abrupt halt in coming weeks, which will relieve some of the competitive pressure on equally large volumes of Australian manufacturing beef on the world market.
Grid prices remain stable
Representative Southeast Queensland public grid prices seen this week from competitive processors include milk and two-tooth grassfed steers at 450c/kg; 485c/kg for MSA grassfed steer and heavy cows 415c/kg.
Grainfed pricing has also remained reasonably stable, with a number of large processors offering forward pricing in kills for late June and July, to deliver some insurance against decline in numbers, at anywhere from 500-505c/kg  all the way out to  520c/kg for 100-day cattle. Spot price on grainfed today ranges from around 490c to 500c. They are easily the highest prices ever seen for 100-day cattle, as we will explore further in an upcoming 100-day breakeven report.
Several large processors themselves also have large numbers on feed in custom-feedlots, other than their own yards.
Southern slaughter grids in Victoria and southern NSW remain 15-25c/kg above Queensland figures, but so far there has not been a lot of evidence of southern processors pushing north to source cattle. Hot boning operators like Hilltop and Gippsland Meat Packers have been working up as far as about Inverell, Tamworth and Gunnedah, but not yet any further north.
That's unlikely to change while ever Victoria is still killing +30,000 head of cattle a week, as it did again last week, according to MLA's NLRS report.
Selling centres like Forbes, Wodonga and Wagga have maintained solid yardings over the past seven days, but having copped the brunt of the cold weather in recent days, it suggests those high numbers may now start to drop away. Wagga normally at this time of the year has dropped away quite dramatically, but is still regularly yarding 5000 cattle each week or better.
Last week's NLRS report was back 3pc in slaughter numbers in Victoria on the week before, suggesting the cycle may have started.
For perhaps the first time this year, all five states reported in the NLRS Eastern States slaughter report last week were down in numbers on the week before.
The combined tally of 174,293 was down almost 2pc on the previous seven-day cycle, representing almost 3000 head.
Queensland was -1pc at a still-high 89,175 head last week, but remained 3pc higher than this same week last year. The NSW kill remained above 40,000 head for the eighth consecutive week, accounting for 40,366 head, down 2pc week-on-week.
South Australia was also back 2pc to 9612 head, while Tasmania was -1pc at 4938 head.
Numbers can be expected to decline significantly in next week's kill, as all states bar Western Australia celebrate Monday's Queen's Birthday holiday.