THE Eastern States weekly kill continued its inexorable decline last week, falling a further 4.2 percent on the week previous to 151,745 head.
While the trend is magnified a little by the Brisbane Show holiday last Wednesday (taking a number of substantial export sheds out of the equation for a day) it nevertheless continues the clear trend where slaughter cattle are becoming increasingly scarce, in spite of record high livestock prices.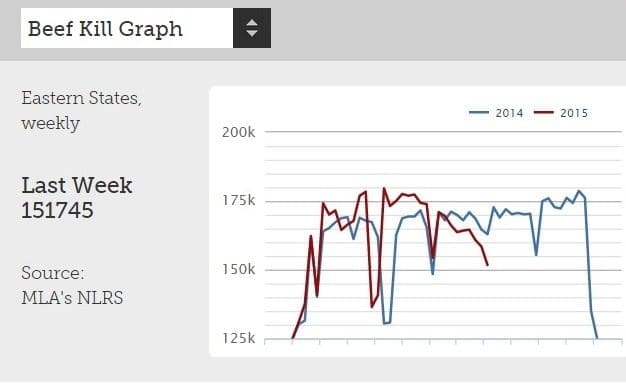 The trend captured in this image from our home page kill graph shows a quite distinct fall in numbers since the April-May period when weekly kills were near records, above 177,000 head. If anything, the decine in rates of kill is becoming more pronounced, but should steady-up next week as southeast Queensland plants return to normal five-day operations.
If we exclude the quiet Christmas-New Year period and weeks affected by national public holidays, last week's kill was in fact the lowest reported in Australia since the week of December 13, 2013.
It was impacted by results in all states. The Queensland kill last week declined 6pc on the week previous to 78,764 head – 2pc below the same period last year. As the graph above also shows, the Brisbane show holiday has a quite significant bearing (clearly seen in both 2015 and 2014) on overall numbers, because of the large concentration of export and domestic processors nearby. Add Dinmore, Beenleigh, Cannon Hill and Churchill and it easily accounts for a loss of 6000-7000 for the week in question.
All other states followed the declining trend, with NSW last week down 1pc to just over 36,000 head; Victoria back 3pc to almost 23,900 head; South Australia -4pc to 8400 and Tasmania marginally down to 4642 head.
Current kill rates across Eastern Australia are now about 7 percent below the same week last year, but put in a five-year-average context, are still well above the average. Heavy grainfed kills are helping sustain that, as evidenced by near-record numbers on feed identified in last week's June quarter feedlot survey.
Queensland and southern grid prices have remained largely unchanged again this week, as supply proves adequate to fill current (albeit reduced) kill rosters.
Southeast Queensland export processors suggest they are quoting for kills a couple of weeks out – but it needs to be said that that is far from unusual in August, which is notoriously the toughest spot in the calendar to find suitable stock. That's because:
In the south, producers can see spring coming, and are reluctant to sell cattle that could carry extra weight, and profit. later
Many of the stock camps in northwestern Qld and the NT are in shut-down mode for the Cloncurry/Mt Isa rodeos, held last week. This curtails cattle flows briefly out of the large herds across the region
It's still a little early for oats-finished cattle, which tend to hit their peak in slaughter turnoff during September
Although it's not quite as distinct as it once was, the traditional Channel Country turnoff period typically reaches a peak in August-September. But this year, due to drought and the lack of beneficial flows through the channels, there is little in the way of grass-finished heavy stock off the Diamantina, the Georgina or the Cooper.
The general decline in cattle numbers due to drought has only enhanced that trend this year, though. Reference last week's Beef Central story where cattle are being pulled out of Central Australia and the Northern Territory for slaughter in SA, VIC and Queensland.
Grids hold firm
Grids this week for Southeast Queensland kills include 505c/kg for milk and two tooth grassfed heavy steer; 500-505c for four-tooth. The heavy cow grid price of 485-490c/kg – just 10c short of grassfed heavy steer – clearly demonstrates how the manufacturing beef market is still driving the pricing complex at the moment. At this week's quoted price above A725c/kg, imported 90 CL frozen cow beef into the US is close to its all-time high of 742c/kg achieved last September.
There is still a 10-15c price differential evident between grids in southern states and Queensland, but that disparity is starting to disappear as the supply issue becomes more widespread. Added to that, saleyards rates and numbers in southern states have generally eased over the past week.
Premium segments appear to be managing to stay in tempo with the broader market trend, but perhaps some price premiums for specialised cattle are now less than what they were before the current cattle price surge started back in April-May. MSA grassfed steer for SEQ kill this week was quoted at 550c/kg and EU grassfed steer, 590c/kg.
The EYCI closed yesterday at a record-equalling 568.25c/kg, still 2.25c higher than the previous week; 25.25c higher than a month ago; and a monumental 221.75c higher than this time last year.
Tomorrow:: Where to now for processors, in the face of declining slaughter cattle numbers?