CURRENCY movement and lacklustre export markets continue to bear a considerable influence on slaughter cattle pricing, with some Queensland grassfed grids recording another 10c/kg dressed weight decline in value on Friday. Some processors have ceased offering quotes temporarily until after Easter.
As this weekly report is written, there's an unusually wide spread in grassfed over the hooks prices evident in the Queensland market, with a full 20c/kg dressed weight difference evident between large competitors. That could change smartly however, with the higher of those currently performing margin calls Monday, Wednesday and Friday each week.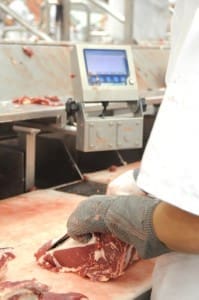 Again, currency performance is having a bearing on processors' grid offer thinking, advancing to well above US77c the night before last, before retreating to the high 75s this morning. The dollar has now risen almost US7c since its recent low-point at the end of January.
A US1c drop or rise in the value of the A$ is worth an annualised $350 million in farm export earnings, ABARES suggests.
Queensland grid offers seen this morning have heavy cows from 445c/kg to 465c/kg and grassfed four-tooth ox 490-510c. It's easily the lowest point seen in grid pricing since a brief slump last October when cows got down to 480c briefly (14 Oct), but still represents significant processor loss on most, if not all slaughter cattle descriptions.
Those pricing trends will inevitably have an effect on supply, but the company involved in this week's downwards adjustment said it was prepared to sit-out the current conditions with dark days at its plants, rather than chase cattle while accruing large losses.
In other market segments, grainfed 100-day cattle spot price this week is 515c, although two major grainfed processors have stopped quoting until after Easter. MSA grassfed steer for Queensland kill is quoted this week at 525-530c. Equivalent grids in northern NSW had MSA grassfed steer at 530c (GHP-free, MSA index 61+).
Plants opening, closing
With two short weeks ahead, a number of processors, both grass and grainfed have stopped issuing grids for the timebeing, content that they have the numbers on hand to occupy two upcoming four-day weeks.
Expect to see a traditional surge in cattle numbers coming forward after Easter, however, as more northern cattle mustering programs activate, and conditions start to cool-off. Export processors across Queensland and NSW are still operating pretty-much 'hand-to-mouth' in terms of cattle supply, but most expect bookings to start to rise heading into April after the holiday period clears and people return to work.
Apart from the obvious disruptions to throughput caused by consecutive short weeks caused by Easter, kills numbers in coming weeks – certainly in Queensland – will be impacted by several other plant happenings.
Kilcoy Pastoral Co will start its three week scheduled closure after today's kill – a routine event each year around Easter time for maintenance and any necessary plant upgrades. That will remove up to 850 head/day of heavy grainfed cattle from the Queensland weekly tally, until Kilcoy gets back to work some time around mid-April – possibly the 17th.
At the other end of the state, JBS Townsville is still on track to conduct its first kill on Wednesday, March 30, immediately after Easter. A reduced daily tally is planned, with preliminary kills of 660 head per day, but hopefully growing to full 903/day capacity as the year unfolds. Effectively, it's likely to add an additional 3400/week to Queensland's weekly kill numbers from April.
Eastern states numbers ease, but Qld rises
There was a general decline in rates of beef kill across eastern states last week, down 1.2pc to 141,827 head.
Queensland, easily the largest processing state, went against the trend, however, rising 3pc to 35,148 head. One simple factor behind that was the fact that JBS Dinmore, the largest beef shed in Australia, celebrated its first full week of kills for the year. Every other week since January has seen activity only three or four days per week, due to cattle supply. The return to a full week's kill at Dinmore, alone, added an additional 3400 head to last week's Queensland tally.
In NSW, slaughter numbers lifted 3pc last week to 35,148 head, still 20pc below kills seen this time last year. The other factor behind the rises seen in in Queensland and NSW last week may have been a little more urgency to lift numbers to build a bit of beef inventory, in the face of two holiday-shortened weeks in a row.
Victoria's tally last week reached 23,155 head, back 18pc on the previous week and a massive 30pc decline on last year, while South Australia's kill was also substantially down at 6644 head. Tasmania logged a weekly throughput of 3926 head, back 18pc on the previous week and 22pc down on last year.