A TOPIC of conversation around processing circles this week has been the impact that current heavy reliance on grain-finishing systems because of drought is likely to have on slaughter cattle supply later in the year.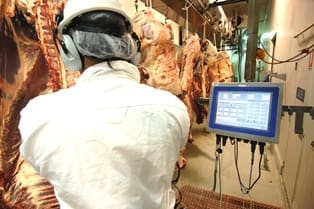 As flagged in today's April quarterly Industry Projections update issued by Meat & Livestock Australia, the availability of slaughter cattle in the second half of 2019 is shaping up to be particularly tight, as drought has accelerated slaughter over the first four months of this year.
MLA now anticipates total 2019 beef kill at 7.7 million head, down 2pc on last year, driven by an ongoing large cow kill which reached levels of 54pc in February – a monthly figure not matched since June 2003.
Total annual slaughter is now expected to fall even lower next year to 7.0 million head, before starting a slow recovery process the following year.
Similarly, carcase weights are expected to fall further this year due to drought effect, to average 289.5kg – down almost 10kg from the record high 2017 figure of almost 298kg. Apply that 8.5kg deficit to this year's projected annual kill of 7.7 million head, and it leaves a deficit of 65,000t carcase weight, that is lost from the system due to carcase weight changes alone, compared with two years ago.
Interestingly, MLA forecasts average carcase weights to surpass 300kg for the first time in history in the following two years, to 300.1kg in 2021 and 302kg-pus the following year, based on a return to more normal feedgrain prices.
At least a part of the lopsided kills being witnessed between the first and second half this year can be explained by the heavy emphasis on lotfeeding this year, processors say.
The volume of cattle that have been grain-finished since late last year, condensing the finishing cycle by six months or more in places, has left a big supply 'shadow' for the back half of 2019 and into next year as well, one prominent processor told Beef Central.
"It's going to have a considerable effect," he said.
"Many of those cattle that have gone into feedlots in recent months are normally finished off grass, meaning they are spaced-out more and would not come to market until later in the year. But many of those cattle are already passed through the system -it will leave a real shortage of good slaughter cattle come August-October, and especially those heavier, quality grass-finished lines," he said.
"It's condensed a six-to-nine month finishing cycle into just three or four months. They have gone through the system far quicker than normal, and you can only kill them once."
Another processor said the shortage of killable cattle later in the year would certainly be magnified by the extent of lotfeeding that had occurred, due to drought.
"There's been a massive exodus through Central Queensland into feedlots this past six months, where producers have been forced by conditions to move from producing grassfed bullocks to selling lighter feeders," he said.
"All of that has an impact on turnoff patterns, and we will see the effect of that later in the year."
"Feedlots were well under one million head in occupancy at one point, but shot back up to 1.1 million head in the blink of any eye – so there has been well over 100,000 cattle in Queensland that have gone out of the paddock, that would otherwise have been destined for grass fattening."
"All cattle will be scarce later this year, but those grass bullocks, particularly, will be very had to find in Queensland, because the season forced their hand."
"It's been a recurring theme in the past few years – people get their cattle to a certain weight, then run out of feed, and have to sell them as feeders."
A continued lack of feed and water from parts of northern Victoria all the way into southern Queensland is continuing to push cattle to market during May. Second grade roughage sources like cotton trash from the last harvest are now running out, pushing more cattle to market in some selling centres in recent weeks.
May is already starting to look reasonably well-covered for many processors' killing schedules, partly due to cattle held-over since earlier March rain. In other areas which received February or later March rain, country has not responded as well as some people had anticipated, meaning further stocking rate adjustments are required before winter sets in. Lack of follow-up rain has also been a factor in some regions of Queensland, where grass response has been disappointing.
Grid prices steady
Direct consignment grid offers from processors in southern Queensland remained steady again this week, as demand remains diminished by successive holiday-shortened working weeks. Quotes seen this morning have offers for slaughter in southern and central Queensland in coming weeks at 535c/kg for four-tooth grassfed ox and heavy cows at 435-440c/kg.
Some southern Australian grids have risen 20c/kg over the past ten days or so as cattle supply runs short heading into winter, with some offers now on par with southern Queensland grids.
Several processors reported supplier inquiry starting to lift out of the Northern Territory and western areas of Queensland, due to very dry conditions and the traditional start to first-round musters after Easter. Most of those far northern/western cattle will be cows and cull cattle, mostly in lighter condition.
Big drop in Eastern states kills
Last week's eastern states beef kill dropped dramatically due to the confluence of Easter Monday and ANZAC Day holidays, reducing many plants to three-day working weeks.
The weekly kill to Friday reported by the National Livestock Reporting Service dropped to 87,231 head, down 31pc from the week before, which was itself impacted by Easter Friday.
Normal killing rosters will resume this week, however some Queensland plants will observe an annual Labour Day holiday next Monday.
Queensland's kill last week retracted 36pc off an already low number the week before to account for 41,860 head for the week. NSW was 32pc lower at 20,652 head, while Victoria eased 25pc to 17,275 head. South Australia's kill reached 4401 head last week, while Tasmania was 23pc lower at 3043 head.