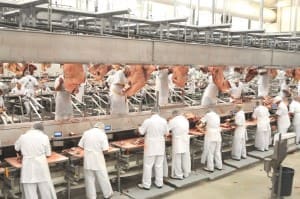 It's performing more like a wrecking ball than a pendulum, but the cattle price cycle has this week turned savagely in favour of producers, with direct consignment price increases of up to 60/kg dressed weight in places over the past 12 days.
While price rises have been widely anticipated for some time, it's the sheer ferocity of the adjustment that has surprised stakeholders.
Perhaps the fact that low cattle prices went on for so long has meant that when dynamics started to shift, it came in the form of an avalanche, with some of the biggest two-week cattle price adjustments seen in history.
Beef Central broke the news of the start of the price shift in this weekly kill article last week, but the trend has gained much more momentum in the past seven days.
For those poor producers who clinched their teeth and battled on during the past 18 months of drastic oversupply of slaughter cattle caused by drought, and subsequent poor prices, the latest development is not only a financial lifeline, but also a critically important psychological boost.
Two veteran processor livestock buyers told Beef Central yesterday they had never seen price movements like it, in their 20-25 plus years in the industry.
Sit back and enjoy, for a moment, this brief summary of direct consignment pricing movements for the major concentration of export processors around southeast Queensland and northern NSW:
As of Monday this week, there is 345c and 350c/kg around SEQ plants for heavy cows, and up to 375c/kg for grassfed four-tooth ox.
Less than a fortnight ago, that cow price was still at 290-295c at most plants – a breathtaking 55c-60c/kg rise since. That's added an additional $87 to the value of a 250kg dressed weight cow, with the prospect of more to come.
Four-tooth export steers at one export plant were still being quoted at 325c/kg late the week before last, but grids have risen an unbelievable three times in the six working days since, now at 375c/kg, up 50c/kg for the week. So rapid have the grid corrections been, that its worth checking with your preferred processor today to see if they haven't risen yet again.
It's not a record for direct consignment ox, which touched 400c/kg briefly at one point some years ago, but prices are heading in that direction. A figure of '400c' has been quoted recently as a price northern producers believe they need to remain productive and viable within the beef industry.
Not since the 2011-12 era when back-to-back great seasons shortened supply of grassfed ox, as producers aimed to pile on as much weight onto cattle as possible, have processors offered 375c/kg for four-tooth ox.
Premium lines have been less impacted by this week's price movement (mostly because they were less affected by drought supply pressure on price), with MSA grassfed steer now at 400-410c/kg and EU steer, 405-410c. We've heard prices of 410c for grainfed trade heifers and 415c the steer. 100-day ox, spot price sits today at 420c/kg.
What's sparked the massive turnaround?
The huge turnaround in pricing appears to be a combination of processors simply starting to run out of cattle, after 18 months of near-record kills, as well as some strong shift in sentiment among producers, post rain.
Adding to that was the 'phantom herd' effect, where space bookings held by multiple processors – sometimes months in advance during the high-pressure supply period – were in fact the same line of cattle, booked at multiple slaughter sites. That rapidly magnified the effect of the change in producer mood, once cancellations started.
So rapid has the adjustment in prices been that some processors have been forced to update their grids three, and even four times over the past ten days.
While last week's Eastern States beef kill reported by NLRS was only back 2. 3 percent on the previous week at around 168,000 head, those high kills are now only being maintained by much bigger money being thrown at producers.
Common processor sentiment  is now that there isn't a huge number of cattle left to kill this year, and the only way to secure them is to raise, and keep raising bids, backed by the knowledge that strong pricing in the meat market is there to support it (see today's companion story on processor profitability.)
"But in this environment, a processor could probably quote 400c/kg on the cow, and it would not necessarily mean getting more cattle," one exporter suggested.
Weekly kills now look like they will start to ease, from this point on. First to go is likely to be weekend shifts, where possible, followed by overtime, and then weekday shifts at some smaller sites might come under challenge. If history is anything to go by, bigger operators who are able to compete more strongly for stock are likely to be the least affected.
So are there further rises likely ahead?
"It's hard to say," one processor said. "It will depend on everybody's appetite, and how hard processors want to run their kills, and whether they just want to run to their program business and long-term commitments. Rain, of course, could be another factor, which has not really come into play yet," he said. Saleyards prices yesterday reflected the direct consignment price trend, but perhaps not as extreme.
There were plenty of cows making 190c/kg liveweight at Toowoomba's twin sales yesterday, where the Elders yarding kicked 38pc in response to the recent lift in prices. At Landmark's equivalent  Toowoomba sale yesterday, cows gained a further 20c/kg. One line of exceptional cows sold to 202.2c/kg, a saleyards record. Bulls made to 213.2c/kg.
Kills ease 2pc
Queensland's kill last week was back 1pc at 85,805 head, while NSW was affected most, -7pc at 39,415 head. Rain across northern areas of the state last week, especially the New England region, influenced that result.  Victoria and South Australia were both +2pc at 31,262 head and 8393 head respectively, while Tasmania was well back, -12pc at 4109 head.