SOUTHEAST Queensland slaughter cattle price grids are on the march again, as export processors, buoyed by an easing Aussie dollar, bid-up to maintain weekly kills at a breakneck pace.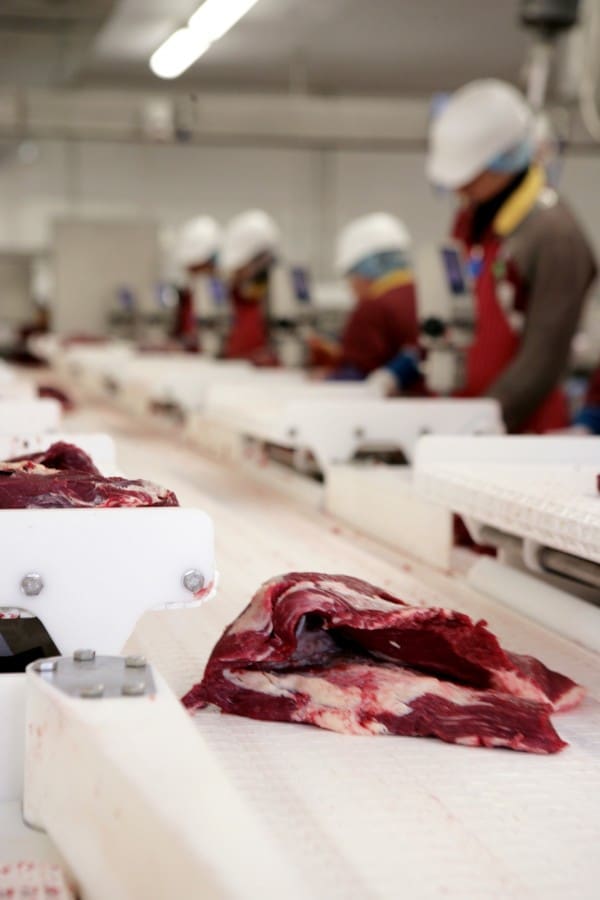 While lack of historic records make it hard to be absolutely certain, some direct consignment prices this week may in fact be at all-time records for export-weight slaughter cattle, veteran livestock staff believe.
The Eastern States weekly kill reported by NLRS yesterday showed a seven-day throughput for the period ended Saturday of 170,668 head. While overall cattle supply is obviously tightening, that figure shows absolutely no signs of reflecting it.
Why? Because there is still a handy dollar to be made, even at current stratespheric cattle price levels, by exporters in maintaining kills as high as they possibly can. Added to that has been the slide in value in the A$ experienced over the past week.
The A$ descended into the US86s overnight, before settling at just above US87c this morning. That's a dramatic 7c improvement since this time last week, making Australian exports considerably more 'affordable' in the international market.
Last week's eastern states kill was virtually unchanged from the week before, and continues the current extreme high rates of slaughter deep into the 2014 killing season.
As a comparison, the most recent eight weeks of kills this year have accounted for 1.352 million head of cattle, or slightly more than 169,000 head per week. Compare this with the same eight weeks last year, when the tally was more than 150,000 head less, averaging just over 152,000 head per week.
Most northern processors spoken to this week continue to operate at close to capacity, but the supply of cattle gets harder by the week. Oats -finished cattle are now virtually exhausted; there's a trickle of cattle left out of the western and northern parts of Queensland; but one SEQ processor this morning described the current catchment as 'scattered, fragmented and inconsistent.'
Some, but not all Eastern States sheds will have a public holiday on Monday (Labour Day) depending on awards, and other plants will celebrate a Butchers Picnic lay-day in coming weeks, which should help take the edge of rates of kill for the next couple of weeks, at least.
Reinforcing the processors' willingness to pay ever-higher prices for cattle is the currency trend, with the millstone of a currency well above parity against the Greenback now a distant memory. With the A$ now sailing along nicely in the US87c range, it means the stars are all starting to align for Australian beef exports – backed as it already is by major shortages in production in the US and high demand in a basket of hungry customer countries, both established and emerging.
The key to what lies ahead, as always, is rain. But perhaps for the first time in the history of the Australian beef industry, prices will inevitably rise further over the next six months, almost regardless of whether it rains or not. It presents a desperately needed opportunity for producers to get some financial stability back into their businesses again.
Processors open the purse strings again
While some SEQ grids remained unchanged from a week earlier this morning, at least two other major exporters have opened the purse strings further, pushing prices up another 10c/kg to what Beef Central believes may be record levels.
Two senior livestock managers could not recall higher prices during their terms in the industry, but without clear records, suggested that there may have been short periods in 1996-97, and perhaps a short period in late 2004, when prices may have gotten to this level.
Best grid prices we could find for SEQ slaughter this morning for kill in coming weeks included: the magic 400c/kg for milk and two-tooth grassfed Jap ox; 395c/kg for four-tooth ox; 390c/kg for six-tooth; 380c for eight-tooth and best cows, a fantastic 370c/kg. Happy days, indeed.
For the specialist lines, EU steer are currently worth 430c, and 425c for MSA grassfed steer. In Teys case, to its credit, it maintains a further 10c/kg over MSA price for Pasturefed Cattle Assurance System-eligible cattle.
What a dramatic turnaround the market has seen since late August.
Queensland's kill last week was down just 2pc on the previous week at 83,389 head, but most significantly, still +4pc on this time last year. NSW last week accounted for 40,645 head, also down 2pc on the previous week, but still +6pc, year-on-year. Victoria killed 31,595 head, up 30pc on last year, while South Australia was up 12pc at 9869 head (+11pc on a year ago) and Tasmania 4660 head (+16pc on last year.)
End to killing season
Looking further ahead, barring widespread rain disruptions, it looks like most large Queensland export processors will do their final 2014 kill on either Wednesday or Thursday, December 17 or 18, with final boning room shift on Friday, December 19.
Some large SEQ export processors have told us they have put considerable numbers of grainfed cattle (both 100-day and domestic) away on feed for slaughter through December, that will have to die before the Christmas/New Year closure. For example, domestic-weight cattle for slaughter around December 7, started their programs a week or two ago.
That 'stockpiling' has been done for two main reasons: providing a supply of killable cattle in anticipation of a looming shortage of grassfeds over the November/December period, and the prospect of weather-driven disruptions over the same period.
Given the location of most large commercial feedlots on all-weather roads, it takes the 'weather factor' out of the equation, to some extent, at the time of year when it can be problematic for processors.
Editor's Note:
Since this article was published yesterday, more information has come to light about historic cattle pricing, and whether current SEQ grids have this week reached an all-time record. In 2004, AMH Queensland grids reached 400c/kg briefly for four-tooth grassfed steer +300kg and 395c/kg for six-tooth at the company's Dinmore plant in southeast Queensland. Grid offers were 10c/kg less than that at Rocky, and 10c less again at Townsville. EU steer back then was about 20c/kg above Jap ox, but EU had a top weight of 320kg in those days. There was no two-tooth premium for steer +300kg in that era. For cow, there is no question that this week's grid offers from two large processors in SEQ of 370c/kg is an all-time record. So Beef Central's claim yesterday's of a possible record grid offer stands up strongly to scrutiny. For the history buffs, we've done some research into what drove prices so high in 2004. Here's what happened: a) BSE was discovered in the US in late 2003 b) a strong US economy pushed the A$ value down from above US80c to below 70c  c) the EYCI rose from around 300c/kg to close to 400c and d) there was a period of erratic rainfall in northern Australia, disrupting slaughter cattle flows, and forcing processors to bid up.