Editor's note: Since this report was published this morning, MLA's NLRS has issued a revised weekly kill report, after closer examination. While the results temper some of the extremes reported in our original version published earlier, the underlying principles still apply. All figures below now corrected. Editor.
THE rapid and widespread deterioration in spring seasonal conditions across large parts of eastern Australia has pushed last week's five-states weekly kill close to 2017 record highs.
The National Livestock Reporting Service's eastern states beef kill logged a figure of 132,680 head for the week ended Friday.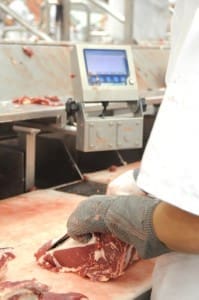 Given that Queensland's Kilcoy Pastoral Co was shut last week for annual maintenance (seven days x 1100 head = 7700) and at least two other large Queensland sheds were on reduced days, that was a very big number.
The current high rate of slaughter continues to confound processing stakeholders who earlier were budgeting on a very tough third quarter for supply this year, as a result of accumulated impact from two previous years of drought.
That anticipated slump in supply continues to be postponed, however, by the dramatic decline in seasonal conditions, with record high temperatures and record low rainfall being recorded in numerous centres during September.
To put the current rates of kill into some context, last week's kill was 24 percent higher than this time last year.
On the sell-side of the equation, few, if any export processors would welcome the current flows of slaughter cattle being seen, with beef continuing to be very hard to sell into most key export markets, at prices anywhere near breakeven.
While the Aussie dollar this morning was a little softer at US79.3c, it has continued to strengthen against the US$ in September, supported by ongoing US currency weakness. Since the turn of the calendar year, the A$ has appreciated 11pc against its US counterpart, making it that much harder for Australian exports to compete on the international stage. On September 8, the A$ breached US81c – its highest level since May 2015.
Southern Qld grids unchanged, but slides evident in southern states
Southern Queensland slaughter grids remain unchanged this week, with best offers seen this morning of 490c/kg on grassfed four-tooth heavy ox, and 430c/kg on heavy slaughter cows.
Significantly, several export plants in Central Queensland have raised their grid prices 10c/kg to match those southern Qld rates in the past seven days, as local supply starts to draw tighter. Typically, CQ lags about 10c behind rates in southern parts of the state, with North Qld often another 10c behind that.
The adjustment perhaps best signals that the 2017 cattle season in the more northern extensive regions of Queensland is drawing to a close, cull cows are gone, and cattle are getting harder to come by – particularly as daytime temperatures have been unusually hot for late September.
More movement has been seen in southern Australian grids this past week.
A larger northern NSW export beef processor has grid offers for kills week commencing 2 October of 450c for grassfed heavy steer, no HGP; and 400c for full-mouth cow. Grids last week across NSW declined 5-7c/kg on average for most categories, while Victorian grids declined another 3-6c.
Just three or four weeks ago, southern processors, driven by local grids that were +20c above those in Queensland, were pressing north to procure saleyards cattle out of northern NSW and southern Qld, due to price advantage. The big inflow of cattle due to the encroaching dry, and no sign of a spring break across southern and central NSW and northern Victoria, has seen southern states' grids retreat – so much so that there were several consignments of slaughter cattle bought by Queensland processors out of Dubbo last week, for the first time in quite a while.
Carcase weights continue to belie conditions
An unusual feature worth noting this year is how well carcase weights have performed.
Carcase weights for the rolling average year-to-date this year sit at an all-time record high of 298kg. The previous record high was 288kg, set last year. MLA in April this year anticipated average carcase weights in 2017 at 291kg.
In a typical drought event, carcase weights tend to decline, for two reasons: Cows start to make up a larger proportion of the overall kill, which tends to reduce average carcase weights across all slaughter cattle; and growth rates, level of finish and carcase weights on all slaughter stock tend to decline.
This year, it's different, for a number of reasons.
Firstly, despite the drought conditions that now prevail across large parts of eastern Australia, cow kill remains surprisingly low. Last week's eastern states kill shows female kill in Queensland at less than 37 percent, while in NSW (the only other state where gender breakdown is reported) is at 47pc. The week before, the respective figures were even lower, at 34pc and 45pc.
During earlier periods of drought since 2015, female kills at this time of year have frequently been in the 50-55pc range, signifying significant herd reduction.
The obvious reason for the pattern this year is that to a large extent, beef herds have not yet recovered from destocking females as part of earlier drought herd liquidation. And producers appear intent on preserving what's left of their breeding base, for future rebuilding. But in many cases that's meant selling 'next year's bullocks' this year, either as feeders to feedlots, or to slaughter. There are literally no more older females left to cull.
The other factor is the industry's current heavy reliance on lotfeeding to maintain continuity of finished cattle.
As reflected in the most-recent feedlot industry survey taken at June 30, numbers on feed were at all-time record highs, at 1.1 million head. Commercial yards spoken to this week ahead of our upcoming 100-day trading budget report they are as busy as ever, despite rising grain price.
The use of lotfeeding, regardless of whether it is applied to domestic or export cattle, inevitably adds weight to carcases that would not be present under grassfed finishing systems, and it is clearly evident in current carcase weight performance.
Last week's NLRS report suggested Queensland's seven-day kill was 66,083 head, up 23pc on a year ago; while NSW was 32,871 head, +28pc on last year. Victoria's tally reached 21,322 head, 15pc higher year-on-year; South Australia was +38pc at 8010 head; and Tasmania was +26pc at 4394 head.
Butcher's picnic holidays this week in some Queensland plants, and Labour Day/Queen's Birthday holidays next Monday in Queensland, NSW and South Australia will inevitably pull some cattle out of weekly kills reported for the next two weeks.