Beef kills across Eastern Australia continued to climb last week, due to the confluence of drought pressures across parts of Queensland and NSW meeting the prospect of two shortened Eastern kill weeks ahead.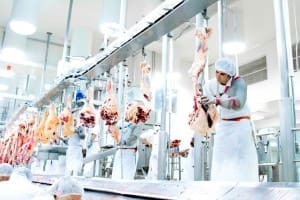 The National Livestock Reporting Service logged a seven-day Eastern States kill to Friday of 178,375 head, up another 1 percent on the previous week, which was already the biggest kill of the year.
To put it into context, last week was the biggest tally since the final week of November last year, and has contributed to throughput across the five Eastern States of just under 690,000 head for the month of March.  This time a year ago, the same four weeks delivered more than 20,000 head less.
Adding to current kill momentum is that fact that this week and next will effectively wipe-out 20 percent of the weekly kill for two consecutive weeks, as a result of the Easter-shorted rosters on Friday and Monday. That will effectively remove more than 70,000 head from a conventional week's kill at current rates, and will only add to current supply congestion for processors in Queensland, NSW and Victoria.
Queensland's kill capacity will come under further pressure in coming weeks, as the grainfed-only Kilcoy Pastoral Co plant closes for its annual maintenance break. Kilcoy's last kill shift will take place today, before recommencing three weeks later on Saturday 18 April. That takes another 5000/week out of the Queensland tally at a time when indications are that killing space will be at a premium.
Queensland's kill last week hit 86,898 head – right up there with the largest kills recorded over the past 15 months, and up another 1pc on the week previous.
NSW was virtually unchanged on the previous week at 43,614 head, but still 13pc above where the figure sat this time last year.
In Victoria, numbers edged another 3pc higher to 33,765 head; in South Australia the tally rose 5pc to 9672 head; and in Tasmania a kill of 4426 head was reported – back 12pc on the week previous.
Grid prices steady
Direct consignment grid prices for southeast Queensland kills were largely unchanged this week, as earlier supply pressure shows some signs of easing. Best quotes seen for four-tooth grassfed heavy steer was a neat 400c/kg, and heavy export cows, 375c/kg.  There's also been considerable SEQ business done this week at 390c for four-tooth grassfed ox and 365c for heavy cows.
There is now almost universal agreement that given current high rates of kill, and the impact that two years of sustained drought has had on the national herd, that cattle will be in very short supply during the back half of this year, likely to lead to a short price in prices for slaughter stock.
Adding further weight to that outlook is a quarterly outlook released by Rabobank this week, suggesting the reduction of the cattle herd and possible improved seasons will lead to a contraction in Australia's beef production in 2015 – which is likely to further 'test' world prices against a backdrop of existing tight global beef supplies.
Protein analyst Angus Gidley-Baird said that given the tightness of the global beef market, it is expected that lower Australian production levels will contribute to a continuation of high international prices and improved domestic cattle prices for Australian producers.
He suggests it's time for Australian producers to get a "piece of the action".
"Looking at the last two drought periods in Australia, prices increased from the bottom of the market to the top by as much as 80pc," Mr Gidley-Baird said.
"In 2015 however we have a stronger case for higher prices with high world beef prices, tight global supply, strong demand from US and China and a depreciating Australian
dollar."
As was the case in New Zealand in recent years – where there was no surplus supply – farmgate prices have been at record levels.
"As far as the Australian market is concerned, a supply contraction will take place against a backdrop of a low A$, a tight global supply, and some positive market developments including implementation of Japanese and Korean trade agreements," Mr Gidley-Baird said.
"In essence, Australian beef producers haven't seen such positive fundamentals in quite some time, all aligning at once."