DISCUSSIONS with trade sources up and down the supply chain this week about the state of the meat market leaves space for just one conclusion: processors will inevitably have to reduce rates of kill in coming weeks.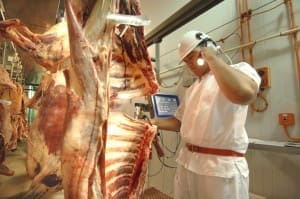 A few isolated plants in NSW and Queensland have already dropped days this week, and more lies ahead, while ever the international and domestic meat market remains in its current sick state.
As the impact of COVID-19 wears on, it is becoming clear that quality meat is becoming desperately hard to sell, at any sort of realistic price. What's happening is that the price distinction between budget or commodity meat, and better quality lines is now narrowing to a point that has never before been seen. Essentially, 'meat is meat' at present, with very little quality recognition in price.
Chilled and frozen cold storage space is now in short supply, not only for beef, but for chicken and pork as well, Beef Central was told this week. In Japan, increasing quantities of sweet cuts are apparently being frozen down, as demand evaporates, and stocks are building up in storage in the US, Korea and elsewhere.
A large wholesaler contact described the current cold storage stockpile and meat price situation as 'horrific.'
Middle meats – the so-called 'sweet cuts' that normally command substantial premiums over the rest of the carcase – have fallen to alarming levels over the past ten days, and show no signs of slowing.
The wholesaler said he had never seen the trade so hard. Huge 'negative margins' are being seen at wholesale level, with grainfed tenderloins bought by wholesalers earlier for $20/kg being sold this week for $15, and grainfed 100-day cube rolls that cost the wholesaler $19/kg being offered at $14.50 to $15/kg – and proving very hard to sell at those rates.
"Given current conditions, I think they could get down as low as $12/kg, for what is very good quality meat," a wholesaler source said.
Plenty of commodity grassfed tenderloins are this week being offered at just $7-$7.50/kg, while lower marbling score Wagyu tenderloins are in the market for $8 wholesale, and there is little demand at those prices.
A Melbourne wholesalers' price list this morning had premium marbling score 4 Angus tenderloins, striploins and cube rolls at just $12.50/kg – probably less than half what they would normally be worth at this time of year.
"The last time we saw tenderloin prices collapse like this was the Millennium year, when wholesalers bet on stockpiling huge volumes in preparation for Year 2000 celebrations. That anticipated huge spike in demand never eventuated, and prices that January halved overnight," a wholesaler said.
"Many meat sales people will be reluctant to accept these current crazy low prices, but history says if you don't take it now, it's only going to get worse. You just have to close your eyes, sell product, and move on – because eventually you will roll into meat that does not owe you as much," he said.
"It's all due to the worldwide collapse in food service (restaurant, hotel, café, conference) demand, which are big users of the higher-value sweet cuts like tenderloins, cube rolls and striploins."
The domestic market – historically only 22-30pc of all Australian beef sales – could only absorb so much of this surplus meat, the wholesaler contact said.
"Everybody is trying to fill the same holes with the same product. The logical next step is for processors to start dropping kills, to try to clear the big stockpile of meat that is appearing," he said.
"If a processor cannot buy cattle for what they are worth as meat, then why would you kill them?" one large multi-site processor contact told Beef Central this morning, when asked about prospects of plant's having dark-days, or longer closures in coming weeks and months.
"It's a pretty easy decision when the meat job is as bad as it is, and inventories are so high. We are better off not having the product to try to sell into a dead market, for the timebeing," he said.
While some processors have reasonably good forward positions on some international sales which would normally provide some protection in times of market movement like this, that was 'not worth a crumpet' when customers "ring up and tell us not to ship, and that they'd be happy if we could sell it somewhere else."
Grid prices deteriorate further
As wholesale meat market values continue to slide in the absence of food service and export demand, processor direct consignment slaughter cattle offers have slipped again in the past week.
Most, but not all Queensland beef processor grids have declined since last Wednesday, ranging from minus 10c to minus 20c or 30c/kg in several cases. Central Queensland rates are 10c/kg behind the rates from southern parts of the state quoted below.
Representative offers from competitive processors in southern Queensland this week are 540-550c/kg on grassfed heavy steers +300kg, and 470-485c/kg on heavy cows.
NLRS over the hooks quotes last week saw NSW processor offers for grown steers and cows back 4c/kg on the week before, with cows +280kg carcase weight averaging 489c/kg and four-tooth steers +300kg at 546c. In Victoria, cows last week averaged 5c dearer at 500c, while steers were unchanged at 580c.
With Easter break now passed, slaughter cattle booking inquiry was described this morning as 'moderate to steady', rather than 'strong', with larger western and northern stock camps now starting to activate. Supply was struggling even before the latest round of over-the-hooks rate cuts, making it hard to equate any drop in pricing with slaughter cattle flows.
"It perhaps highlights the fact that the numbers just aren't there this year, after two years of drought reductions," one processor said.
Processor operations remain disease-free
One positive to take away this week is that there are still no reported cases of coronavirus among operations staff in Australian meat processing plants, as rigorous screening and preventative measures being enforced by processors prove their worth. Contrast this with mass abattoir closures still being reported in the US beef industry this week, which is putting strains on US meat supply. Well done to all concerned.
Kills slow over Easter
Eastern states beef kills slowed for a second consecutive week last week, due to the Easter holidays, NLRS's weekly report shows.
The five-state kill reached just over 110,000 for the week to Friday, up 3pc from the previous week but down 22pc from the last full pre-Easter week.
Queensland's kill last week was 12pc lower than this time last year, at 57,299 head, while NSW was 10pc lower, year-on-year, at 27,424 head. Victoria killed 19,002 head last week, back 17pc on last year; South Australia was unchanged at 3212 head; and Tasmania was 21pc behind last year at 3151 head.
Next week will give a clearer impression of slaughter trends heading into May, free of holiday closure impacts.