FALLS of 25-75mm across substantial areas of southwestern and western Queensland, western NSW and eastern parts of South Australia in the past week have been enough to disrupt slaughter cattle supply to some processors this week.
Several operators reported cancellations this morning, mostly larger runs of western cattle heading to saleyards or direct to slaughter. Some of the issues concerned impassable access roads, rather than operations on the vendors' properties themselves, Beef Central was told.
Today's Roma store sale is well back in numbers, with about 4500 head yarded following some rain cancellations.
Grid offers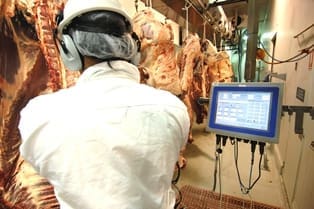 The recent softening in direct consignment grid price offers took a breather this week, with most grids unchanged.
Offers seen from competitive processors in Southern and Central Queensland this week were 610-620c on four tooth grassfed heavy steer (some higher quotes HGP-free) and 540-555c/kg on the best heavy cows.
After a series of big drops earlier, grainfed offers from several large Queensland processors were also unchanged this week, sitting at 620c/kg for milk and two-tooth 100-day heavy steers (implanted) and 630c on HGP-free.
In locations further south, Wagga (NSW) and Naracoorte (SA) were this week offering 605c on four-tooth grassfed heavy steer and 550c/kg on heavy cows.
In meat markets, China demand continues to be flat, exporters suggest, while imported manufacturing beef prices into the US were this week quoted at A662.5c/kg by Steiner – their lowest level in A$ terms since May last year.
Domestic lean beef prices continue to drift lower in this US, Steiner says in its weekly imported beef summary, and very weak fat trim values continue to pressure fattier imported grinds. The value of imported 80CL for instance was as much as US35c/lb above domestic, Steiner said, making product almost impossible to move unless a user was forced by spec to do so.
Slaughter numbers fall
There was another big drop in slaughter numbers across eastern Australia last week, with a number of plants in NSW and Victoria taking short seasonal closures during the current tight supply period.
The eastern states kill for the week to Friday reached 101,087 head, back a full 10pc on the week before, and 34pc behind this week last year.
All states were in negative territory, with Queensland's kill back 13pc to 50,019 head, and NSW back 3pc to 27,414. Female proportion of the kill hit a new seasonal low, with cows and heifers accounting for just 37 of the kill in Queensland, and 50pc in NSW. In Victoria, kills last week dropped 13pc to 16,488 head; South Australia eased 1pc to 3305 head and Tasmania dropped 22pc to 2982 head.