WIDESPREAD, if somewhat patchy rain across eastern Australia is yet to be reflected in processor grid price movements this week, but a number of major operators conceded this morning that they are 'evaluating' their current supply position.
Falls from 25mm to as much as 150mm (see BOM map, below) have fallen across large areas of NSW, Queensland and Victoria over the past seven days, however enough 'dry' areas remain to ensure there will be no real weather disruptions to processing in the immediate future.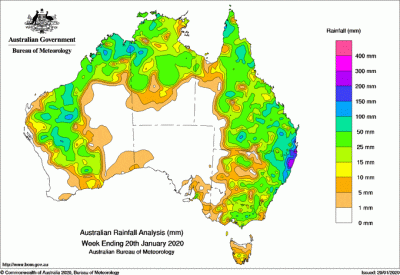 Just one Queensland plant missed time early this week, but that was technology, rather than weather related. Teys Lakes Creek missed its kill today due to IT equipment issues in the boning room following an off-season installation, but it had nothing to do with weather supply challenges.
Rainfall has not been enough to disrupt road or paddock access to cattle in most areas, processors said, but a number of contacts said they had received a few cancellations for previously-booked cattle this week as the rain impact takes effect and cattle producers alter their plans.
"We're still trying to assess what effect the rain is going to have on supply," one large multi-site processor told Beef Central this morning.
"Numbers on offer in the saleyards have certainly retracted this week, and for some producers who have had rain, they may now jump on a tractor and try to establish a forage or grain cash crop, which could reduce labour to shift cattle for a while," he said.
There has been no change in grid prices seen this morning for major processors in southern or northern Australia.
Competitive Queensland processor offers started the year at 475-480c/kg on heavy cows, before falling to 460c a week or ten days ago in the face of heavy supply due to continued drought. Grass four-tooth steer prices this week are still in a wide range from 525-560c (some quotes HGP-free only), also back 20c/kg since the opening offers this year, and 20-30c/kg lower than final offers in 2019.
In southern states, competitive southern NSW and eastern SA processors are this week offering 430c/kg on heavy cows and 515c/kg on four tooth steer.
Last week, NSW grid prices eased 6c/kg on average for grown steers and 13c/kg on cows and MSA yearling cattle. In Victoria, grown steers declined an average 22c/kg, and cows 7-8c in grid offers, before the rain impact arrived.
Stronger saleyard price trend
Physical sales held early this week have all trended higher in price as a result of this past week's falls – in many cases recording substantial rises. Numbers offered in most centres were lower, but not dramatically. Here's a quick summary of trends at saleyards held across eastern Australia this morning, provided by NLRS:
Wodonga: Numbers decreased moderately. The cattle market found another gear, with prices buoyant in most categories. Vealers were well supplied along with a mixed selection of yearling steers and heifers.
Gunnedah: Demand for young cattle was very strong, with vealers posting strong gains, both to restockers and processors. Lightweight yearling steers to restockers saw a much dearer trend with the strongest price gains in the lightly-muscled steers. Medium and heavy weight feeder steers posted strong gains in the face of the extra competition. Yearling heifers to restock and feed sold to significantly dearer trends, those carrying sufficient weight and deemed suitable to feed attracting strong competition.
At Naracoorte, feeders provided extra competition this week as they competed to take a larger portion of those on offer as the market sold to dearer rates with increases of 10c to 20c/kg common across the board, with more in select places.
At Warwick, numbers offered were down slightly on last week, with an extremely strong market reported in all categories. A number of buyers were active on the yearling steers resulting in a significantly dearer market, particularly for the lighter classes. Restockers and feeders paid an average of 303c for the lightweights to be significantly dearer.
Live export competition
Live export operators continue to offer strong competition for slaughter-weight cattle across Central and northern Queensland in the opening stages of 2020.
Reports suggest offers of 325c/kg live over the weighbridge at feedlots in Central Queensland this week, for Vietnam orders, via Elders. That equates to 590c/kg carcase weight, on farm, before processor grid penalties are applied – a long way from the 525-560c/kg being offered this week by central and southern Queensland processors for similar two and four-tooth cattle.
Last week's state kill statistics will be added to this report when they arrive from NLRS.