RAIN continues to play havoc with beef processing operations across parts of eastern Australia, with plants from Rockhampton to Melbourne anticipating more dark days this week or next due to cattle supply challenges.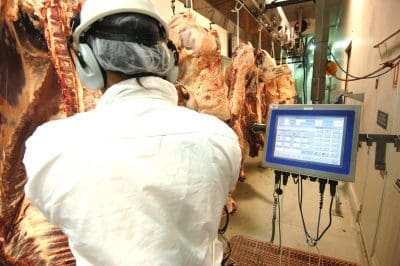 There were further heavy falls across parts of inland Queensland and NSW towards the end of last week, and more rain is forecast for Friday and Saturday this week across much the same region.
More than 70mm was recorded across parts of Queensland's northwest and far west. Even the Birdsville Races in Queensland's far west corner were impacted, with Friday's racing washed out. The event was last washed out in 2016, but prior to that it was an extremely rare occurrance.
Typical of the impact, this morning's Roma store sale yarded just 1630 head – about a quarter of last week's offering – as further widespread early spring rain across supply regions late last week kept cattle at home.
Quite a number of Queensland processors are expecting to lose a day's operations this week as a result of logistical challenges, Beef Central was told. And as the map below shows, more rain of 25-50mm is forecast by the Bureau over parts of southern Queensland, NSW and Victoria over the next seven days.
Country that was already damp is simply being topped-up with further falls, meaning delays in shipping slaughter cattle could now extend well into September.
The recent rain impact was clearly seen in last week's national beef slaughter, down another 1pc on an already low figure the week before to just 92,640 head. It means that by week 36 in the 2022 slaughter season ended last Friday, Australia has recorded just three weeks above 100,000 adult cattle slaughter for the year.
Slaughter numbers in Queensland last week, which bore the brunt of the most recent rain impact, fell more than 5pc to 49,425 head.
NSW kills rose off a very low figure the week before to 23,618 head, while Victoria remained in its seasonal short cattle supply slump, accounting for only 11,725 head.
Kills in South Australia fell sharply last week to 2178 head, while Tasmania continued its recent dramatic falls, registering just 2885 head. Western Australia's beef kills have risen steadily since mid-year, reaching 2809 head last week, the best tally seen since mid-March.
Several large Central and Southern Queensland processing plants had already scheduled four-day working weeks this week and next, but are now anticipating as few as three days of operations this week, and possibly next week.
"With more rain expected from Friday, it's going to be a disrupted couple of weeks heading into spring – at a time when supply is already very tight," one processor contact said this morning.
Direct consignment offers steady
Queensland processor direct consignment grid offers were unchanged this week.
Competitive quotes seen this morning have heavy cows at 670c/kg (having fallen to 600-620c only six or seven weeks ago, although limited business may have been written at those levels).
Four-tooth export-weight grass ox are at 735c/kg (some HGP-free quotes 740c), having drifted as low as 695c in July.
Southern states direct consignment offers this week have heavy cows at 720c/kg and four-tooth steers 795c. But in reality, those figures are 'just numbers' and very little business is actually being written despite those rates, several southern processors told Beef Central.
Season continues to impact
The continuing strong seasonal conditions across much of eastern Australia is again spreading cattle out, and those vendors who are not pushed into selling due to lack of grass, are choosing not to. It means cattle foregone now for kills later are likely to carry additional weight and finish, heading into the last quarter.
Large Queensland processors who only last month had kills well-covered for up to three or four weeks ahead are now much more current, Beef Central was told, with many only a week forward at present.
Editor's note: Since the start of August, the National Livestock Reporting Service no longer provides a weekly Over-the-hooks slaughter cattle price summary. The NLRS OTH report is now compiled only monthly, on publicly-accessible grids only. Lack of processor participation was given as the reason.