Unexpectedly rapid recovery from COVID-related illness issues has been offered as a contributing factor behind a 20c/kg rise in direct consignment processor offers on slaughter cattle in Queensland this week.
Apparently some processors have seen staff return to work more rapidly after the recent COVID wave of illness than previously anticipated. That has added to each plant's weekly capacity, prompting some processors to lift rates yesterday to try to flush out some extra cattle.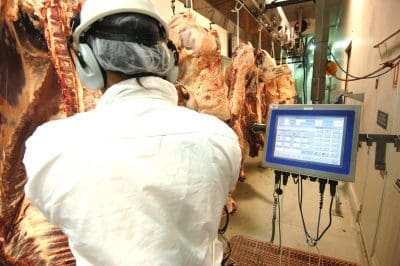 Some plants are now back to more or less full (that is, pre January COVID episode) staffing levels, weeks before they anticipated. Many infected staff had experienced only mild symptoms. Reports out of Central Queensland, however, suggest a few sites in that region are still working through their COVID-related absenteeism cycle.
The bounce-back has created a mini-surge in demand for slaughter stock, with offers on heavy cows this week from competitive Queensland processors at 750c/kg and four-tooth grassfed steer 810c/kg. Both are back close to the record highs experienced late last year. Cows at one point in November crept up briefly to 780c.
One large competitor had yet to decide on grid offers this week when spoken too this morning, anticipating a decision tomorrow.
A gradual rise seen in manufacturing beef prices into the US since mid-January had not really impacted cow demand, one contact said this morning, because most recent US quotes had now turned south again. Beef sales into Japan had softened, pushing more beef back into the US in recent days.
Direct consignment slaughter offers in southern states this week were virtually identical to Queensland, with best cows 750c/kg and heavy grass steers four teeth 810c.
What's not yet clear is whether this latest price adjustment is only a short-term rise to flush a few cattle out to match improved plant staffing levels, or a more fundamental market movement. The next three to four weeks will tell more, because after that a succession of four-day working weeks due to public holidays will start to impact the supply-demand equation.
Processor margins worsen
Typical Australia beef processor margins deteriorated further during January, Thomas Elder Markets latest forecast suggests.
TEM's latest report suggests processor losses per head during January reached $371. It warned, however, that that number might change, due to delays in delivery of some input figures.
The January figure was a slightly worse position than December 2021 ($366 per head of cattle processed).
"The January opening figure came in 8pc worse than what was seen for January 2021. However, there is a chance for some relief once we get past February as cattle input costs have eased in recent weeks while key beef export values have firmed," TEM said.  (Note that that comment was made 9 February, before the latest round of grid price rises).
"As we pointed out in our previous update on processor margins, it is still going to be tough year for Aussie beef processors," TEM's Matt Dalgleish said.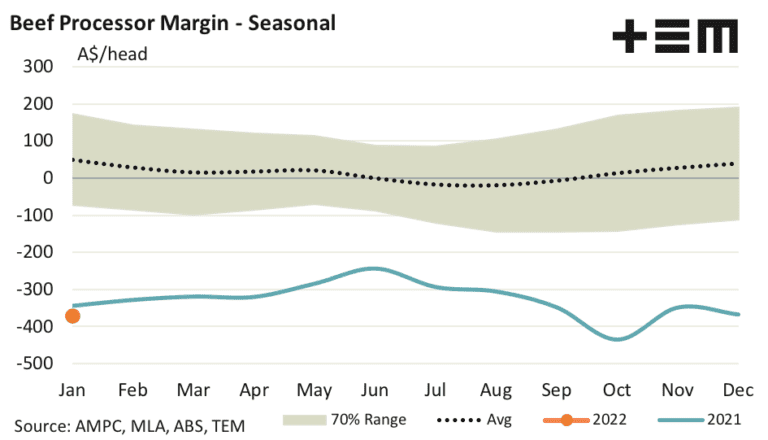 Meat & Livestock Australia has lifted its slaughter forecast from 6.65 to 6.7 million head and the continuation of this tight supply scenario is likely to keep pressure on processing margins during 2022.
But there is some hope on the horizon that margins will begin to normalise as the industry heads into 2023/24.
Slaughter numbers continue to rise
Last week's national slaughter continued to rise, hitting a 2022 season high of 94,521 head, up another three percent on the week before, and not far off the same week's throughput last year.
Queensland's kill last week at 45,599 head was up another 3.3pc to 45,599 as processor operations return to more normal settings. Last week's tally was virtually identical to this week last year.
NSW also recorded a 3.8pc rise in operations, lifting to 27,778 head, slightly up, year-on-year.
Victoria registered a small decline to 10,742 head, still well short of February 2021 levels.