RECENT hikes in direct consignment slaughter cattle values in Queensland and northern NSW have seen beef processor profit margins drift deeper into negative territory again.
Since mid September some over the hooks Queensland and northern NSW slaughter cattle offers have lifted 40-60c/kg, partly in response to saleyards markets which were pressing well ahead of the direct consignment channel, and partly to keep southern processors venturing north at bay. That jump came on top of smaller rises in August.
Thomas Elder Markets' Matt Dalgleish this week calculated that since 2018, the cost of slaughter cattle has risen by 60-80pc, while export beef has only gained 30-40pc in value.
That leaves a big hole to fill, and as a result TEM's average processor margin dipped $20/head from July to August, to register a loss of $324 per head of cattle processed during the month (orange line in graph below).
The annual average processor margin for 2021 calculated by TEM now sits at a loss per head of $300.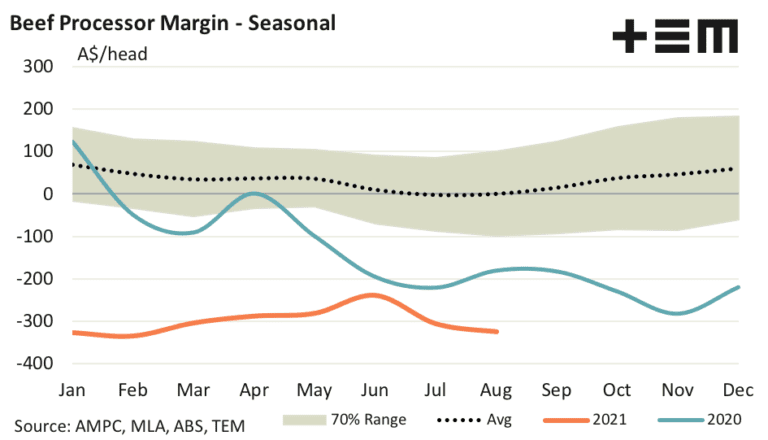 "Beef export prices have been improving as concerns over a global tightening in supply, and trade disruptions to the largest beef exporter, Brazil, due to a BSE episode," Mr Dalgleish said.
Increased beef export values add revenue back to the Australian beef processor's bottom line and margins are particularly influenced by export pricing changes, as more than 70pc of Aussie beef product is typically destined for the offshore market.
"Unfortunately for the Australian beef processing sector the local price of cattle, which are a large input cost to the processor, continue to outperform beef export price movements," Mr Dalgleish said.
An index of cattle prices (EYCI and Heavy Steer) versus a selection of average beef export values to Japan and the US highlights that since 2018 the cost of cattle has risen by 60-80pc while export values have only gained 30-40pc.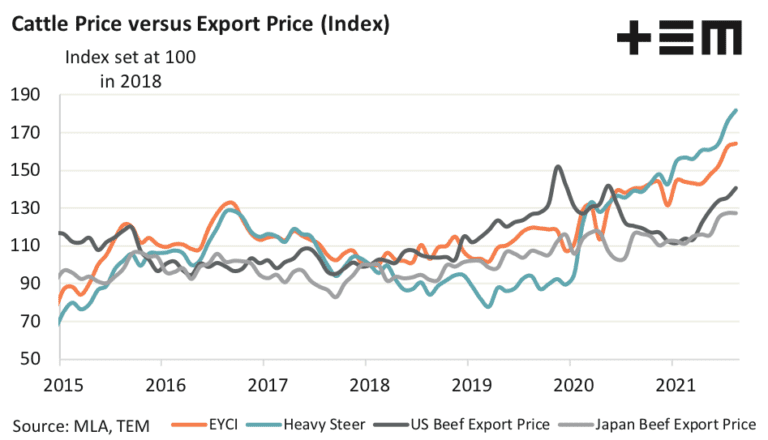 During August local cattle prices for cattle types used as inputs to the processor model, increased nearly 3pc while average beef export prices only gained 2pc, on average. Co-product prices lifted around 1pc as well, but this wasn't enough to see the beef processor margins improve.
The TEM processor margin model can be adjusted retrospectively as updated input data is made available. Some export prices are not yet available for the August period, meaning an update to the August margin may occur in future as the data becomes available.
As the graph above shows, processor margin first descended into negative territory in February last year as the drought started to break, and prices rose as producers held-back cattle to add weight and start the rebuilding process. Margins on the positive side of the ledger have not returned since, and continue not far from the record lows experienced back in February this year.
That's despite the dramatic improvement this year in export manufacturing beef values, and the gradual softening in the A$ since January.
Little change in direct consignment offers
After some enormous upwards movements a fortnight ago to new record highs, slaughter cattle price grids are mostly unchanged this week in southern Queensland. The big rises that occurred earlier – up 40-65c/kg in places, saw several major Queensland operators lift rates to 760c/kg for four-tooth heavy steer, with heavy cows 720-730c, up from 710c/kg and 655c/kg, respectively.
Some of those offers were for October delivery.
Since then, one large competitor has eased its Queensland offers by 10-20c, taking cows back to 710c and four-tooth steer back to 750c, to try to moderate the big losses involved. Another has heavy cows this week at 700c and PR heavy steers 740c.
Central Queensland processors are mostly 10c behind those rates.
Some of the specialised categories are now at dizzying levels, with some certified grassfed MSA steers in Queensland now at 800c/kg, and in some cases further south, as high as 830-840c.
Last week's big surge came after saleyards markets leaped ahead of direct consignment rates, with the two channels now more closely aligned, when costs are taken into account.
A large northern NSW export processor has offers for heavy cows this week at 720c (in the sweet-spot 6-22mm fat range), but no public offers on steers.
Given the size of the lift in procurement costs seen so far this month, it seems reasonable to assume that processor margins for September will deteriorate further, when TEM does its next monthly calculation.
Slaughter numbers lift
There was a small rise in slaughter numbers across Australia last week, albeit off a very low figure the week before.
NLRS reported a total national adult cattle kill of 104,254, up 11pc or more than 10,000 head on the previous week.
Year-on-year, weekly kills are now aligning quite closely with the corresponding period in 2020, which saw beef production decline dramatically in the second half, as the effects of earlier rain set-in across Eastern Australia.
Queensland last week processed 54,972 head, more than 6000 head above the previous week. Numbers were similar to this week last year, but still more than 25,000 head less than in 2019, when the current week's kill topped 81,000 head.
NSW last week recorded a kill of 27,750, up about 6pc on the previous week. Victoria accounted for 12,273 head, up 12pc, while South Australia reached 3146 head, a sharp 26pc jump on the previous week. Tasmania processed 3180 head, up 48pc on the previous week.
Female proportion of slaughter continues at historically low levels, standing at just 40.2pc across Australia last week – much as it has for the past month. The tipping point between herd contraction and expansion is 47pc, signifying that herd rebuild is still well and truly in progress.
Some state female figures are much lower, with Queensland last week recording a female kill of just 33pc, and as low as 31.7pc the week before. Females in NSW last week accounted for 43.7pc of the total kill.