THERE'S been a moderate improvement in beef processor profitability on cattle slaughter this month, but it remains a long way from 'black ink'.
The monthly processor margin calculated by Thomas Elder Markets' Matt Dalgleish recorded an average loss per head of cattle processed last month of $253.
The average annual beef processor margin for the 2021 season currently sits at a loss of $305 per head of cattle processed, the calculation shows (see graph).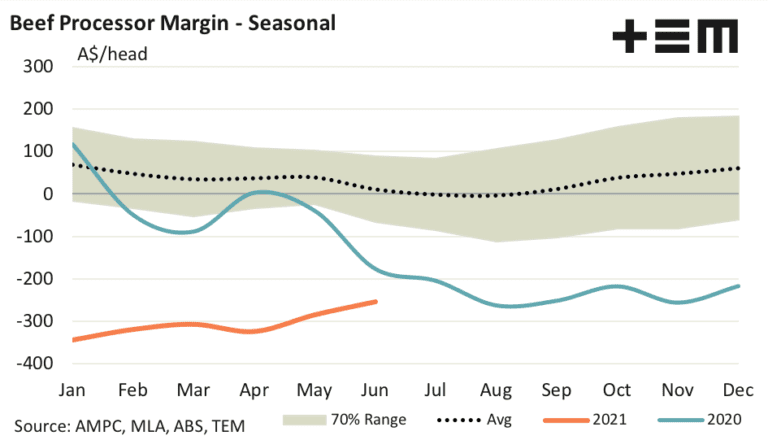 Improving international beef demand in some markets and a softer Australian dollar are helping ease some of the record losses being racked up by processors.
Prior to the current cycle, beef processor margins only rarely dipped below negative $200 per beast, but the 2020-21 post-drought cycle is no ordinary beast. Losses have sat at greater than $300 head for the five months prior to June, easily the worst recorded in this data series stretching back to 2000.
At the depths of the 2016-17 slaughter cattle shortage period, losses only briefly dipped below $200 a head (see graph).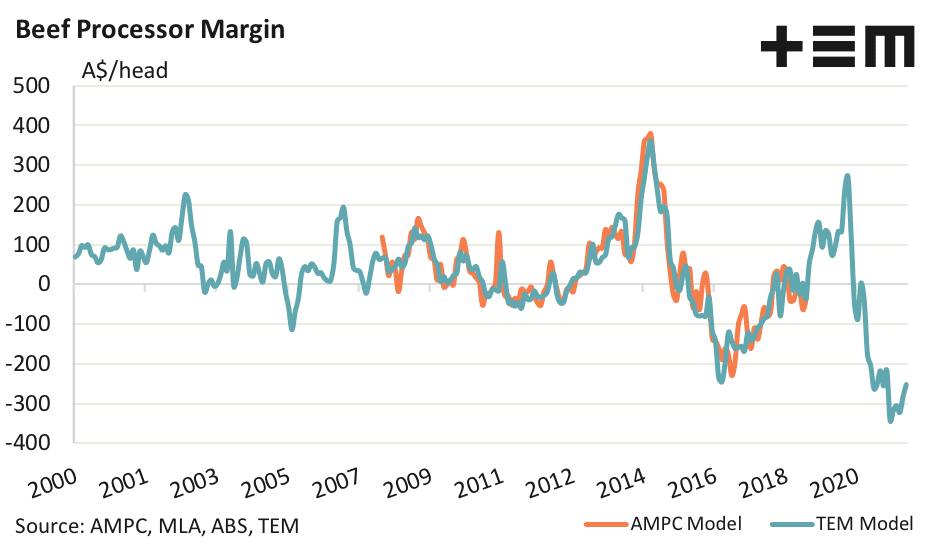 Domestic cattle prices continued to advance from May to June, lifting input costs for processors. However, beef export prices over the same time frame rallied by a greater magnitude, which allowed processors to retain a bit more margin, TEM's most recent calculation showed.
The improved margin in June and a  revised May figure ($283, down from an earlier estimate of $306) means that the average annual beef processor margin for the 2021 season currently sits at a loss of $305 per head of cattle processed.
TEM's beef processor margin model is a tool that estimates the average theoretical monthly margin faced by a representative processor, which gives an approximate guide to how margins in the sector are faring based on key cost and revenue inputs to the model.
Measuring the TEM monthly processor margin as a proportion of the national heavy steer prices (on a carcase weight basis) demonstrates that over the last two decades margins have averaged about 11pc of the respective heavy steer price, with normal fluctuations between a loss of 15pc to a profit of 40pc of the heavy steer price.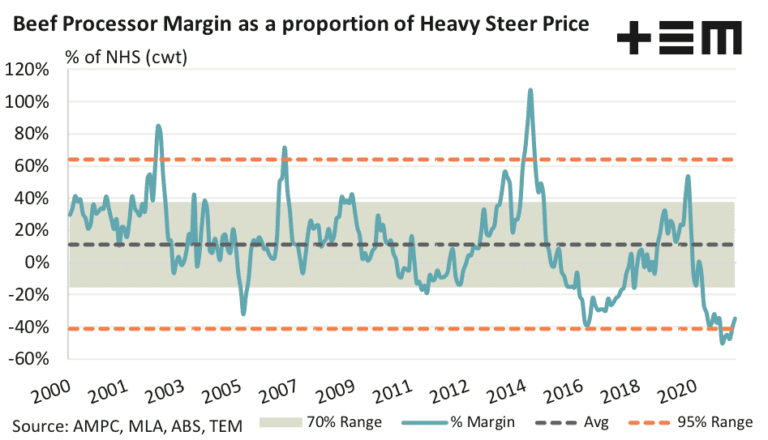 Historical movements highlight that processor margins would be considered at extreme levels when losses are beyond 40pc of the heavy steer price or when profits are more than 65pc of the heavy steer price.
The improvement in processor margins over the last two months has seen the margin, as a proportion of the heavy steer price, moving back into a region that is not considered extreme, with it currently registering a loss that is 35pc of the current heavy steer price.
Some cow grids push higher
In the direct consignment slaughter cattle market this week, some processor grids continue to press into uncharted waters.
One company operating in the southern Queensland region has lifted heavy cow slaughter grids this week another 15c/kg, hitting a blistering 655c/kg. Other competitors have not yet responded, leaving their heavy grid offers at 625-640c/kg when this report was compiled this morning.
Heavy four-tooth export type steers are at 695-700c/kg, with offers on HGP free cattle as high as 710c. Central Queensland plants are 10c/kg behind those figures.
Cattle slaughter rates continued to struggle under the mid-winter cycle last week, with the national kill reaching just 100,916 head. That was up less than 3000 on the week before, and a colossal 48pc below where it sat this time back in 2019.
Queensland's kill rose a little last week, reaching 50,612 head, about 9pc behind this time last year, while NSW lifted about 5pc to 27,760 head. Further south, Victoria processed 12,470 for the week ended Friday; South Australia 7126 head; Tasmania 2948; and Western Australia 2948.