The wave of price corrections in direct consignment slaughter cattle shows no sign of letting up, as many eastern states beef plants are now more or less fully-booked for September deliveries, and accepting space bookings only from October.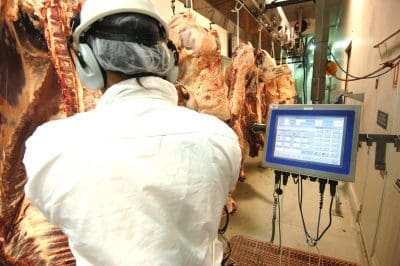 What's evidently happening is that the 'footprint' of grazing country shifting from marginal or moderate to more extreme in grazing condition is growing by the day, adding more and more turnoff cattle momentum to any already heavy subscribed pipeline across Queensland and NSW.
Add the prospect of northern Australian cattle that would normally head offshore on boats, being tipped into the domestic east coast market in coming months, and it represents further difficult times ahead.
Realistically, rain is the only thing now that can stop the rot.
Best direct consignment offers seen for four-tooth grass ox in the southern Queensland market this morning were back another 10c/kg on last week, at 490-495c/kg, and 415c/kg for heavy cows.
Central Queensland grids are 10c/kg behind those rates, and North Queensland, 25c.
Southern states appear largely unchanged this week, after some big adjustments the week before.
Saleyards cattle have been particularly severely penalised since Wednesday last week, with yards like Emerald, Blackall, Moreton and Warwick all well down on last week's rates for most descriptions. Many saleyards lines are now 50-60c/kg or more behind direct consignment equivalent, with cows bought out of Moreton sale this morning calculated at the equivalent of 265c/kg dressed weight equivalent. Charolais cross heifers 365kg in store condition made just 220c/kg liveweight.
At those rates, it would appear that processors would be better served buying less cattle out of the paddock, and more from saleyards. But in most cases they have long-lasting supply relationships with many over-the-hooks suppliers that they are mindful of not damaging.
In fact some regular processor buyers have been absent from major saleyards over the past week or two, while others have again withdrawn their grids this week, content that they have requirements already covered for the foreseeable future.
As described last week, at least two large Eastern States processing plants are scheduling Saturday shifts in coming weeks to try to clear some of the the backlog of cattle.
But that comes at a considerable cost, for two reasons, one processor contact explained last week.
The first is overtime payments required to kill an extra day. The second, as he explained, was that there was inevitably high rates of absenteeism the week after an extra Saturday shift was run.
"You can quickly get to a point where you are no further ahead – despite paying the Saturday overtime penalty," he said. "Some people will work the Saturday, and take Monday or Tuesday off."
Three-and-a-half-year low
We've dug into Beef Central's archives to look for evidence of the last time prices on slaughter cattle were this flat. The most recent comparable week we can find was back in late March 2019, when drought was starting to apply considerable pressure to the industry, when cows in Queensland were worth 400c/kg and heavy steer 495-500c.
Prices have now fallen more than a dollar a kilo (worth $350 on a 350kg steer carcase) since mid-March this year.
NLRS weekly kill numbers will be published tomorrow, after the seven-day results are issued.