A SECOND round of processor grid price rises has occurred across parts of eastern states this week, in what may turn out to be the start of the much anticipated fundamental shift in the slaughter cattle supply/demand/price equation, following 18 months of severe drought.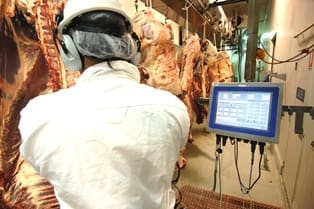 It means that grids in Queensland have now lifted as much as 25c/kg in the past fortnight on cows, and 20c/kg on steers. That's worth around $65 a head on a typical 320kg carcase weight grass export steer.
In signs that a trigger-point may have been reached, Teys Australia this week lifted its grids right across eastern Australia, from Naracoorte to Biloela, by 10c/kg as the supply momentum starts to shift. Beenleigh this morning was offering 555c/kg on four-tooth ox, HGP-free (10c less on implanted steer) and up to 445c/kg on heavy cows. Further north at Biloela and Lakes Creek, this week's steer price HGP-free is 545c this week, with cows 435c.
JBS grids across Queensland have also risen 10c/kg this week, taking four-tooth grass steer (no HGP distinctions) destined for the company's Dinmore plant to 560c/kg and full-mouth heavy cow 450c. JBS Central Queensland is 10c freight differential behind the Dinmore rate, with Townsville a further 15c behind that.
Other southern Queensland competitors were yet to adjust grids at time of writing, and are still offering 535c for four tooth ox and cows 435c.
In the south, Teys Wagga has 575c/kg available for four-tooth steer HGP-free, and 480c/kg for heavy cows this week, while Naracoorte is 5c/kg below those rates on steers, and 10c above on heavy cows.
Widening steer/cow gap
The gap between steer and cow prices is widening at present, especially in Queensland. Where many grids were offering only 60-70c/kg more on steers only a month or two ago, that gap is now more like 90-110c/kg on many grids, as the availability of good slaughter steers diminishes, relative to cow availability. A limited pool of ox and export orders for grass steer beef that need to be met is driving that.
Most Queensland processors this morning said they were still comfortable for kills during the remainder of July, but August was emerging as the start of the critical supply problem period that lies ahead.
"It is starting to look like a tipping point," one processor contact told Beef Central. "It had to come, and it's finally come, and it now depends on who wants to go in to bat," he said.
Cattle for southern Queensland kills were currently coming from all 'points of the compass.'
"There's not a lot of Northern Territory cattle yet – more western and northern Queensland," a contact said.
"With the good runs that went through some of the Channel Country after February/March rain, there will be some good well-finished cattle out of the Channels from August-September, but there will still be a huge hole to fill in kills later in the year," he said.
While lighter conditioned stores have struggled a little through the saleyard system this past week, good slaughter cattle and heavy feeders continue to make good money through the saleyards channel.
The influence of southern processors shifting their supply focus further north is adding to the competition dynamic through the yards system, as reported in our weekly kill report during the past two weeks.
Kill eases 6pc in a fortnight
The eastern states kill last week reached 150,890 head, down 1pc on the week before, and almost 6pc lower than a fortnight ago.
Queensland's kill lifted 1pc on the previous week to 80,063 head, but most other states eased in numbers. NSW dropped 1pc to 35,372 head, Victoria also eased 1pc to 26,515 head, and South Australia dropped 18pc to 3945 head. Tasmania lifted its tally 1pc to 4995 head for the week.