THERE'S been a sharp rise in beef kills across eastern Australia last week, but the response has been artificially inflated by coming off a low base the week before due to weather, maintenance closures and other factors.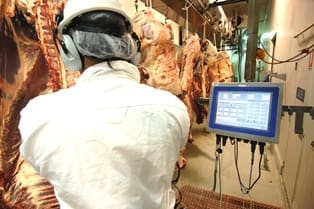 Last week's eastern states slaughter tally logged by the National Livestock Reporting Service saw just over 130,000 head processed for the week, up 9 percent on the week prior.
Victoria jumped 17pc to almost 22,000 head, while Queensland was up 8pc to about 64,700, and Tasmania up 29pc to 4640 head. NSW also rose 5pc to 31,400, while South Australia was up marginally at 7300.
A number of factors may be at play, to explain this week's rise in slaughter activity.
The early October rain that came through in some grazing regions in the eastern states has allowed some cattle to freshen-up, to the point where they are within the target range.
Short kills of 2-3 days a week at some plants for a period of time in October may have left a few more cattle 'in the bank' than expected.
Producer cash flow was another factor raised by processors, with many Queensland plants not planning to get back to work until week commencing January 16 next year.
Future direction in cattle price may be another factor in some producers' minds. Queensland grids have strengthened a little in the past fortnight, and some believe we've now seen the best of prices for the timebeing.
In fact there's an argument emerging that cattle grids may open lower in the early stages of 2018, to better reflect Australia's current export meat demand environment. As always, there's a natural tendency for beef producers to gauge future price trends much more on likely cattle supply, than likely beef demand.
Take note of this commentary issued today by NAB Agribusiness economist, Phin Ziebell:
"Global trends are likely to put downward pressure on Australian cattle prices. The real question is to what extent saleyard prices simply reflect 'grass fever', rather than global fundamentals. After a massive drought in the US in 2011, the US herd rebuilt rapidly – from 2013-17, there was 4.8pc growth in total herd and a 6.5pc rise in cow numbers. Since this peak, US indicators have been significantly lower, largely due to cheap feed grain. This has been compounded in emerging markets such as China, where the low cost of South American beef has been a major challenge for Australian exporters. Our view is that Australian cattle prices cannot remain detached from global fundamentals forever."
Any lift in slaughter numbers early next year due to the impact of beneficial rains since early October will only heighten the prospects of grid price pressure, as it seems unlikely that processors will change their current strategy of limiting kills, rather than throwing money around to try to build throughput to unrealistic levels.
Meat traders have seen no real positive signs for export trade early next year, above conditions experienced over the past six months. See Beef Central's 'competitor watch' report on the US beef outlook published yesterday.
A number of eastern states processors this week told Beef Central that kill spaces for the remainder of 2017 were shortening up fairly quickly. Cattle in some areas have come through the generally mild winter better than expected, and the early break since the start of October has helped that.
Supply remains patchy, however, with no big runs of cattle, and single and double-deck loads now much more common. Most of the mustering camps in the extensive northern country have now shut up shop for the year. In Queensland, rail bookings from the far west have also ground to a halt.
Despite that, processors now say they are in reasonable shape bookings-wise for the run through to Christmas seasonal closure, in most cases now just four weeks away.
Contrast in price grids
Meatworks grids at either end of the country have moved in opposite directions recently, reflecting local conditions.
Some southern states slaughter grids have fallen 10-15c/kg in the past fortnight, indicating the flow of spring cattle is starting to gain momentum.
In Queensland, most grids are unchanged this week after rises a fortnight ago. Best offers in southern Queensland for four-tooth grassfed steer this week is 500-505c/kg, and 450-455c/kg for heavy cows. Northern regions of the state are 20-25c/kg behind those rates on steers. That difference has been absent for long periods this year, where live export pressure has forced processors in the northern zones of Queensland to lift rates to the same as the southeast corner.
A large northern NSW export processor had grids this week for four-tooth heavy steer no HGP at 460c/kg, and heavy cows 445c.
It's a different story in southern Australia, however.
Spring flows of cattle in Victoria and southern NSW has seen many processors now with good forward booking positions for the remainder of the year. The position has changed dramatically from a few months ago, and prices have taken a hit, as a result. Yesterday there was a further easing in southern saleyard markets.
Given that there is now easily a 20-25c gap for slaughter cattle between southern regions and Queensland, will more southern cattle now start to flow north for slaughter?
This is the first year in recent memory that JBS and other large Queensland processors have not bought a lot of cattle out of southern yards like Wagga, Carcoar and Forbes to ship north for slaughter, from winter onwards.
The reason is that northern processors, faced with a 30-35c/kg freight bill from a yard like Wagga, have not been able to get near local processors on price.
That's waned somewhat in the past week or so, but there's no guarantee that northern processors will start buying in the south, despite operating within their limits.
That's largely because flows of local (ie Queensland) cattle are close to adequate for the timebeing, under current market circumstances.
For comparison MLA's over-the-hooks figures (these numbers are for last week, not the current week) had four-tooth grass ox +300kg in Queensland averaging 502c/kg, while NSW was back 5c to 478c, and Victoria back 6c to 482c.  That's a 20-24c discount over Queensland – sufficient to see some northern processors doing some sums, no doubt.
Northern buyers at Barnawartha and Wagga this week said they were 'on the cusp' of making the sums add up, on the ox particularly – southern cow prices have held up better.
Seasonal closures
With four weeks of the slaughter year remaining, more plants are starting to put rings around dates in their calendars for final kills for the year.
December 18 and 19 are popular choices for final killfloor shifts, barring late rain interruptions, with final boning room shifts 19 and 20 December. Those dates will still provide processors sufficient time to load-out before Christmas shipping schedules close on Friday, December 22.