HEATWAVE conditions and little prospect of rain relief in the immediate future are driving big numbers of cattle from central and western Queensland to market, and underpinning processors' access to slaughter cattle for the time being, at least.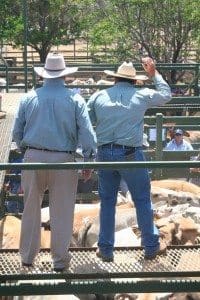 Agents engaged in today's Roma store sale are drawing for around 12,300 head – one of the largest sales seen in the past 12 months – while Dalby sale tomorrow is talking 7500 head, with potential for numbers to grow further. Most of those are likely to be store-conditioned stock from dry areas further north and west, rather than slaughter-ready.
The market for most saleyard cattle at early sales this week, including Toowoomba yesterday and Warwick today, showed some signs of buckling under the pressure of supply. Some lines were quoted at 10-15c/kg lower, while others were less affected.
Animal welfare concerns
Some processors have expressed caution about the animal welfare implications in handling large numbers of sale cattle under such trying weather conditions this week. Heat stress losses in transit have been kept to an absolute minimum in processing over the past few years, but this week's extreme conditions may test the system. Elevated awareness and appropriate decision-making is key.
Even though sale cattle were handled with great care, some stock involved in Warwick sale this morning were showing signs of discomfort, one onlooker said.
Some grids edge higher
In slaughter cattle markets, some Queensland processor grids have lifted 5c this week – more to align offers with competitors' higher rates, rather than any pre-meditated determination to lift prices. Direct consignment prices seen this morning for slaughter in southern Queensland sheds in coming weeks included offers around 480-490c/kg on grassfed four-tooth steer, with heavy cow 420-430c. A northern NSW processor had offers this morning of 440c/kg on four-tooth ox and 415c on heavy cow.
Processors' forward positons on supply are not yet heavily taxed, leaving some room to move for some operators looking to fill available rosters into March.
For 100-day cattle, forward contract offers this week are around for 500c/kg for May delivery, which effectively means if those cattle are not bought as feeders at 260c/kg or less, they are not in the hunt. Beef Central's feedlot breakeven last week reported a loss of $155 a head on 100-day cattle, using a standard set of variables and a feeder price of 280c. Spot grainfed prices this week on flatbacks is around 505c carcase weight, in sheds accepting grainfed cattle.
Despite the flow of cattle currently coming forward, it's a long way from seeing sheds start to expand their numbers of shifts each week – but in the example of JBS at Dinmore, which earlier advertised for staff with a view of adding an extra weekly shift to the roster, recruitment has apparently gone well and might see a start by mid-March.
Whether the cattle are there to sustain it will be the question.
Signs of return to processor profitability
Having said that, several processors this week referenced the encouraging shift in the profit equation on typical grassfed slaughter cattle.
Discussions with reliable contacts this morning suggest that larger, more efficient beef processing businesses in Queensland have returned to profit (albeit modest) in the past few weeks, after writing rivers of red ink over the past two years.
That's due to three main points:
A gradual 25-30c/kg easing in slaughter cattle price since plant closures in late December
A substantial US2c easing in the value of the A$ since the start of February, and
A lift in processor revenue for export trim and manufacturing meat into the US (impacted obviously in part by the currency movement described above). 90CL trim this week was quoted at above US600c for the first time since early December.
As a result, cow profitability for 'efficient' processors this week is understood to be in the black, to the tune of about $20-$30, and on a 480c/kg grassfed heavy steer, perhaps half that, or less. Other lines, such as grainfed cattle owned and fed by the processor, continue to look deeply negative in profit.
Those early sprouts of encouragement are unlikely to stimulate processors to go silly to try to build slaughter numbers however. Even a 10c/kg rise in price would upset the applecart on current costings, plunging the equation back into loss territory.
And the 'depth' of slaughter cattle supply may not sustain it, even if prices did rise somewhat. Areas like Queensland's western channel country are likely to shift very few fat cattle this year, Beef Central was told, with no real beneficial flows yet in the channel systems.
Eastern States kill unchanged
Despite last week's rain disruptions, the eastern states weekly kill to Friday remained virtually unchanged from the week before, totalling 131,693 head.
NLRS reported this morning that Queensland's kill increased 1pc on the previous week to 64,452 head, with a sharp 8pc rise on female numbers (a sure sign of drought-influenced decisions), while male cattle were back 3pc.
The NSW kill was more or less unchanged last week at 33,719 head, but still 8pc higher than this time last year, while Victoria eased 2pc to 24,442 head.
South Australia showed a sharp 14pc rise on the previous week to 4263 head, but still 29pc behind this time last year due to the fire-forced closure of TFI Murray Bridge, while Tasmania lifted 1pc to 4817 head.