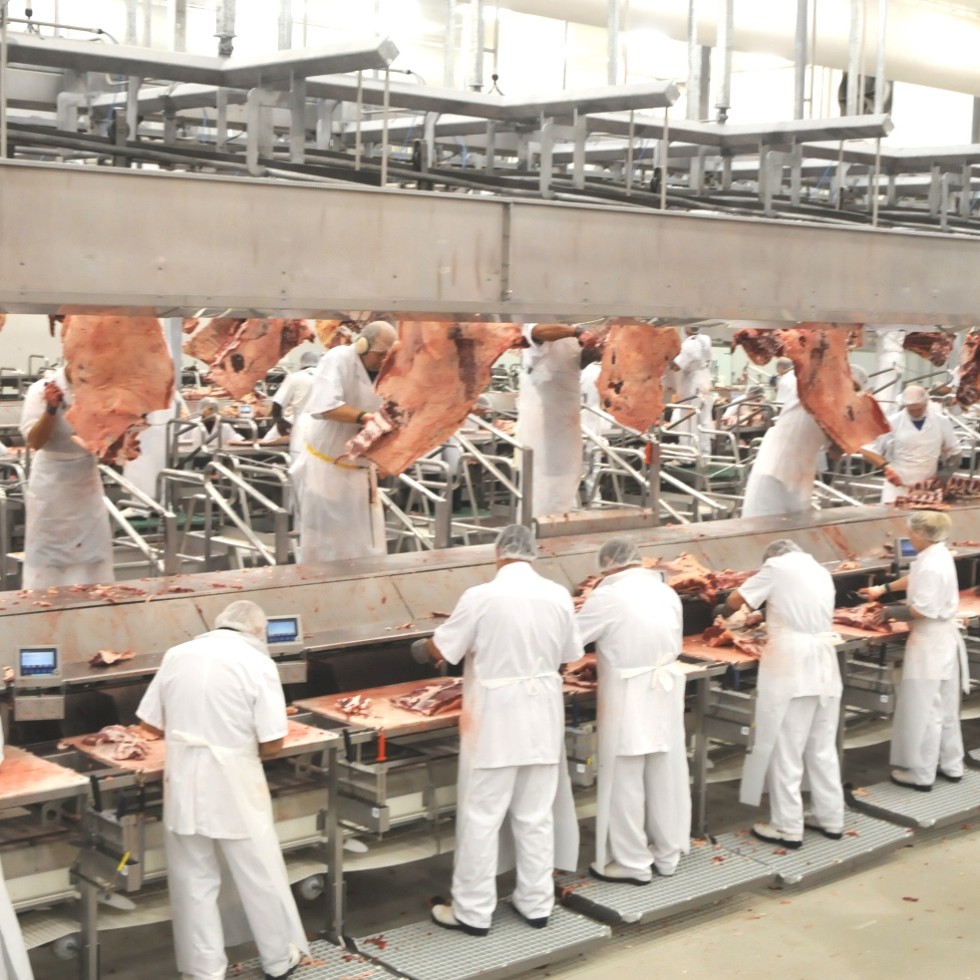 The big rise in beef kills experienced across Eastern Australia is clearly evidenced in an interesting statistic picked up during discussions with industry stakeholders as a part of our regular weekly kill summary yesterday.
As of yesterday, Nippon Meat Packers Australia's flagship Oakey export plant on Queensland's Eastern Darling Downs had killed the same number of cattle in 2013 as it did for the entire 2012 season.
Numbers through Oakey, which has a daily kill capacity of 1200-1300 head, are 30 percent above where they stood by this time last year.
While a component of the difference this year can be explained by industrial action at the plant a year ago which saw time lost and some shifts cancelled over a fortnight period, the big impact on performance has been the abundance in cattle supply.
Kill weights, similarly, reflect the impact of drought. Oakey's average carcase weights are back 20-25kg in comparisons against 2012. That's due in part to lighter average weight in the steer portion of its kill; but perhaps more significantly, to the much higher rate of kill in females this year (see Beef Central's earlier summary of 2013 female kill here.)
Similar stories are unfolding at other large export sheds in Queensland and NSW this year, as the drought-driven momentum in kills continues.
Last week's Eastern States kill tally recorded by the National Livestock Reporting Service reached 152,369 head. That's up almost 4pc on the previous week, but more to the point, is up more than 15pc on this same week last year.
The 4pc surge in kills last week was primarily driven by southern states – partly due to normal spring seasonal cattle flow expansion, but also due to drying conditions (until yesterday at least) across parts of western NSW. This had pushed bigger cattle numbers to market the previous week in centres like Wagga and Dubbo.
The NSW kill last week leapt 9pc to 36,595, the state's largest weekly kill seen since prior to winter.
Victoria was +3pc at 24,953 head; South Australia +12pc at 8380 head; and Tasmania a distorted +151pc to 3761 head, as the large Greenham Smithton plant returned to work after its normal seasonal fortnight maintenance closure.
While there has been no significant change in direct-to-works grid prices in southeast Queensland over the past week, grids have continued to fall away in southern Australia as cattle supply has lifted, and many descriptions are now 5-10c/kg dressed weight behind equivalents in southeast Queensland.
The only handbrake on that might be the impact of significant and widespread rain across southern Australia in the past 48 hours, which could slow cattle supply this current week and next, some processors said.
Grid prices across southern Queensland this week, based on offers from JBS, Teys and Nippon grids scrutinised yesterday by Beef Central, showed ex Southern Queensland prices at a best of 320c/kg for four-tooth grassfed ox, 325c for 0-2 tooth, and 270-280c/kg for best cow.
That's the best cow money we've seen since the drought-impacted price decline started back in March, as room starts to again open-up in kills after coming under earlier heavy supply pressure.
One looming concern is the recent rally in the value of the A$, which has lifted US3c from the high 80s a week ago to sit well above US93c this morning. If that persists, it will take some of the margin gloss off exporter returns, and could start to be reflected in slaughter cattle pricing again.