CATTLE slaughter remained at relatively high levels last week, despite the impact of the Queen's birthday Monday holiday observed in most southern states.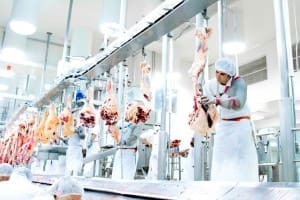 The seven-day Eastern States kill to Friday reported by the NLRS logged a total adult cattle kill of 133,043 head, down 9pc on the week before, but still 7pc higher than this time last year.
Despite working last Monday when other states were off, Queensland processors killed 4pc less cattle than the week prior, at 75,052 head. Other eastern states were well back, with NSW operations declining 15pc to 29,834 head, and Victoria back 18pc to 19,848 head. South Australia and Tasmania followed suit, being back 11pc and 20pc respectively.
It's increasingly looking like eastern states slaughter is now starting to trend down, after two months of relatively high kills forced by drought liquidation across large parts of NSW, Victoria and Queensland.
Saleyards numbers have declined in most centres in the past week, suggesting herd clean-outs are now starting to reach their end.
The other factor likely to come into play in the next fortnight is tax planning, with some producers likely to be urged by their accountants to hold cattle back until the new financial year for tax reasons. The last week of June is historically tight for cattle for this reason.
Some producers may still have their hands forced by the weather, however, with large Queensland processors spoken to this week continue to indicate they are reasonably well covered for slaughter cattle through to the end of the first week or two in July. All have expectations that access to killable cattle will tighten later in July and into August, however, and will get particularly hard over the August/September period.
The current comfortable supply situation has seen meatworks grid prices remain largely unchanged across Queensland and northern NSW in the past seven days. That follows small downwards adjustments of 5c-10c off grass steers and cows the week before.
Competitive southeast Queensland grids this week for cow kills in coming weeks are at 400-405c/kg, with grassfed four-tooth heavy steer at 450-470c, depending on location.
Central Queensland pricing is typically 10c/kg behind those rates, and North Queensland 15c. Across the border, a large northern NSW export processor has offers for kills week commencing 2 July of 455c on four-tooth ox, and 390c on heavy cow.
ABS data reflects seasonal trend
ABS data released last week shows below average rainfall across most of Australia saw Australian adult cattle slaughter in April increase 26pc year-on-year, totalling almost 617,600 head. This brought slaughter levels for the year to the end of April (considerable lag period in ABS reporting) to almost 2.4 million head, 10pc higher than the same period in 2017.
Victoria recorded the largest increase in cattle slaughter for Jan-April period, up 26pc year-on-year to almost 493,000 head. Part of that can be explained by Victoria absorbing some of the capacity lost with the fire-forced closure of the TFI Murray Bridge plant in South Australia. Conversely, SA cattle slaughter was reported by ABS back 37pc on 2017 levels totalling to just over 73,000 head.
On the back of the higher April slaughter, ABS reported beef production for the month up 23pc year-on-year, totalling almost 180,000t carcase weight. This brought the year-to-date total to 711,000t, an 11pc increase on 2017 levels, but likely to decline during the back half of the year.
Also reflecting the encroachment of the drought conditions, the national average carcase weight for April was 291.3kg, easing 3pc from year-ago levels. The female proportion of cattle processed across all states except SA was 53pc in April, 6pc higher than the same time last year. The year-to-date average (January–April) was 298kg, just shy of the 300kg mark surpassed for the first time in November last year.