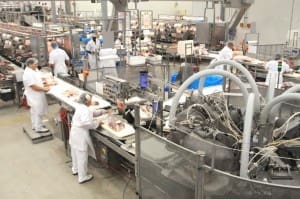 It's still way too early to call as a turning point, but weekly slaughter numbers eased in the larger Eastern cattle states last week, suggesting the current record slaughter turnoff may be starting to reach its conclusion.
Both Queensland and NSW were back 2 percent in kill numbers last week from the week prior, but remain stubbornly above kills seen this time last year.
The Eastern States tally reported by NLRS for the week ended Saturday shows a throughput of 167,985 head, down 1.8 percent on the week prior.
That came off the back of a near-record kill the week previous, as processors played catch-up over time lost earlier in the month due to the Queen's birthday holiday.
With winter now more than half complete, producers across Eastern Australia continue to show extreme caution over prospects for a decent spring season as the El Nino prospect continues to occupy their minds. Oats crops in many parts of southern Queensland are now badly looking for moisture which could be adding to that sentiment. It's being reflected not only in the sustained high slaughter cattle turnoff, but also in the store market for lighter restocker cattle, which continues to struggle to find price demand in many regions of Queensland and NSW.
Compounding the current heavy sell-down process is the onset of the first blast of real winter weather over the past two or three weeks, which has impacted pasture quality in those areas prone to frost.
Larger Queensland processors are still reporting heavy direct consignment bookings right through July and August, with some committed forward out to September.
Queensland's kill last week reached almost 84,500 head, still up about 2pc on this time last year, while NSW (39,700 head) was still +9pc on a year ago. Victoria's kill at 31,300 head was on par with a week earlier, but still 28pc higher than a year ago, at a time when southern numbers are normally well in decline. South Australia (7700 head) was back 5pc last week, while Tasmania (4800 head) was +1pc, while both states were still +3pc on this time a year ago.
With a 20c to 30c/kg difference in price between Queensland grids and direct consignment prices further south at present, the flow of northern cattle heading south for processing is still being seen in some volume. It may partly explain the unusually large season kills still being reported in Victoria and NSW for this time of year. Agents report buyers from southern plants like Primo, near Scone, still active in the northern NSW and southern Queensland market, where prices are lower due to conditions.
One of the highlights currently for exports is very strong US manufacturing beef demand, which this week is again sailing towards historic highs of close to A500c/kg. The only handbrake on that could be the performance of the Aussie dollar, which shot to seven-month high recently against the US$, and continues to sit stubbornly above US94c today.
Grid prices unchanged
There's been no change in southeast Queensland grid prices offered by major processors over the past seven days, apart from a 5c/kg lift in grainfed export steer price at one or two plants, now sitting at 390c for spot price.
SEQ processor sell prices obtained this morning indicated grassfed four-tooth Jap ox at 320c/kg, 330c for milk and two-tooth, best cow 290c/kg. Grassfed MSA steer for slaughter ex-SEQ has held up relatively strongly, worth 375c/kg in one quote seen this morning, the same as EU grassfed steer suited to the Hilton quota.
The EYCI closed yesterday at 335.75c/kg, up 2.25c on this time last week.